If you are a man, living in Blackpool, then you are predicted to die ten years earlier than a woman living in Cheshire East.
To add insult to injury, your house is also likely to be worth £100,000 less; a coincidence? You probably already know the answer, but just in case: no.
The graphs below illustrate the connection between affluence (via house prices) and life expectancy, for both males and females. You will be able to see that, on average, women outlive men – which has been the trend, since the 1880s.
Hold your cursor over each bubble, to get more information.
Figure 1: Female life expectancy vs life expectancy. Source.
Figure 2: Male life expectancy vs life expectancy. Source.
The price of a person's house is a good indicator of their overall wealth. Take Dawn Ward, star of The Real Housewives of Cheshire.
She lives at £14.5 million Warford Hall, Alderley Edge, with her retired footballer husband, Ashley Ward.
They aren't the only well-off people in the area; Alderley Edge has been home to many footballers, past and present. It goes without saying that more affluent people can afford the best healthcare, good quality food, nutritional advice, personal trainers and a higher standard of education – all which can lead to better life choices and a longer, healthier life.
On the flipside, Blackpool has the lowest life expectancy for both males and females, of all upper tier authorities in England.
According to JSNA (Joint Strategic Needs Assessment) Blackpool, the town faces major health challenges. The Scarf Chart (Figure 3) below, taken from JSNA Blackpool's website, compares the causes of death which contribute to the life expectancy gap between Blackpool and the rest of England.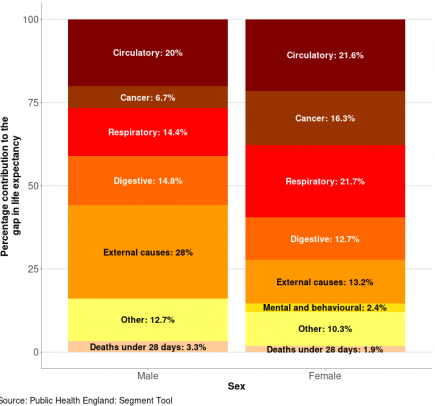 Figure 3: the breakdown of the life expectancy gap between Blackpool as a whole and England as a whole, by cause of death for the period 2015-2017
JSNA Blackpool explain: "Mortality from circulatory disease (22%) and external causes (17%) in males in Blackpool are major contributors to the gap in life expectancy between Blackpool and England as a whole.
"The key causes of shorter life expectancy in Blackpool are deaths from external causes (especially in males), cardio-vascular disease (CVD), respiratory disease (especially chronic obstructive airways disease in females), diseases of the digestive system and cancer."
Looking at the data for the Greater Manchester region, men living in the city of Manchester are likely to die the youngest, at just 76.1 years, this is in contrast to men in Stockport and Trafford, who are expected to outlive them by about four years.
Interestingly, the most expensive property prices, in the region, are found in Trafford – where they average £287,157, supporting the theory linking wealth with life expectancy.
However, the cheapest properties are in Wigan and not the city of Manchester, as you might expect. In fact, property prices in the city average £183,530, making them the third most expensive in the region. So, what could explain this anomaly?
According to Invezz, the population of Manchester's city centre has increased by 149% between 2002 to 2015. They attribute this growth to the 84% increase in jobs available in Manchester.
This development is relatively recent, which could explain why an improvement in the standard of living for some, is yet to be reflected in the wider data.
Invezz state: "All of this means that Manchester is the faster growing city in the UK in terms of population and also for employment possibilities. In fact, the figures put it far ahead of the next best city, which is Leeds, followed by Birmingham. In fourth place was Liverpool."
Merseyside (including the city of Liverpool), also experiences significant regional variance in terms of life expectancy and property prices.
The highest life expectancy is found in Sefton, which had the highest house prices in March 2019 (averaging £166,476), although these have since dropped to second place, as prices on the Wirral have risen (to £164,338).
A woman residing in Sefton can expect to celebrate her 82nd birthday, whereas a man from Liverpool is predicted to average 76.3 years.
It is important to note that these are averages. There are parts of Sefton that are incredibly deprived, such as Bootle (average property price: £107,387), but the overall average property price is driven up by expensive properties in Formby (average property price: £325,623), Crosby (average property price: £243,941) and Blundellsands (average property price: £333,279).
You just know Formby's going to have a high life expectancy: it has a Waitrose after all, an unofficial indicator of wealth, as used by the Office of National Statistics* 
This data just focuses on the North West. If we were to widen its reach to include the rest of England, we would see even greater disparities.
According to a report by The Guardian, the UK ranks among the most unequal nations in Europe, although it is more equal than the US, the most divided wealthy nation in the world. 
Their report quotes Sir Angus Deaton, the Nobel prize-winning economist, as saying: "There is this feeling that contemporary capitalism is not working for everybody.
"There's a sense that London is gobbling up everything and there are cities that are doing OK, but there are large parts of the country where that's not the case at all."
Boris Johnson's constituency of Uxbridge and South Ruislip is located in the London Borough of Hillingdon, where property prices average just under £400,000.
Women are expected to reach the ripe old age of 84.0 years and men 80.4 years, even if they do go around recklessly shaking hands with the general public, during a pandemic.
*it isn't