As the Christmas market stalls in Albert Square dish out gluhwein and bratwurst to visitors, Julie Neville – wife of former Manchester United star Phil – is launching Win Naturally's alternative Christmas hampers.
The hampers are made up of a number of naturally sourced foods, drinks and beautiful cosmetic products that Julie believes are a much better alternative to every day goods available in most supermarkets.
After struggling to regain her health after giving birth to second child Isabella, Julie decided to take her recovery into her own hands after becoming frustrated with conventional medicines.
Therefore, creating these hampers – and putting together Win Naturally's range of products – is not just a hobby or a business for Julie but has been a complete change in her and her family's approach to life.
"When our daughter was two years old and from her being born, I was on prescribed medicines but didn't seem to be getting any better," said Julie, who has been with Everton captain Phil for 15 years. 
"I decided to educate myself more on alternative medicines and natural remedies, our immunes systems and how our body works.  I was really shocked to learn of all the chemicals we were putting in our bodies on a daily basis.
"I started to look for natural alternatives – to begin with, I started by getting a skip on our drive and tipped into it everything we had in the house.  I think Philip thought I was having a breakdown – actually not so much about having a breakdown but how much it was going to cost to replace everything I'd just thrown in the skip!
"I went from being continually ill, feeling unwell and struggling to regain my health after having our daughter to feeling like a completely different person and getting off all the prescribed medicines that they said I'd be on for the rest of my life. It was that life changing for me.
"Literally within a matter of weeks, I felt like a different person – my energy levels were better and my immune system began to pick up."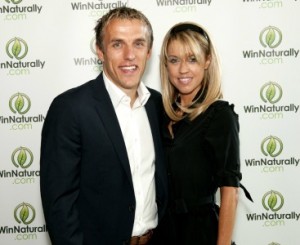 WINNERS TOGETHER: Phil and Julie Neville

Julie feels that with Christmas on the horizon, the Win Naturally hampers would make a perfect present for people in a number of different groups, with every base covered.
Customers can order pre-packed or even put together their own and there are products available for people with intolerances and special diets such as gluten-free, as well as products specific to sport.
Julie points out that Phil's long football career has always meant the Neville's have had a healthy diet and that he fully embraces all of Win Naturally's products.
"The way we have done the hamper is that there's something for everybody," said Julie, who says that there are plans in place to open a Win Naturally store and restaurant, possibly in Manchester.
"You don't have to spend a lot of money.  We've got food items or gluten-free hampers if you've got people with food intolerances and you've got your luxury items so we've covered every base.
"You've also got the option to actually click on and build your own hamper, which is great for me because, obviously, everyone we know is getting a hamper this year.  It does make it so much easier, you just log on for five minutes and it can be delivered to you or somebody else.   
"We do children's hampers as well so there's something for everybody, so it's kind of a one-stop shop too and it's all natural and healthy.  We've got really nice Christmas cakes and mince pies without having the need for unhealthy versions.
"We don't sell anything we don't use in our home on a weekly basis.  All the sports bars, the protein shakes, the recovery products are all things Philip uses day in, day out and he's absolutely behind it."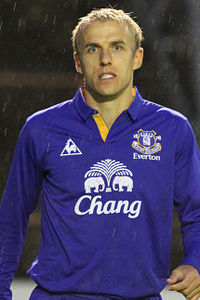 IN ACTION: Phil Neville

Julie says her family's own Christmas plans will once again be dominated by the festive season's football fixtures, with Everton playing away from home both on Boxing Day and New Years Day.
This is something she says the family are used to but with there being a free week in between both games, Julie is hoping that there will be a chance for some quality time at home, and for Phil to show off his DIY skills.
"What we tend to do is two weeks before Christmas, we tend to have all our families around here and that tends to be Philip's Christmas," said Julie. 
"On Christmas Day, he gets up very early and goes to training, then we have an hour at his parents, then we have an hour at my parents and then he goes away and I have dinner at my parents.
"We'll just have a few afternoons at home with the children where we do get to build the presents and build the toys – not that Philip's any good at it by the way, he can't put batteries in, let alone anything else!"
For more information about Win Naturally's Christmas hampers – and their wide range of naturally-sourced and organic products – visit www.winnaturally.com and follow Julie on Twitter @MrsNev18 or @winnaturally