For some, the lockdown caused by the coronavirus pandemic has been a period of mental difficulty and unrest, with a number of mental health organisations concerned not only about the handling of mental health during isolation but also when lockdown ends.
A survey conducted by the mental illness support organisation Rethink found that 79% of people with pre-existing mental health illnesses felt their mental health had got worse, or much worse, due to the pandemic and the containment measures.
The isolation strategy implemented by the government has forced many people to received limited or no person-to-person care from mental health support workers, which has resulted in a significant increase in the number of contact organisations are receiving.
"The current situation has required us all to make relatively big and sudden changes to our lifestyle, requiring adjustment," said Stephen Buckley, Head of Information at Mind.
"This will also be the case after lockdown measures have been lifted, and will continue to have a significant impact on those of us experiencing poor mental health."
Buckley's comments were backed up by those of Alex Kennedy, the Head of Campaigns and Public Affairs at Rethink, who said Rethink have been told by people calling that the sudden changes and loss in support mechanisms are the biggest contributors to a deterioration in mental health.
"The Coronavirus pandemic is as much a mental health crisis as it is a physical one," said Buckley "people are really struggling with isolation, stress, grief, financial worries and fears about the future."
"Now we are starting to see the narrative around it has got quite scary, now the home nations are easing lockdown restrictions," said Ged Flynn, Chief Executive of Papyrus Prevention of Young Suicide.
"Even people with no previous mental health concerns are starting to become concerned about going out.
"Around nine in 10 calls, texts and emails to its HOPELINEUK service since lockdown referenced coronavirus."
Papyrus isn't the only organisation which reported a notable change in topic amongst those calling for support, significantly due to anxieties caused by Covid-19.
The Director of Manchester and Salford Samaritans, Robert Jackson, said one in three calls is related to coronavirus, while Buckley stated that the demand for Mind's mental health services during this pandemic is unprecedented.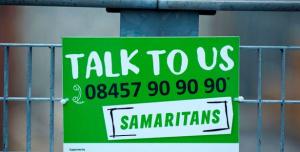 Consequently, the increases seen in the number of people needing support and the shift in the government's focus towards combatting the virus have left many unable to receive the necessary care.
A survey of 8, 943 conducted by Mind found that 24% of surveyees had difficulty getting into contact with a GP or Community Mental Health Team, while 41% of respondents said they didn't believe their issues were important enough.
"It's concerning that there appears to be a significant number of people who have fallen off the radar," said a report from Rethink "particularly given that many appear to be feeling undeserving of help or as though they may burden the NHS."
The drop in support has also been noted in a report by Papyrus, which focuses on young people, a demographic who are no longer receiving the necessary support and as a result face an increased risk of self-harm or suicide.
"People are sharing their fears about a loss of income, potential job loss and the worry of losing their home.
"Many say how lonely it is being separated from a partner, family or friends and that the loneliness and isolation has a significant impact on feelings of suicide."
In response to these, many organisations have stated that it is imperative mental health services are given adequate support to aid those suffering from illnesses.
"It is important that mental health services for people severely affected by mental illness are made a priority as the NHS starts to deal with the backlog of people needing treatment for conditions other than COVID-19," said Kennedy.
"We need sustained investment in mental health services to meet the likely increased demand for care, both for people with pre-existing mental health problems and those who become unwell during this crisis."
Kennedy was echoed by his colleague Brian Dow, deputy CEO of Rethink, who said: "The message that NHS services are open for business is important and mental health must be a key priority to ensure a group that has been underserved in the past does not now feel again as though they are not deserving of help."
If you're struggling with any issues relating to mental health, support is just a phone call away. The above organisations can be reached as follows:
Rethink: 0300 5000 927
Mind: 0208 215 2243
Papyrus: 0800 068 4141
Samaritans: 116 123