Justin Bieber's army of Beliebers invaded the streets of Manchester, camping outside the Radisson Blu Edwardian today to catch a glimpse of the teenage heart-throb.
The singing superstar – in town after performing at the Manchester Arena on his Believe tour – was rumoured to be staying at the Peter Street hotel.
Hundreds of the 18-year-old's fans spent the majority of the day wrapped up in blankets braving the freezing temperatures, with some turning up as early as 8am.
Hayley Roscoe, 17, said: "We were initially at the Lowry Hotel because we heard he was staying there with Carly Rae Jepsen and Cody Simpson [his support acts] but then we came here.
"I saw him last night and he was really, really, really, really good. I'd stalk him around the world if I could!"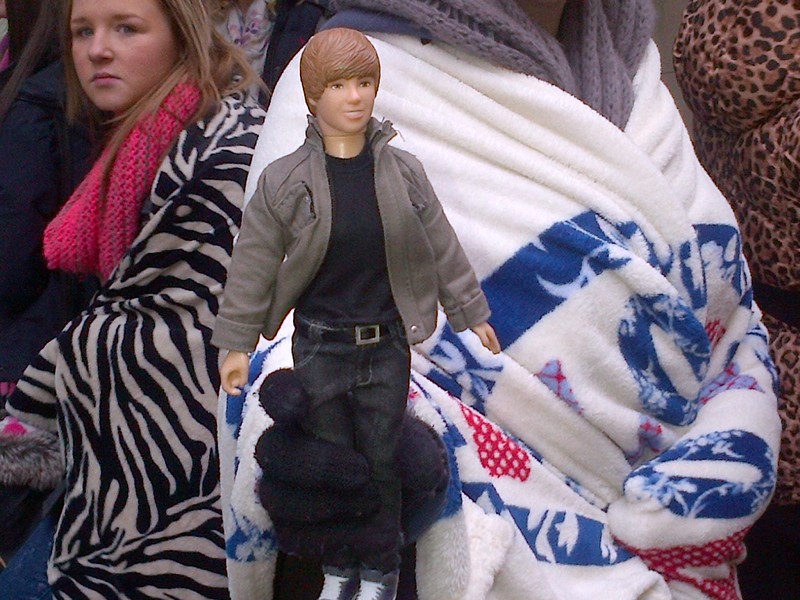 Bieber fever appeared to be contagious as one mother joined her daughter – not for the first time – in taking part in some 'Bieber-spotting.'
Diane Atkins, 37, said: "I took my daughter last time to see his concert. I thought she was going to explode when she saw him, she was screaming and crying at the same time!
"Last time we followed him to another hotel and waited for hours and he rushed out into a big bus and was gone before we knew it.
"She just wants to follow him around the world. We got lucky last time he came over here when she spotted him."
However, not all of the older generations understood the obsession for Bieber, with many by-standers bemused at the influx of teens.
Andy Gibson, 45, said: "I don't get all the hype to be honest. Why would anyone wait out here in the freezing cold just to get a look at this guy? They've all been Bieberfied!"
Staff at the Radisson were less than impressed by the hoard of Beliebers outside their doors, with porters and concierges harangued with questions about Bieber's presence.
Employees remained tight-lipped but one member of staff, who did not wish to be named, revealed there was some Bieber presence at the hotel, just maybe not Justin.
"I know his family are staying here," he said. "But as for Justin, I'm not actually sure. His mother has just left to get her hair done and even that created a storm.
"The fans have been a nightmare to be honest, they've been trying to find his room and knocking and screaming outside doors since 3am."
With the Canadian playing another concert in the city tonight, it is not clear exactly what time Bieber left the hotel, with some Twitter reports suggesting he checked out at around 5pm.
For more on this story and many others, follow Mancunian Matters on Twitter and Facebook.