A couple who tied the knot this weekend celebrated the role an iconic Manchester soft drink had during their courtship by having a VIMTO-themed wedding.
Michael and Liz Tomlin married at St Gregory's Catholic Church in Bollington, Cheshire, last weekend and were toasted as Mr and Mrs for the first time with fizzy Vimto, instead of the traditional champagne.
Guests at the violet-hued wedding also enjoyed Vimto candy floss and Vimto bonbons served from an old-fashioned sweet cart.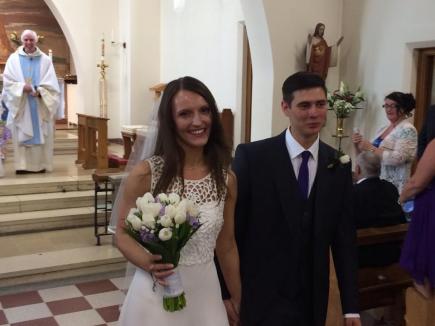 PURPLE REIGNS: The wedding featured Vimto coloured tie, flowers and even robes on the priest
Michael said: "Vimto is at the centre of our hearts, so it was only fitting that it played a major part in our day.
"Everyone who knows me knows my love of the drink. My desk at work is a bit of a shrine with Vimto mouse mat, bottles of the squash and reused candy floss tubs as storage for my stationary. 
"I also have a photo album on Facebook dedicated to all the Vimto range.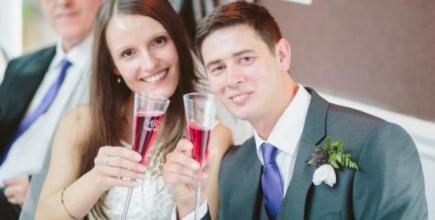 CHEERS! The happy couple made their first toast with the purple beverage
"I am of course delighted that Liz shares my love of Vimto. It really has been a massive part of our romance." 
The drink, made by herbalist John Noel Nichols in the early 1900s, featured predominantly in the festivities with the groom's tie, his sister's dress and chair sashes all featuring the distinctive colour purple.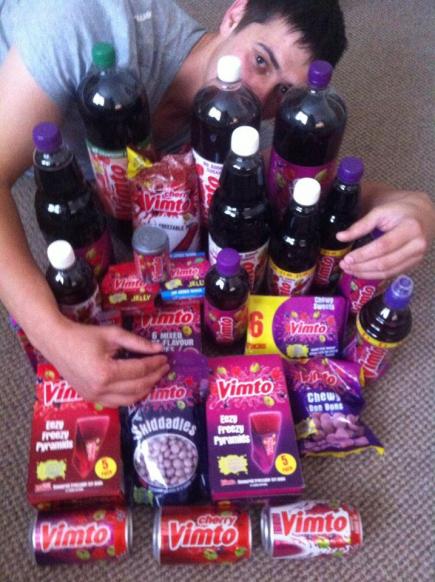 VIMTO STASH: Mike poses with his berry-flavoured booty
There was even a special guest among the friends and family invited including a six-foot cut out of the latest star of Vimto's advertising campaign – the Vimtoad.
Michael, an admin worker from Manchester, was brought up with Vimto and has fond memories of his Grandma making him the squash as a young boy.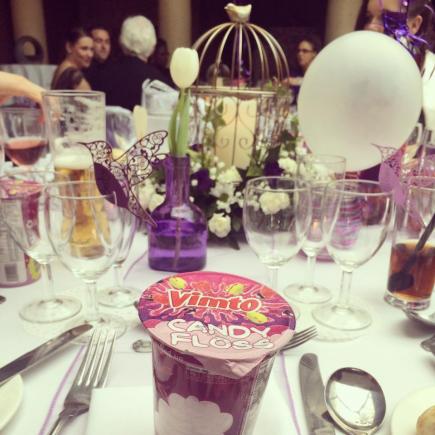 GUEST OF HONOUR: Vimto flavoured candy floss made for an interesting dessert
Polish-born Liz had never tasted the drink before meeting Michael but now ensures that her other half has three bottles of ready-to-drink Vimto to take to work every day.
Michael decided to take Liz on their first date in 2005 to the Vimto statue in Granby Row, Manchester, where they enjoyed a Vimto-themed picnic.
Four years later Michael popped the question and took her back there to their special place.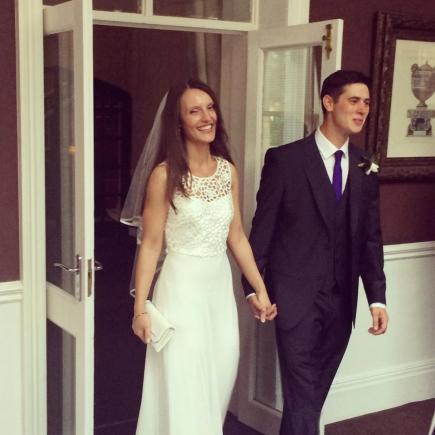 PURPLE REIGNS: Mike and Liz celebrate wedding with Vimto theme
The large oak sculpture of a Vimto bottle is on the site where herbalist John Noel Nichols made his very first barrel of Vimto in a terraced house from a unique blend of herbs, spices and fruit essences.
James Nichols, Brand Licensing Manager at Vimto, said: "We are always delighted to hear stories of Vimto fans and we were thrilled to hear that Vimto was to feature in the couple's big day.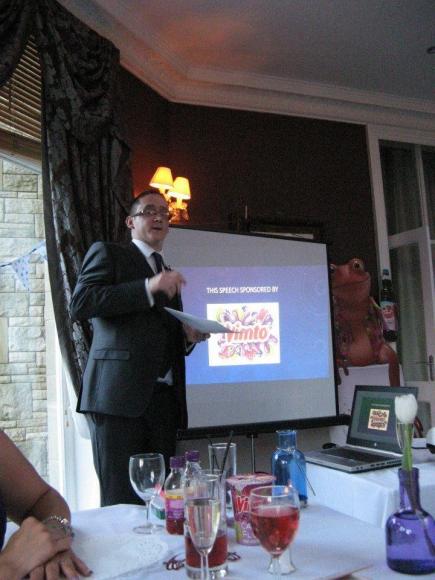 VIM-TOAST: Vimto managed to even get a sponsored showing in best man Darren Jones' speech
"Vimto has very loyal followers as there is nothing quite like it.  We are glad that Michael introduced Liz to its unique taste and it has become a part of both their lives.
"We would like to wish them every happiness from Vimto."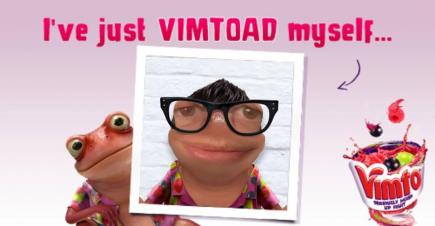 YOU'VE BEEN VIMTOAD! Mike's online makeover
The couple jetted off to Lanzarote on their honeymoon this week and as Michael wasn't sure if they sold Vimto over there, he packed plenty of bottles for the couple to enjoy.
He has since been in touch with the team at Vimto to let them know there is a British-themed shop which stocks the drink.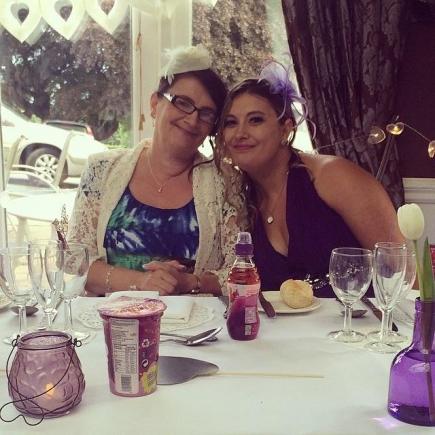 DEEP PURPLE: Everything from the candle holders to the vase was Vimto-themed on Michael's mum Janet and sister Nicola's table
During the honeymoon it will also be Liz's birthday and Michael has lined up a special gift of some Vimto-styled earrings to celebrate.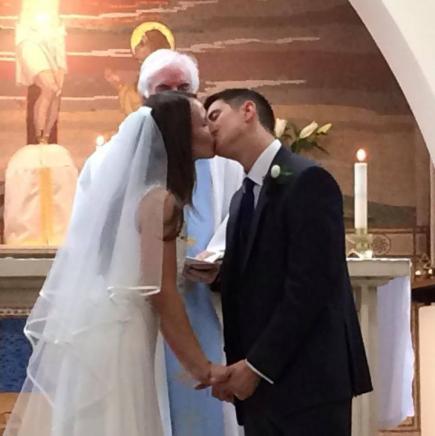 TRUE LOVE: Mike and Liz seal the deal with a kiss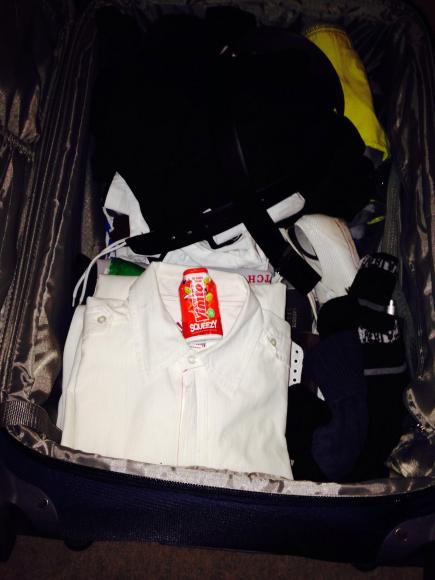 HONEYMOON TREAT? Vimto found its way into Michael's suitcase for the honeymoon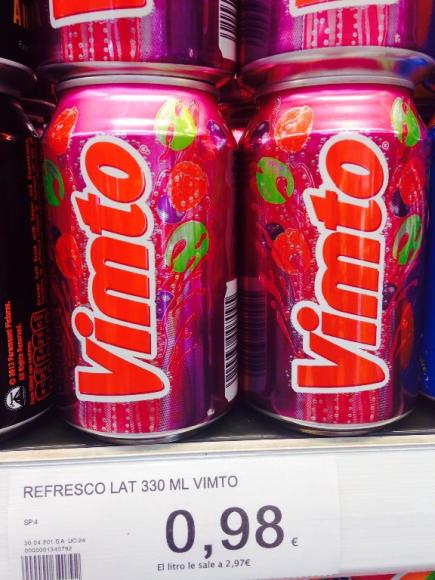 IT'S EVERYWHERE! Michael tracked down Vimto while on his honeymoon in Lanzarote
Images via Facebook, with thanks.