We meet at the Trafford Centre for coffee. He's on his way to review a film.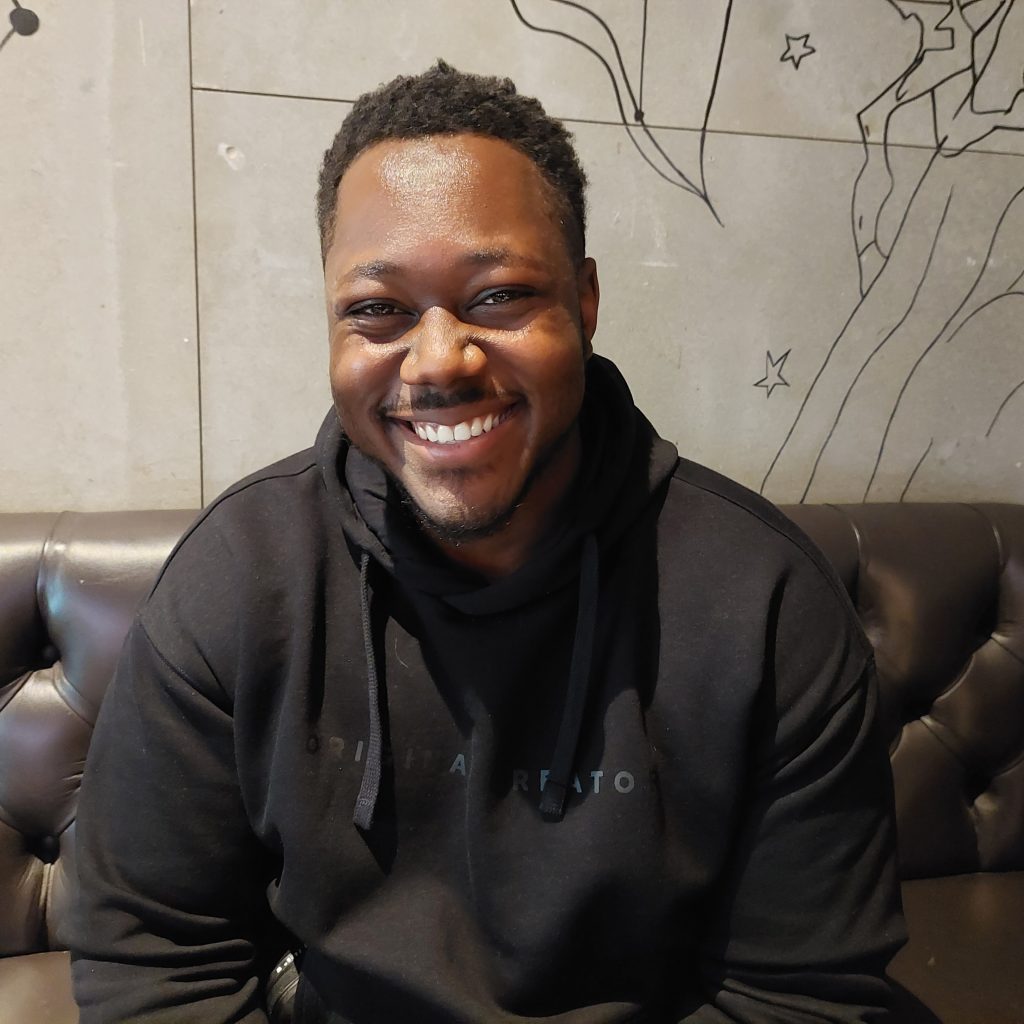 But it's clear that Kane D Allen is heading towards big-screen stardom himself.
The likeable Manchester-born actor and presenter is certainly a powerhouse of talent, energy and ambition.
His laugh is infectious and his enthusiasm for life doubly so. 
Describing himself as a "fiery Aries", Kane says: "I was actually two weeks late – I should be a Pisces, if I'd come when I should have done.
"I started as I meant to go on as I'm late all the time."
He's suddenly thoughtful before flashing another smile.
"Pisces are meant to be very tranquil but I'm very fiery, impulsive, spontaneous – not very Pisces at all."
Whatever his sign, it's clear the 28-year-old's star is rising.
Kane took a lead role in Oxtail, a film by Manchester director Joshua Reeves that's screened at several festivals already.
He regularly presents #60secondcritics film reviews on Instagram.
You may have seen him on Coronation Street (one of several TV credits).
And his latest film, Billy 2 – directed by Manchester filmmaker Nate Codrington – has now been released online.
Trained actor Kane plays a gang leader's right-hand man.
"I'm his eyes and ears on the ground making sure that he's prepared for anything that's coming.
"I really enjoyed it!"
Danger and adventure
Kane grew up in the centre of Old Trafford, Hulme and Moss Side.
He says it was "quite dangerous, in the sense that there was quite a lot of gang violence around me.
"I was never involved in it and you never see danger as a child – it was adventure."
One day sparks flew, quite literally, when a firework battle kicked off between two rival gangs and he avoided being caught in the crossfire.
"As an adult I'm like 'that's crazy'," he says.
"I had lots of adventures like that which were crazy but at the time were so much fun."
He credits his mum, Marcia, with keeping him on the straight and narrow – teaching him morals – and buying him an xbox.
"I fell in love with my xbox," Kane says.
"I did have a lot of motivation to stay inside then and it was definitely one of the things that kept me away from the street."
And it would have been easy to get into trouble.
Kane recalls a group of friends invited him to go into town one day.
They were planning to steal MP3 players from a computer store.
He quickly declined and went home.
Smiling, he reveals: "My mum asked, 'why did you not want to go with them?'
"I said, 'Well, you have always taught me if I can't afford it then I can't have it'.
"It showed my mum that she'd done something right with me.
"I think our parents really help build our character."
Family first
In fact, it's clear that Kane is all about family.
The D in Kane D Allen is an homage to his late grandad Derrick to whom he was close.
He describes time spent with his younger sister Mya as "really fun".
It's also obvious that creativity is in his genes.
 "I am the only performer on paper but I do think there's a lot of characters in my family. 
"My mum was very much into her books and very much into her films – she's definitely a creative. 
"My grandma is a huge character – she definitely could have done some kind of dramatics, definitely theatre.
"I could see her doing the queen in A Midsummer Night's Dream but, like mum, she never had time to chase those aspirations – she had to put food on the table."
One line from Oz
At school Kane loved science, was (and still is) fascinated by anatomy, thought about being a teacher and could have been a professional boxer after showing early talent.
But he knew from an early age what he really wanted to do.
In year six, he had one line in a school production of The Wizard of Oz – and his delivery of it brought the house down.
"I can still see the audience now," he says.
"I can see all those people laughing and giggling and me just thinking 'wow, I just want to keep doing this – I want to give that feeling of joy for the rest of my life, to be on stage, evoking emotion."
Kane's role-models
Kane's inspirations are Al Pacino and Denzel Washington: "phenomenal people as well as actors.
"Al Pacino always brings himself to his roles, which is a talent, but to me it coincides with one of my core values which is 'always be yourself and always love yourself'.  
"Finding love in yourself makes it easier to love everything and everyone around you, which in turn makes the world a better place.
"With Denzel Washington it would have to be about the cultural uplifts he consistently brings on and off set. 
"For me, how could I not have a black icon/role model?
"Someone who looks and feels the same as me – who's walked the same path as me, if not harder, and achieved that level of success while being strong moral figure, for a lot of people I imagine.
"Every time I see Denzel Washington it says to me that until racism is completely eradicated, I have a responsibility to remind and inspire BAME actors that we can do this, regardless of how hard it may seem."
Show-business
Kane may be creative but it's clear he also has a razor-sharp business brain and ambitions.
He says his drive for financial success comes from seeing his single mum work 14-hour days to feed him and his sister.
There was no pocket money, but there was always food on the table, even if it was sometimes "cereal for breakfast, lunch and dinner for a few days".
Kane says experiencing "the pain of poverty" means he's grown up financially careful, and very much emphasises the 'business' in 'show-business'.
His goal in the next twelve months is to land a regular television role – a soap ideally – and continue 'for a couple of years' while continuing to build his career.
"I love what I do but I'm very open to my career changing," he says.
"Acting is such a broad skill set and through lockdown I found myself utilising different parts of that skill set.  
"I found myself doing live events and doing a bit more presenting – I want to push both of them too."
But it's not all about the money.
I nod in agreement as Kane tells me: "With time being so valuable the last thing I want to do is spend time doing things I don't enjoy.
"I think more than anything else I want to be doing what I enjoy doing every day.
"So many people don't get that."
With that, we realise that time has flown and Kane must fly.
He hugs me goodbye and is off to his next enjoyable engagement.