A brand new adaptation of Dickens's classic novel at Manchester's Royal Exchange transports the story of Pip to Bengal in 1903 – and it's enthralling.
When an exploration of Victorian class, social mobility, and the abuses of the criminal justice system  evolves into a portrayal of British colonialism, racial inequality, and the politics of Partition India, you'd be forgiven for thinking it all sounded like a muddled attempt to stuff more into an already complex and weighty story.
How utterly wrong you would be.
Tanika Gupta's thought-provoking adaptation of Charles Dickens's Great Expectations, directed by Pooja Ghai, adds an extra layer of warmth and nuance, in part releasing the story from its Dickensian mould. Yet it never fails to maintain a strong connection with its source material.
It's 1903 in Bengal. In the time of the British Raj, the English hold total sovereignty. There is growing unrest as the people tire of their oppressor's presence. Amidst this, young orphan Pipli (Esh Alladi) has expectations to 'better himself,' with an education, and escape a simple, impoverished life with his sister and brother-in-law.
A chance encounter with an escaped convict followed by a summons to wait on an English noblewoman and her adopted daughter Estella (Cecilia Appiah) may give him just the chance he needs. In a world fraught with issues of class, race, and justice, Pipli's struggle for a sense of belonging is expertly woven into the despair that comes with finding oneself adrift, and the hope for a better future.
The opening is quick to set the scene, with beautifully understated staging, and ambient lighting that embodies the tropical warmth of India. The play jumps ahead to the next story beat just as swiftly. But thanks to Gupta's sharp writing, we never feel left behind. Between Pipli and Jagu (Asif Khan) a comfortable harmony is quickly established, and they navigate the loving father–son relationship with minimal effort.
 As jarring as it appears at first to see a thirtysomething man adopting the mannerisms of a 10-year-old boy, it gradually becomes less disconcerting, and the fluidity of Alladi's performance as he makes the transition from boyhood is something to behold.
It is through Miss Havisham (Catherine Russell) and Malik (Andrew French) that many of the racial disparities within this world are best personified. Ditching the elegance possessed by the character her previous incarnations, Russell is deft in her portrayal of Miss Havisham as a damaged woman, whose shattered heart and opium addiction give her racial prejudices unexpected nuance.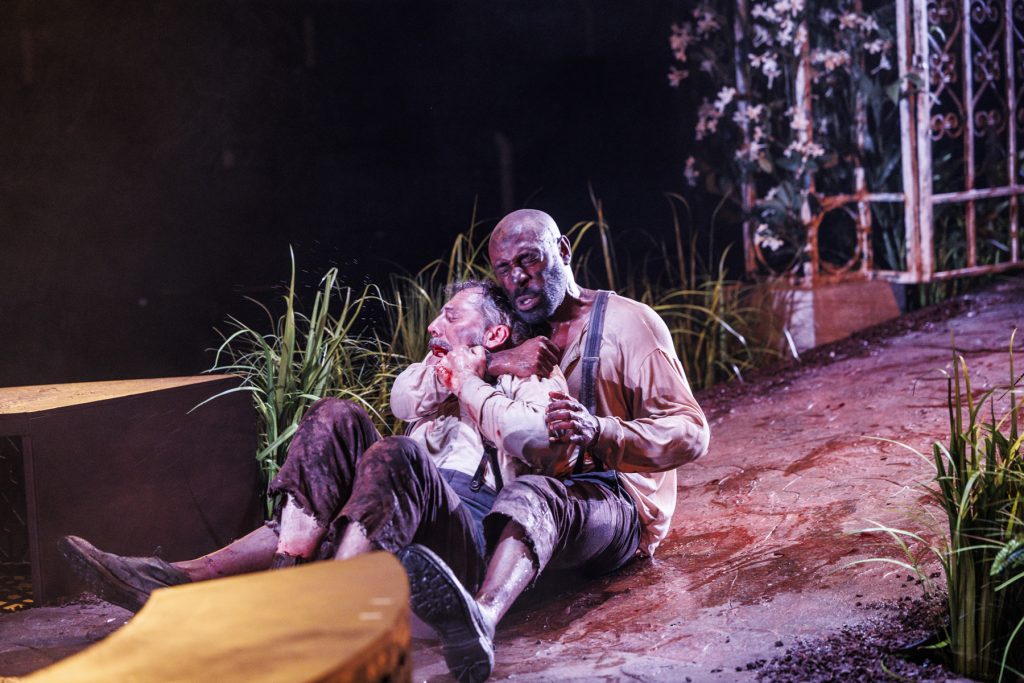 Likewise, through Malik we come to understand the issue of colourism in India (which remains a worldwide issue today) – as an African Indian, he endures the razor edge of British racism.
This adaptation adds a dimension to the story that is not present in the original. While Pipli does struggle to move among the affluent circles of Calcutta, for the approval of his white 'superiors', to be routinely informed he will "never be truly English."
The heavy content and themes are alleviated by humorous moments interspersed within the grimmer elements of the story, and the cast prove themselves more than capable at pulling off some physical comedy.
From the carefully crafted script to the clear-cut characters to the lush staging, it is clear that this is a production that was not undertaken lightly. It is one thing to produce a play that is a faithful and intriguing adaptation of its source material. It is quite another for said production to build on those foundations and create something this special.
Great Expectations is at the Royal Exchange until 7 October.
Images taken on 8 September 2023 at the Royal Exchange Theatre, Manchester. Courtesy of Ellie Kurttz