Manchester-based design studio, Office of Craig, has created an online directory to champion creatives outside of the capital.
In 2019, the Department of Digital Culture, Media & Sport, estimated that the creative industries contributed £115.9 billion to the UK, accounting for 5.9% of the UK economy. Despite these encouraging numbers, much of the investment for the sector remains focused on London, a reality not lost on designers Craig Oldham and Alice Fraser from Manchester-based design studio Office of Craig.
In a bid to address the imbalance in the creative industries across the regions, Oldham and Fraser took it upon themselves to create The Outside Directory, a hub for those looking to champion creativity and talent across the UK.
"It varies for different people, but there is an element of ignorance in terms of what is going on in the creative industries outside of London," says Oldham, Creative Director at Office of Craig, who is originally from Barnsley. "I studied in Cornwall and I was the only Northerner on my course. I was desperate to know where there might have been a creative industry that I could have been a part of somewhere close to home."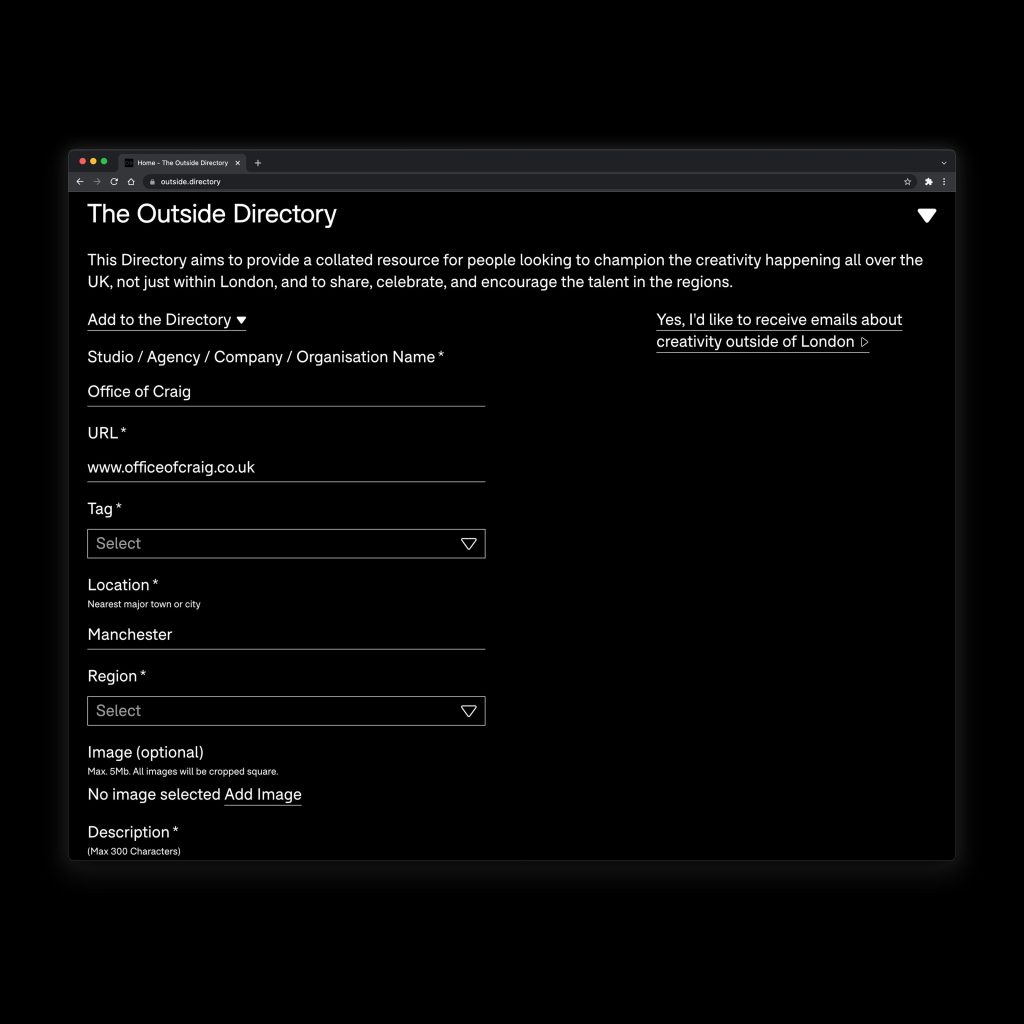 Fraser, who is from Stockport and studied Graphic Design at the University of Sheffield before joining Office of Craig in 2020, encountered a similar issue during her time in higher education: "I suppose for me, it started at university, where throughout my experience there I always felt like there was an unconscious push towards success within London."
What began as a list of studios on Fraser's phone then snowballed into the foundation for Outside Directory. "I always had this list of places that I knew of, because sometimes within the industry it's difficult to know where they are, how big they are and whether they're good," explains Fraser. "The list of places I liked and wanted to work with kept getting longer and the concept developed from there."
After speaking with Oldham about the idea, the pair issued an open call to creatives to compile entries for the directory. The founding creatives brought together more than 1,000 entries from across the UK – which lists studios with their links and locations – within a matter of weeks. "It was a lot of small frustrations that we decided to compile into one solution that we thought might enable people to address it in their own way, but not by saying 'London is shit, everything else is better', we just wanted to give people a foundation to make their own decisions," notes Oldham. 
The growing list of studios, agencies, foundries and organisations can also be split up according to discipline, and both Fraser and Oldham we're surprised to find out about studios on their doorstep that they hadn't come across before. "When we were compiling this with the 100 or so contributors from all over the UK, we found agencies in Manchester that we didn't even know about and that's incredibly liberating," reflects Oldham. "You think you know your own industry and your own community, but it's actually a lot bigger than you think."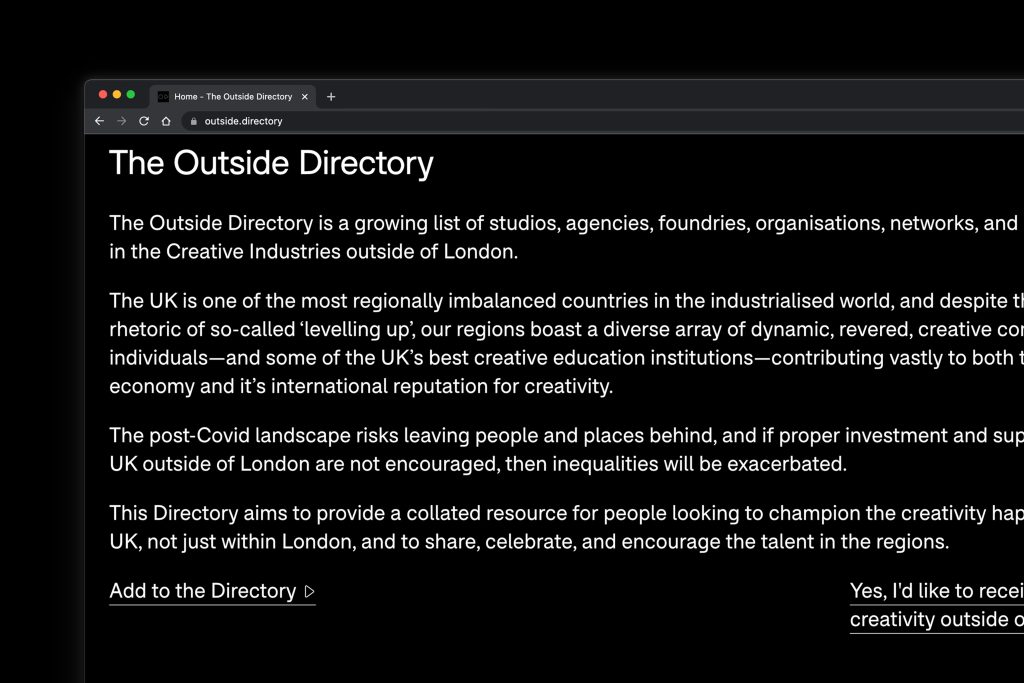 While students and recent graduates make up a significant proportion of the initiatives' target audience, Fraser points out that their creative black book also has the power to foster collaboration between established designers and studios. "From my perspective, having not been in the design industry that long, it's a relevant and important resource for students, but that isn't the only thing that we hope that this will be useful for. Companies can cross the disciplinary boundary between different areas with another relevant company in their area that they might not have heard of, or not known of before."
A sentiment echoed by Oldham: "When it comes to complementary companies that feed into other companies, finding those people in other areas rather than going to somebody we know in London, for example, helps retain talent and money in the regions and that allows it to feed and sustain itself because if all the students go down to the capital, then we naturally suffer a talent shortage, which means that our revenue goes down – it all interconnects."
The website, which is free to list on, encompasses a wide range of disciplines and locations, a sure sign that there was an appetite to highlight creative hubs outside of the capital. "I don't think it's about one city being better than another, and it's not anti-London in that respect either. But, when there's so much stuff of equal standard happening all over the place, it's about having a fair go at everything that's going on."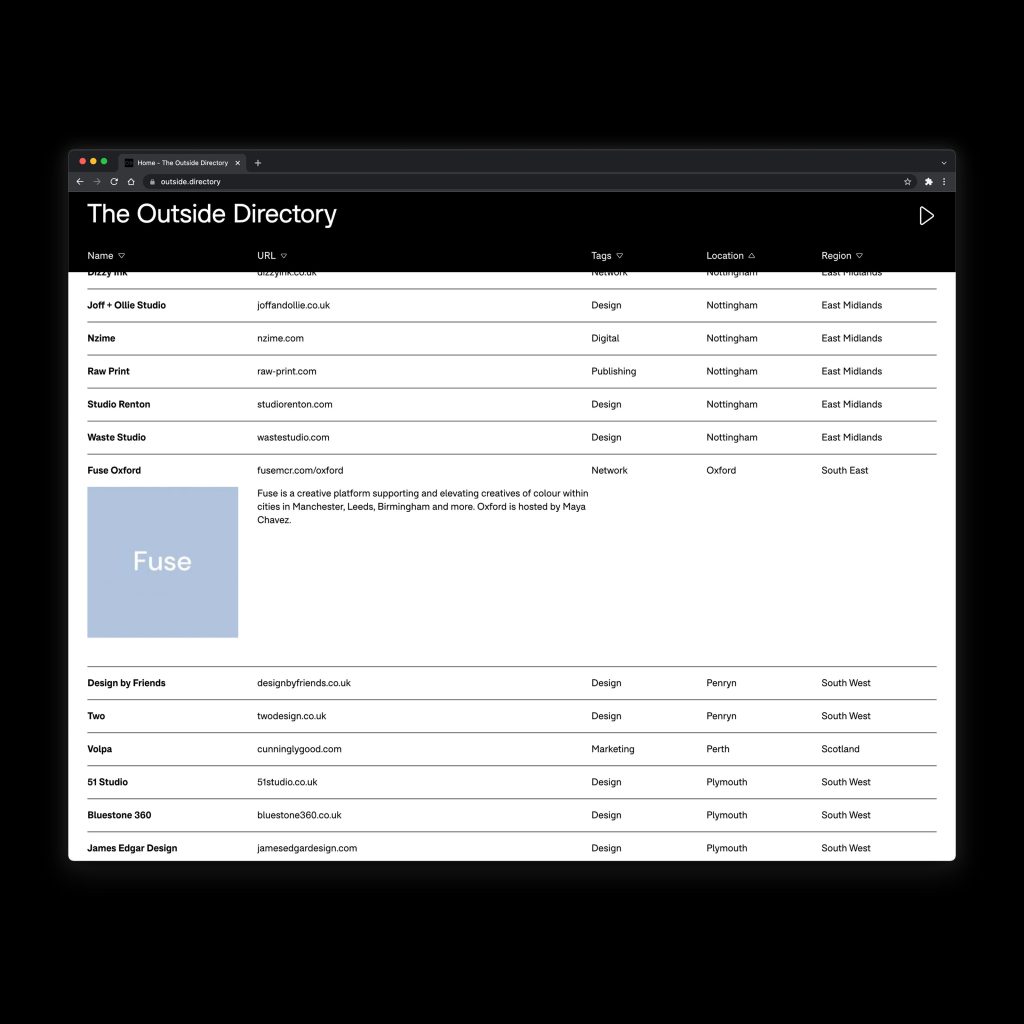 Looking forward, Fraser hopes that the platform can serve as an important tool for its users rather than a just statement about the imbalance across the industry. "We want people to actually interact with it and find something positive and benefit from that so it's not just a static thing." 
Beyond this, Oldham hopes it could provide an example for creatives operating outside the UK: "I think we would class it as daydreaming, but we would like it to become a central resource, maybe even an example for other countries that have this centralised system where the capital dominates and leaves the regions feeling underfunded and not recognised."
More than just a spotlight on the makeup of the creative industries, the initiative is a great example of what the industry can do when it comes together. Accommodating and empowering a sector as large and diverse as this is no easy feat, but for Fraser and Oldham, Outside Directory is only the beginning.
---
The website has been developed by digital designer Mike Ash, also based in the Greater Manchester area. Its typeface, F37 Bolton was created by another Manchester-based designer, Rick Banks.