"Oh what a night, hypnotisin' mesmerising me; it was everything I dreamed it'd be". These classic lyrics are funnily enough a great way to sum up Jersey Boys.
What a night indeed!
The award-winning production – now showing at Palace Theatre, Manchester – starts off detailing the background of the band's history before they were Frankie Valli and the Four Seasons. It follows them through their ups and downs to their eventual climb to stardom.
The audience are guided through the opening scenes by Tommy DeVito, performed excellently by Peter Nash, who is the stand out actor in the show. He has the Jersey accent, look and attitude perfected.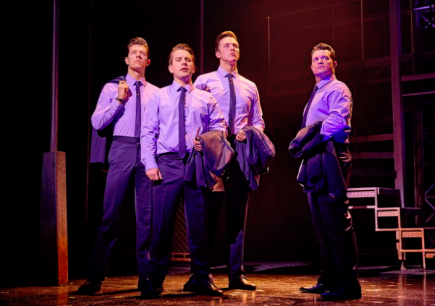 The pace of the production settles once the group meet Bob Gaudio, played by Declan Egan. He gives a very demanding performance and really makes his mark on the show.
He might not have the look, the accent or the attitude like Tommy and the others, but that is because he wasn't a Jersey boy. Instead, he was the brains, the lyrical genius.
The vocals of the quartet are astounding, especially Frankie Valli, played by Michael Watson, who manages to hit each high note and even gives justice to Frankie himself.
All that is initially missing after the curtain rises is the humour… and that's exactly where Nick Massi comes in. Performed strongly by Lewis Griffiths, Nick is very quiet but later admits to being so.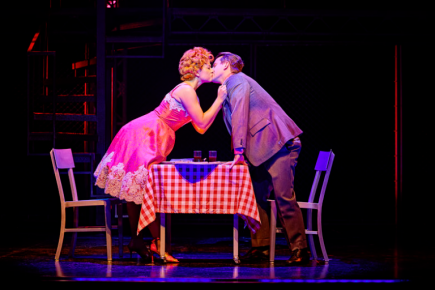 Although the main men play very strong leads, the cast as a whole are brilliant, with other members captivating the audience in multiple roles – each having their own spin on the Jersey accent.
For fans of the Four Seasons, this is not one to miss. All the hits are played, from December, 1963 (Oh, What a Night), to 'Walk Like a Man' and Frankie's Can't Take My Eyes Off You.
All in all, Jersey Boys makes for a great night and a great show with stand-in actor Peter Nash stealing the show for me. The hits, the moves and, of course, the slicked back hair – what's not to like?
*Jersey Boys is showing at Palace Theatre, Manchester until Saturday, February 16. You can buy tickets HERE.