When Brand New first announced they were to land on UK soil this month for four unusually intimate performances, we knew we were in for something quite special.
After the band called off their 2013 European tour due to 'insurmountable personal issues', tickets for their 700-capacity Manchester Gorilla show last night ‒ originally scheduled to take place at the Royal Northern College of Music ‒ sold out within a matter of minutes.
With a staunchly loyal fan base and a discography as humble as their demeanour, it is fair to say that these guys would struggle to get a set list wrong.
And last night's selection was nothing short of phenomenal.
Jesse Lacey and co launched straight in by thrashing out Mene, their first studio recording in five years, which soon had an initially reserved crowd chanting lyrics "we don't feel anything" over and over at full pelt.
The Long Island 'alt-rock juggernauts' then took to gliding their way through an hour and a half of tracks as freshly picked from each of their four studio albums as the Morrissey-esque flowers adorning their mic stands.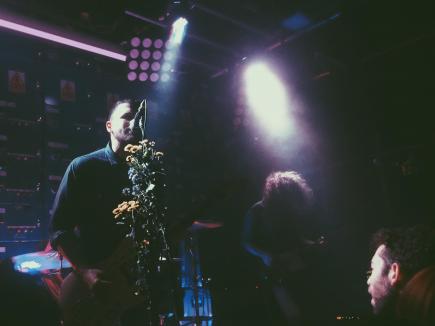 MORRISSEY-ESQUE: Flowers adorned the band's mic stands
Sink, and then Gasoline, were played with as gusto as we can reliably come to expect from live versions of anything from the bands progressive fourth album, Daisy.
The band then plucked Millstone and You Won't Know from their 2006 album The Devil and God… before playing fan-favourites Sic Transit Gloria, I Will Play My Game Beneath the Spin Light and Okay I Believe You, but My Tommy Gun Don't.
The crowd, who have grown up with this band over the last decade and a half, chanted "I hope you come down with something they can diagnose, and don't have a cure for", with all the teenage angst of listening to the same track in a poster-lined bedroom 12 years ago.
True to form, Brand New filled the stage with heart-wrenchingly honest vocals, hypnotic, driving guitar riffs and gut-punching drums, pouring their souls into the performance.
This is a band who never fail to generate an utterly unrivalled electricity in their fans, which being crammed into a small tunnel with merely a few hundred others only sought to intensify.
We were then taken back to 2001 renditions of Mix Tape, followed by Seventy Times 7 – which saw 700 otherwise-respectable adults emphatically screaming, "I hope you choke and die".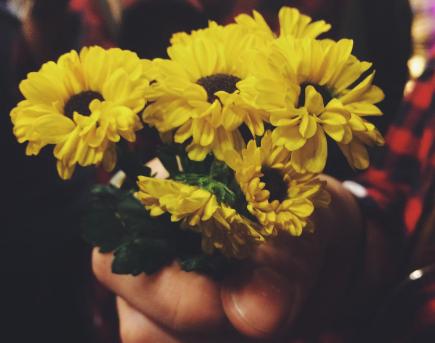 FLOWER POWER: A lucky gig-goer picked up a memento
Sowing Season, Luca and a hauntingly powerful version of Degausser were then followed by a spine-tingling rendition of Jesus, which rounded off the main bulk of the set.
To say that Brand New played immaculately wouldn't quite do them justice.
Subtle on-stage deviations breathed fresh life into their tracks without taking away the essence that the band's almost religious following are so enamoured by.
Knowing we are suckers for anything acoustic, Lacey returned without his band mates for a two-song encore beginning with B-side Moshi Moshi.
Ever-humble despite his status as nothing short of divine, Lacey quipped that it was 'nerve-racking' playing a room so small, before paying a touching homage to his wife and stepson and showing his appreciation to all of the band's devoted fans.
"It is so nice being away from home and feeling so at home", he said.
"Thank you so much," he graced, before threading into a beautifully stripped rendition of the self-acclaimed 'Anthem of Stupidity', Soco Amaretto Lime.
"It is a reminder of how wrong you can be at 18, but also how blissful that is", Lacey announced.
"That is the best thing about being young. It doesn't fucking matter."
Closing the show with piercing vocals and slightly amended lyrics, repeating 'I'm just jealous cause you're young and in love', the evening could be summed up by the sentiments expressed by one fan on leaving the venue.
The said: "That is not ever going to happen again, that was a once in a lifetime."