Morrissey knew exactly what he wanted when posing for one of the most famous photographs in Manchester music history, the man behind the lens has revealed.
The Lowry is hosting a photographic exhibition to mark 30 years since The Smiths released The Queen Is Dead.
A picture used for the album's inner sleeve shows the band outside the Salford Lads Club in 1985.
The iconic shot is one of 20 images of the band currently being exhibited by photographer Stephen Wright.
The 56-year-old has photographed some of the music industry's biggest names including Nina Simone, John Lydon and Madonna.
Stephen was asked to photograph the Smiths by Rough Trade after taking live shots of the band at a concert at the Free Trade Hall.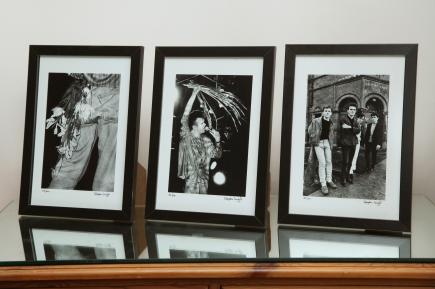 EXHIBITION: The Lowry is displaying rarely seen shots of the band
"Morrissey had a very good idea of how he wanted to present everything visually," Stephen told MM.
The music lover, who was 25 at the time, met the band in Manchester city centre for the shoot.
Stephen photographed the band at Victoria train station and in the Arndale shopping centre before heading to Salford to take the classic album shot.
"If you can imagine trying to take pictures on a really dark November day – it was a bit of a technical struggle to put it mildly," he said.
"We spent about two hours trotting around without stylists, make-up artists or anything else."
"It was taken with the wrong lens on a dark day but to some extent maybe that's why it works.
"There's something quite enigmatic about Morrissey's expression – it doesn't look desperately posed."
Stephen, who spent a decade photographing musicians, used his bedroom as a darkroom at the time of The Smiths shots.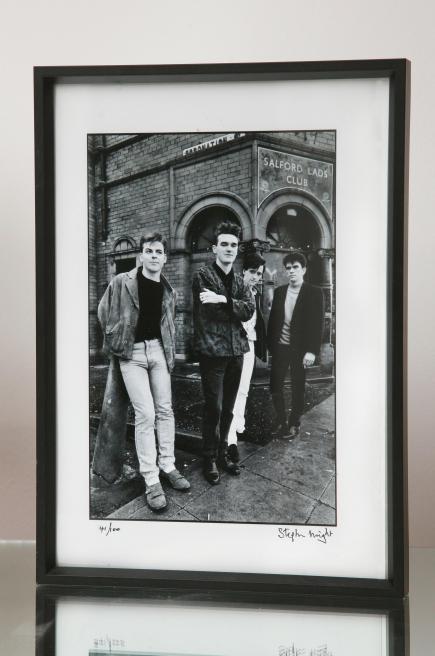 ICONIC: The Smiths posed outside the historic Salford Lads Club
"Manchester was interesting in terms of music at the time and The Smiths were the darlings of the NME in 85," he said.
"They were one of the most important bands to come out of Manchester and they have held that crown really.
"There's always this thing with The Smiths that they were painted as miserable and in actual fact they were far from it.
"Morrissey's communication with the audience was, and is, amazing."
Stephen, who was made an honorary member of the Salford Lads Club, helped the 111-year-old club raise thousands of pounds last year by allowing the sale of a t-shirt with The Smiths image on the front.
The new exhibition coincides with 30 Days of The Smiths, a soundscape by artist Oberman Knocks which is also being held at the Lowry.
Stephen Wright's exhibition will run until June 5.
The photographer is offering Mancunian Matters readers 15% off prints for the duration of the exhibition.
Simply use the discount code lowry2016 at his website here.
All images courtesy of Stephen Wright, with thanks.