A kilt-wearing Robbie William emerged from the stage to his own National Anthem of 'God Bless Robbie' on the second night of Robbie Williams' Heavy Entertainment Show.
Thousands of fans descended to Manchester City's Etihad Stadium for a mix of old and new songs that spanned the 30-year career from Manchester's adopted son.
Just two songs in at the open air show, he said: "We are Manchester and we are not scared."
A running theme through the high energy, performance show that was still reeling from the Manchester Arena tragedy just 2 weeks earlier.
Security was on high alert at the Etihad Stadium, with sniffer dogs, body scanners and high volumes of stewards and police surrounding the area.
The support act was 80's synthpop duo Erasure kicked off the night, which suited the predominantly older aged crowd who appreciated their big hits such as A Little Respect before their own sell out tour next year.
Throughout the concert, he was joined by surprise guests on stage, his own father to sing a duet of Sweet Caroline and Rick Astley to duet Never gonna give you up.
Mellowing with age, he talked about his family and why his staging had a wide variety of chairs as and joked about being high on drugs to help his ruptured disc in his back (the reason for so many chairs).
After a short interlude and a leather kilt costume change. He returned to the stage to play his anthem numbers, Feel, Rock DJ, Strong and Angels.
Visibly upset, He changed the words to one of his songs in the encore to pay tribute to Manchester following last week's terror attack.
Singing: "Manchester we're strong, we're strong, we're strong, we're still singing our songs, our songs'.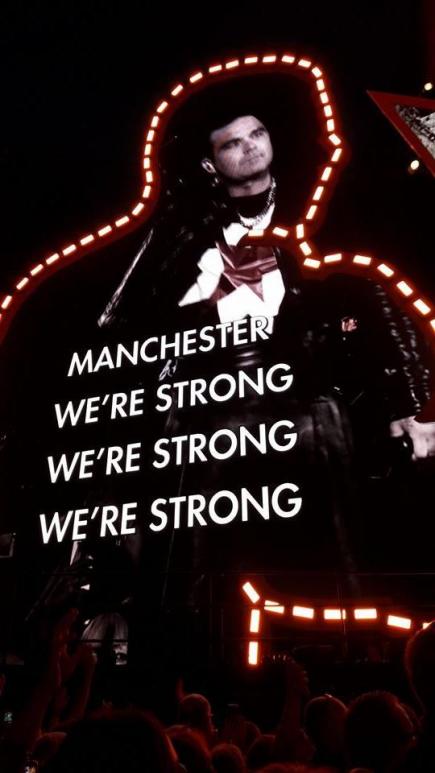 He said to the crowd: "Manchester were strong, These bees still buzz."
In a sea of phone lights illuminating the stadium, Angels was also dedicated to the Manchester victims and their grieving families leaving many audience members in tears.
Closing the performance with My way was a fitting choice for a pop star whose career has spanned over 3 decades and he can still be counted on to put on the ultimate performance with a respectful tribute to the victims of the Manchester attack.
Heavy Entertainment Show Set List
God Bless Our Robbie (to the tune of "Land of Hope and Glory")
The Heavy Entertainment Show
Let Me Entertain You
Monsoon
Party Like a Russian
The Flood (Take That)
Freedom 90 (George Michael)
Love My Life
Livin' on a Prayer / Take on Me / Rehab / The Best / Kiss / I'll Be There For You / Stayin' Alive / She's the One / Old Before I Die / Candy / Here Comes the Hotstepper / Everything Changes (Audience Participation)
Come Undone / Never Forget
Never Gonna Give You (with Rick Astley)
Rudebox
Kids
Sweet Caroline (Neil Diamond cover, joined by Robbie's dad, Peter)
Motherfucker / Hey Jude
Feel
Rock DJ
Encore:
Strong (lyrics changed to support Manchester after attack)
Angels (dedicated to victims of the Manchester Arena bombing)
My Way (Claude François cover)