The much-loved Chorlton Arts Festival is going ahead this weekend in a virtual town accessed online to make residents feel safe during the pandemic.
Organisers have recreated Chorlton using 3D virtual software, so residents will be able to walk down the high-street and enjoy the work of over 20 local artists, all from the safety of their own home.
The town is the brainchild of Chorlton resident and curator of the arts festival, Jess Symons of Visioning Lab, along with a team of volunteers.
She said: "Virtual placemaking is something we're so passionate about at Visioning Lab, and I'm delighted to see it working to bring people together in my hometown."
The virtual art spaces, created through Mozilla Hubs, are communal, allowing visitors to see each other and wander around much like you would in a gallery.
Residents, who will be assigned Lego-like avatars, can arrange to go at the same time and spend time together virtually when they can't physically do so.
Ms Symons said: "It is just so funny to be standing next to a panda and duck watching human musicians performing on a large screen, all the while knowing that you are really at home wearing headphones and sitting at the computer in your front room!"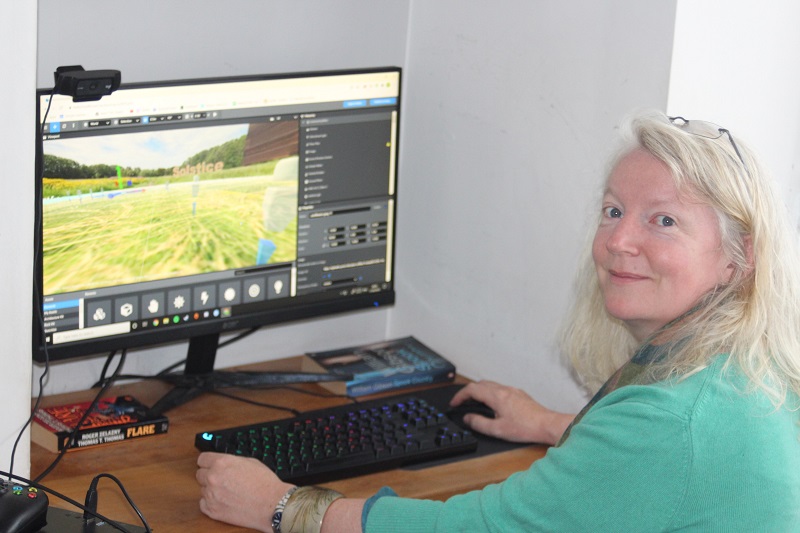 Paintings of Chorlton by 71-year-old Chorlton artist and festival director, Peter Topping, were used to create the online world, so visitors can see familiar landmarks as they wander the virtual high street.
He said: "When Jess approached us with the offer to facilitate a virtual arts festival we jumped at the opportunity. Our virtual Chorlton has all the important places but also a little bit of mystery because no virtual town is complete without a secret tunnel!
"I am delighted that people can get together virtually, to stroll through their township, enjoy free performances and art exhibitions, and chat together about their experiences."
The festival, that was originally planned for May, is supported by comedian Jason Manford and indie singer-songwriter Damon Gough, known by the stage name Badly Drawn Boy.
Among other features of the festival, visitors can watch artists' films together in a virtual space that is themed as an outdoor festival against the backdrop of Chorlton Ees nature reserve.
Other virtual spaces include a watercolour version of Chorlton Ees by artist Anna Violet and the inside of a bin by photographer Mike Beard, who wants to highlight environmental issues.
Future plans for virtual Chorlton are to use it to promote local traders' websites – as lockdown sees businesses' trading hit dramatically.
To access the festival and find out more information go to www.chorltonarts.org