Steps wowed on stage during an exclusive after party following two jam-packed shows at Manchester Arena.
The five-piece pop legends performed the intimate set in front of a small number of lucky fans at the Hilton on Sunday.
The band sang a number of their well-known hits, such as Scared of the Dark and Deeper Shade of Blue at the lavish venue in Deansgate.
After a multi-year hiatus from the music industry, Steps were met with a warm Manchester welcome during the up-close-and-personal set, marking their last night in the city as part of their Party on the Dancefloor tour.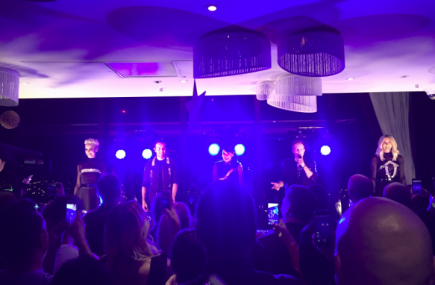 WOW: The band made sure to impress
Sporting their signature coordinated outfits and performing their classic dance routines against the enchanting backdrop of the city centre's nightly skyline, the pop stars easily impressed those in attendance.
The group – made up of Lee Latchford-Evans, Claire Richards, Lisa Scott-Lee, Faye Tozer and Ian "H" Watkins – teased fans by appearing indecisive before ending their performance with everybody's favourite party anthem, Tragedy.
This came shortly after the fivesome had dashed across town after finishing up their second concert of the weekend at Manchester Arena.
Vocalist Claire also promised another tour next summer, much to the delight of the group's dedicated fans who still remember all the words to their catchy songs after two decades.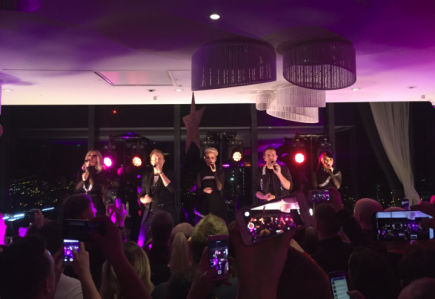 BUSY: The group had only just finished singing at Manchester Arena
Steps are celebrating their 20th anniversary in 2017.
Since forming in 1997, the band have scored fourteen consecutive top five singles, sold over 20 million records and reached the number one spot with three albums and three singles.
Tracy Downing, who travelled from Barrow-in-Furness to catch Steps, gushed about the after party performance and the gig at the Arena.
She said: "They were absolutely fantastic! I went to the Manchester Arena to see Little Mix a few weeks ago and Steps knocked them out of the park.
"I remember Steps when they began and I still love all the songs."