With Christmas fast approaching, the elf on the shelf has got to go on a shopping spree for Santa to buy all the good people of Manchester the ideal gifts.
Here are some of the must have festive favourites that we have spotted out and about.
Gifts for men
For the football fanatics, the Retro Manchester united shirt costing £35 is a must as it commemorates the treble winning season of 1998-99 and was the most successful season in the history of Manchester United… it also looks great with a Santa hat!
For the blue side of Manchester, this year has seen the release of the 125 year commemorative shirt worn by players at the community shield at the start of the season. The clean cut shirt costs £65 so start saving your pocket money now!
For the adrenaline junkies, the SUPERCAR experience and paintballing for four people are now available at WHSmiths for £45… Nothing says festive cheer like shooting compressed paint at a good friend, and it's also an absolute bargain at £19!
For those of us who want to lose some of the extra Christmas insulation thanks to the endless festive meals, Rick Stein's 'long weekend' book is the one for you! It's got over 100 great meals that are nice and H-ELFY!
Gifts for women
For the ladies at Christmas, here are some essentials to get on your list this year.
If you want to get away from it all with the girls, then 'charming inns and rural escapes' could be one for you for £89!
Or, If Christmas in the sky is what you're after, then the helicopter experience available at WHSmiths is perfect, brilliant views from ding dong merrily up high and a possibility of having a drag race against Santa and his sleigh… subject to availability!
 A trip away with a special someone could be a perfect way to spend the festive period and in the words of Mariah Carey, "all I want for Christmas is… a weekend away with the other half for only £99!" which is what WHSmiths are offering now!
Festive food
Festive food is an essential and for those of you who want to buy some nibbles at the higher end of the price range then we have some sumptuous suggestions for you!
Afternoon Tea for 2 gives a pleasant break from the Christmas kitchen carnage and offers a relaxing taste of a truly British tradition for a reduced offer of £36.
Or if 'sharing is caring' is your motto  and you want to be S-ELFLESS this Christmas then why not purchase the Thornton's Tasting menu costing £40, which is a little bit 'rein-dear' in my opinion, but taste incredible… or so I've heard.
Gifts for kids
For the children on Santa's good list this year, we've found a few gifts  for them this Christmas which they would absolutely love… no, I'm not talking about gold, frankincense and myrrh, I'm talking about…
Junior sports car experience (£45), table air hockey (£20) and for those of you who want to prove that you're as good as Pep Guardiola and Ole Gunnar Solskjaer, then why not try the new Football Manager game for £39.99, it also has amazing reviews in fact, it's been given 4/5 stars by 'Games Radar' and described as "brilliantly realistic".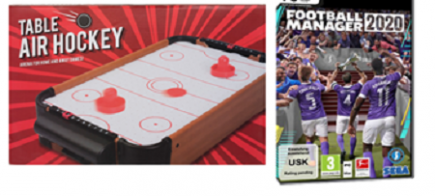 Stocking fillers
And finally some little bits and bobs to fill the stockings with on Christmas Eve.
Why not treat the ones you love to something really special, a Boris Johnson Toilet brush and Toilet paper is the perfect gift this Christmas or perhaps you'd prefer to immerse yourself in a different world all together with  'scope VR headset' which is now under £10 and has fantastic reviews!

For the children who want to get creative this Christmas holiday, the smart putty is the perfect stocking filler: it also glows in the dark!
And for those who like some toilet humour, why not buy the 'Toilet alarm' (£8) to let the ones you love know the situation of the toilet and if it's best to leave it for a while after a Christmas feast!