As part of the Free Jazz series at Band on the Wall, MSC Big Band curated an evening of jazz and hip-hop featuring DJ Jude the Obscure, the Maddie Herbert Trio, Disrupt MCR and, of course, MSC itself. 
Anyone who's attended a MSC Big Band gig before knows that they're in for a treat; previously they put a big band spin on covers of songs by the likes of Mark Ronson and Deee-Lite. But this Free Jazz evening saw their first ever fully original set. 
The evening was a perfect progression in music, easing you in with a chilled-out DJ set by Jude the Obscure in the bar area, before eventually submerging you in an intensity of sound created by a 25 piece big band.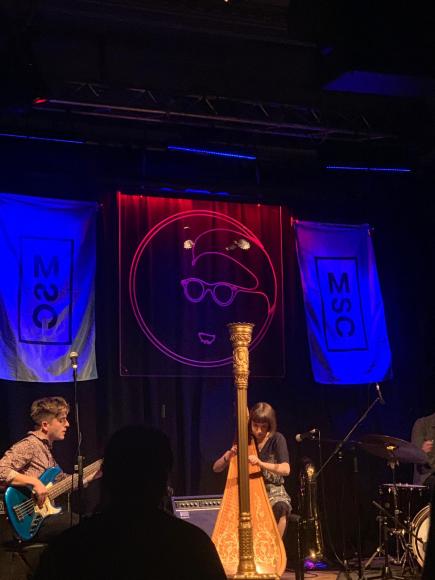 As a venue Band on the Wall allows for a two-part musical experience. The bar and lounge area has an eclectic feel with posters adorning the walls and mismatched furniture creating a warm atmosphere.
Then there's the stage area, an intimate space which manages to feel like something much bigger. Period details on the ceiling combined with a balcony area nods to the building's history, while the stage lit in red and blue and decorated with MSC banners and a neon logo give the space a contemporary feel.
The first act was the Maddie Herbert Trio, featuring Maddie Herbert on harp, Josh Savage on drums and Chris Rabbits on bass. Not an instrument you come across often, it was the harp that captivated the audience with its delicate sound filling the room.
The debut performance of their song Funk was met with whoops from the crowd and allowed each instrument to play to its strengths.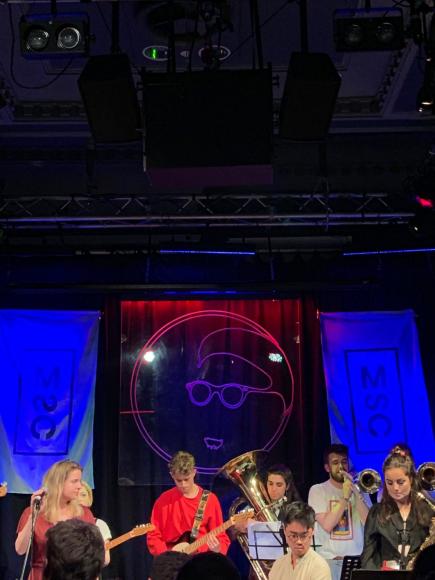 After a brief break Disrupt brought a very different energy to the stage. A collective of rappers, singers and instrumentalists, they came across as a jazzier version of American group Brockhampton.
They energised the crowd with their unique combination of rap and jazz, the song Foreigners featured layers of sounds as bass, keyboard, drums, vocals and sax all came together to create a sound that was contemporary yet referenced so many genres.
Finally it was time for MSC Big Band and it was clearly the performance everyone had been waiting for as the audience doubled in size and the air was thick with anticipation.
There's something about a 25 piece big band taking to the stage which raises your expectations, and an indescribable satisfaction when your ears are met with the rich sound created when all those instruments come together, from the trumpets to the tuba.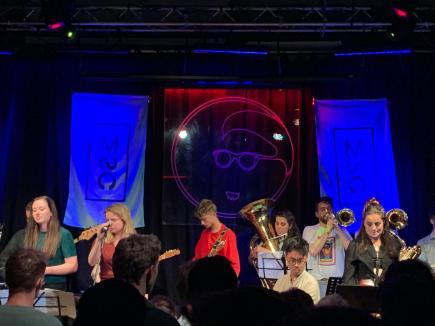 Each song managed to create a different mood; Days on Days had an upbeat feel to it with a funky trumpet solo, while Chances featured a jazz-dub fusion that was otherworldly.
There was something raw and primal about the drums in Chuggers, leading to one audience member shouting 'rock and roll' as the crowd broke up into pockets of dance and everyone seemed to lose themselves in the music. 
Bringing the evening to a close with Grown Ups, it was clear that the MSC sound has evolved into something much more sophisticated than the covers they used to perform, although the party atmosphere that they bring to a performance has not faded in the slightest.
Manchester's contemporary jazz scene is definitely one to watch.