Figs in Wigs are weird and wonderful; very weird and very wonderful. In fact they're downright bonkers and bloody brilliant.  
Last night they opened their new show Little Wimmin, a HOME Manchester commission, to a lively room of unwitting and anticipative theatre-goers. 
The five figs – Rachel Gammon, Suzanna Hurst, Sarah Moore, Rachel Porter and Alice Roots – are an all-singing, all-dancing avant-garde performance collective. They do not make high-brow theatre with a traditional plot line and they don't take themselves too seriously; Shakespeare at the Globe this is not. However that doesn't mean it's not important and entertaining theatre.  
The performance is billed as an adaptation of Louisa May Alcott's much-loved novel Little Women.
However, this should be taken with a pinch of salt as there is little similarity between the book, (or the many film adaptations) and the play. The March sisters, Beth, Jo, Amy and Meg are portrayed and to start with it's surprisingly accurate – for a brief moment I wondered if I was actually going to be watching a genuine Little Women adaptation.  
However this is not a re-telling of Alcott's classic novel, so if you go expecting a soppy tale of sisterly love set during the American civil war then you'll be deeply disappointed.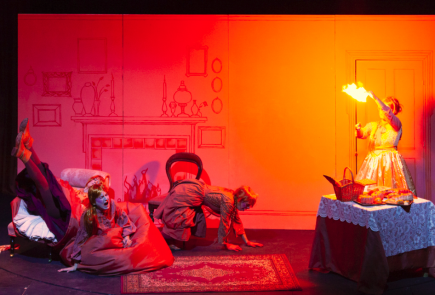 PUNS APLENTY: Little Women this is not, as Figs in Wigs bring the absurd to the theatre
The show isn't for everyone. It definitely falls into the 'marmite' category of theatre. I saw many baffled faces when the lights came up after a 10 minute skit whereby the Figs, dressed in orange plastic overalls, make a giant margarita from scratch (including juicing the limes) in a grotesque Charlie in the Chocolate Factory-esque performance.
I also heard well-deserved belly laughs throughout; this is a comedy and the puns were in full flow all evening.  
There are moments of the absurd, many in fact. 
There are buckets of limes falling from the ceiling (a reference to Amy and the Civil War era playground currency of choice – think Pogs or yoyos), giant dancing gloves (Meg's one guilty pleasure), and a choreographed full-length version of Chris Rea's festive favourite Driving Home for Christmas which I'm not going explain, even if I could.
The beauty of a show like this is that it doesn't matter if you don't really understand a lot of it, or if you think it's a bit weird; it's all about the experience.
The sounds and the colours are brilliant, unsettling and atmospheric; Bright oranges and deep pinks glow throughout the show and music ranges from death metal to classic and orchestral.
The set is simple and occasionally malfunctioning but it didn't matter. The focus is meant to be on the five artists and their impressive and hilarious performances. 
Important and current themes of feminism and climate change are there but are generally subtle, although an innocent rug beating by the March sisters leads to a frenzied attack accompanied by the chant "beat the rug, beat the patriarchy!" with resulting roars of laughter from the audience. 
Beware, the format is rather odd, with a 20 minute introduction followed by a 20 minute interval, and then the final 1 hour 15 minute of the show. This is a bit unsettling but forgivable once the second half is in full-swing.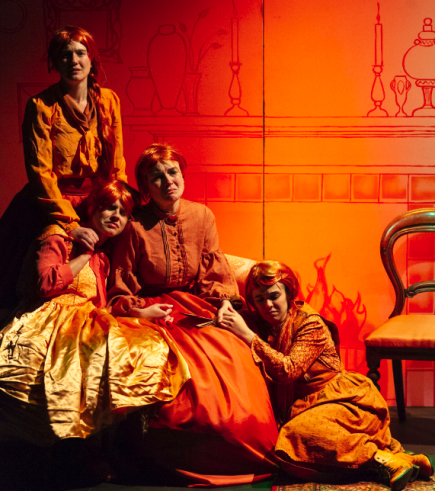 EXPERIMENTAL FLAVOUR: A show of the 'marmite' variety, Little Wimmin features a soundtrack that goes from death metal to classical
I loved it. But then I like figs, marmite, and experimental theatre. You might hate it, but you won't know unless you try.
I highly recommend you give it a go, live out your inner Jo March; be brave and try something new. Nobody wants to be like boring Beth. Beth dies anyway (this is not a spoiler).
Little Wimmin by Figs in Wigs runs 5-7, 11-14 March 2020 at HOME Manchester. https://homemcr.org/production/little-wimmin/