The National Theatre's innovative adaptation of Macbeth successfully is reimagining a Shakespeare classic at The Lowry.
The Scottish Play brings all the expected bloodthirsty monologues, calculated plots and fatal combat but sets the tragedy in the near future following a bloody civil war.
Student trips fill the audience, and the modern props and costumes – like parkas and Adidas joggers – ensure an outdated societal system is made more relatable.
Well-timed fighting plays out from the off, notably on a large slope used for most of the play – an intelligent addition that makes the action more visible to the audience.
The three witches double as gymnasts, suspending themselves on poles, eerily looking down as the action unfolds.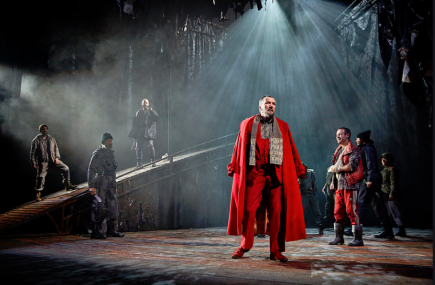 Their lines are reduced compared to the original text, but their harrowingly slow movement and vocal reverb effect maintain their mystic horror.
Macbeth's monologues are well projected throughout and spoken how Shakespeare intended, as you would expect from such a prestigious production company.
Freeze frames facilitating these are tight, and one is particularly impactful when house music at Macbeth's modernised thane celebration is dramatically stopped to hear his malicious thoughts.
Keeping the modern theme, King Duncan is murdered inside what appears to be Macbeth's outhouse rather than a castle, but the importance of the act is still clear.
A panicked-sounding flute accompanies each door knock before the discovery of the dead monarch, and the fall-out that follows is not diluted by the less majestic set.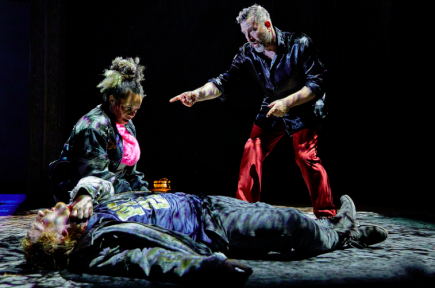 Macbeth seeing Duncan's ghost at the dinner table is typically eerie, yet it evokes audience laughter at his guests' reaction – a welcome break from the suspense.
Macduff's endearingly playful son is too. That is until he is killed along with his siblings, whose heads are presented to their mother in carrier bags.
Kirsty Besterman successfully portrays Lady Macbeth as the calculated, yet mentally infirm character that's known so well.
Both those states are equally enthralling, particularly the infamous sleep episodes where the character tries to remove the imaginary blood from her hands down stage.
The well-choreographed final scene sees the whole stage used as Macbeth fights Macduff and the ghosts of his imagination until the sight of his dead wife allows for his murder.
The beheading that follows looks horrifyingly realistic, and the performance ends once Macbeth's head has been dropped into yet another carrier bag.
All in all, Macbeth is everything people have come to expect from this classic play, but it adds extra dynamism and creativity to make it more attractive to a modern audience.
*Macbeth is showing at The Lowry, Salford until Saturday, October 6. You can buy tickets HERE.