Self-styled as 'an idealist mixed with a goofball' and 'an intellectual with no common sense', Dane Baptiste is a comic who has no intention of withholding his opinion.
Dane attributes his outspokenness to his early days in South London, growing up in 'a kind of strict immigrant home', where children were seen and not heard.
And he told MM that he makes a conscious effort to challenge the effects of an upbringing that stifles creativity – both in himself and in his crowd.
"Coming from South London, there's a big culture of hyper-masculinity and that comes from the fact that a lot of young men feel that if they do act or embrace any part of their feminine side that they'll be seen as vulnerable and weak," he said.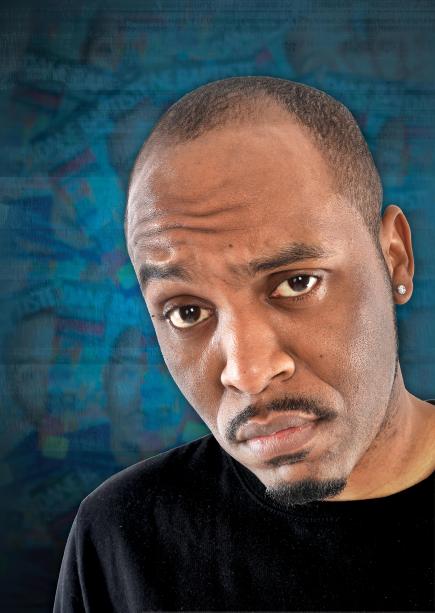 NOT ABOUT THE MONEY: Dane tried his hand at a 9-5, but promptly turned his back on that lifestyle © Steve Ullathorne
"I spend my time trying to open up the discussion in a funny way so that maybe people laugh about stuff they should maybe cry about.
"Once they've finished doing that, they can think about what I've said and maybe act on it and try to inspire people to say and do as they think.
"I get a whole crowd to try to think for themselves, that's probably the biggest part of what I do, not necessarily trying to get people to think like me but trying to find a part of myself in other people."
Before starting his comedic journey, six years ago, Dane worked as a recruitment consultant – a role that gave him no pleasure and one he was pleased to see the back of.
Now, he talks passionately about his zeal in a new role that he really cares for, what he wants from life and how his goals have changed.
"I wanted the opportunity to make a lot of money and then I realised that money doesn't make the man," he said.
"You can inherit money and you can find money so it's very difficult to judge your inherent worth based on the amount of money you have.
"I tried it. I tried to do the 9-5 and I couldn't bear it.
"I was brought up not to tell lies and not to cheat and that's very hard to do in the world of business. At least I get paid to do this and tell the truth of what I think."
It is a strong and unabashed on-stage exploration of his world view that much of Dane's show centres around.
Dane prides himself on being open to any issue and has been particularly vocal on the topic of race, which he talks about passionately both on stage and off.
Black Jesus, on the day of chocolate resurrection, forgive my sinny sin sins @slinkjohnson #puffingandpassing #amen pic.twitter.com/uECi6nnuxa

— Dane Baptiste (@DaneBaptweets) March 27, 2016
"What we do with comedy is try to recreate conversation," he said,
"I think when you are having a conversation with people that you feel close to or there's some kind of intimacy, you reveal your true self and about how you really feel.
"Comedy is an art form so it's supposed to be provocative – so to do it properly you have to talk about how you feel.
"I talk about a lot of stuff that people don't really want to talk about, I don't stay away from things. I don't see the point of avoiding anything, you can avoid it on stage but you can't avoid it life.
"It's easy to forget I'm black on stage, but there are plenty of things off-stage to remind me. Comedy can be used to explore racial stereotypes and break them down and that can only lead to better race relations.
"I think that being a black British male comic from the age of 18 to 34 is not really a narrative you've heard in the medium of comedy for a very long time.
"Something like music, for example, then yeah there are several different perspective from guys like myself but there's not really a perspective from young British black men and someone from a working class background.
"If you discuss race then some people get uncomfortable because usually when race is discussed in the mainstream media then it is discussion in reference to the drawing of battle lines."
Dane's point is punctuated by the fact that his upcoming BBC3 commission, Sunny D, is one of the only black British sitcoms to hit the airwaves in a long time.
However, he is quick to point out that the social problems faced in UK society aren't limited to race – problems that are also mirrored in the world of comedy.
Chilling with @gogglebox0 and @JJyabbas at #Badboysofcomedy @KevinJChats @SLIMcomedian smashed!! pic.twitter.com/PRn5PtoEC0

— Dane Baptiste (@DaneBaptweets) March 27, 2016
"I'm not under the impression that just because you're white, your life is easy," he said.
"There are a lot of problems that white people working class people have, which I'm prepared to discuss as well.
"A lot of the time what you will see is that the [comedy] establishment will feel the pressure to be diverse so they'll put anybody there.
"Race is skin deep, because a person has a particular skin tone doesn't mean that their narrative is going to strike a key with their peers.
"I don't presume that because I'm black, if I speak to a room full of black people they're going to understand what I say and identify with everything I say.
"If you have an innumerable number of white male comics, the cream will always rise to the top and the same has to be applied elsewhere."
His criticism of the homogenised media representation of categories and people by mainstream media outlets focuses on how it underestimates the diverse spectrum of modern UK society.
And this has fuelled Dane's worries over the influencing effect of television and how much what people see in the media informs their own view, pointing the finger at what he sees to be a major blockade before social mobility and artistic expression for creatives – reality television.
"People feel like they can perceive things easier with these rigid labels," he said.
"In terms of colour, I think it's a spectrum and I think we need to embrace more that it's a spectrum because there is a large amount of homogenisation.
Tour starts in a week. White, black, red, brown & yellow all welcome https://t.co/oveoyaOMm0

Check the set; this the sh*t I'm about

— Dane Baptiste (@DaneBaptweets) February 28, 2016
"I would argue that most white people in the UK could name more breeds of dog than they can name nations that black people come from.
"A lot of reality TV seems to be a function of capitalism.
"It's cost effective as opposed to being very good. But the problem is that it's punctuated with the phrase 'reality'.
"If people see something on TV they'll take it for gospel. But it's not real.
"If every scenario you observe is from that fake background then you don't really absorb any human interaction or any genuine exchange and that can have a long-term effect on you.
"There a lot of young people who, even with the fraction of the resources given to them, create so much."
In spite of his worries, Dane appears positive about the future and he has every reason to be.
With multiple comedy awards, sold out shows on his current Reasonable Doubts UK tour, spots on national television, and a sitcom on the way, the future looks bright.
And he insisted that optimism will find its way into his material.
"It's not all doom, gloom and race material – sometimes it's funny!"
Dane will be at The Lowry, Salford on Sunday, April 10.
Image courtesy of BBC, via YouTube, with thanks