"Perfect your right hook," was the reply of former Sex Pistols member, Glen Matlock when asked whether he had advice for bands at loggerheads.
Touring by popular demand, Matlock is currently performing 11 gigs all around the country for his recent Winter Tour, starting at Gloucester's Guildhall and concluding at Manchester's Deaf Institute.
Matlock also gave some new details about that famous 'I swear I was there' night at the Free Trade Hall on June 4 1976.
Firstly, he gave more details about his acoustically based Winter Tour.
"I performed acoustically at Edinburgh Fringe 2014, and it's snowballed from there really," Matlock told MM.
"Basically, I'll be playing songs from different parts of my career such as when I worked with Iggy Pop. I've also got some new stuff up my sleeve and, obviously, Pistols' stuff, which is what the people want.
"I mean, let's face it, if I went to see David Bowie when he was still around and he didn't do Heroes, I'd probably walk out that gig disappointed.
"There's plenty to pick and choose from, but it's not just me playing a guitar to an audience, I tell the stories behind the songs with a couple of high tails added here and there.
"I got a great reaction performing at Glastonbury to 10,000 people. It's a simple way to interact with people.
"Every audience member is a potential backup singer, so the acoustic sound is a way to get everyone involved, whilst giving off great vibes. It's like songs of consequence and integrity."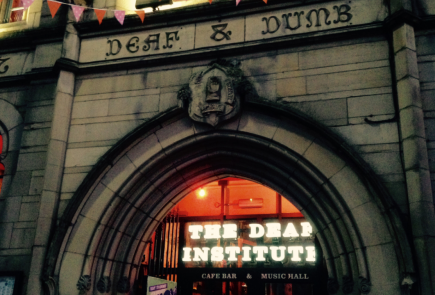 GET INVOLVED: Matlock can't wait to play The Deaf Institute on Nov 30 to interact with another great crowd 
Matlock stated he just plays for the hell of it and there is no real end achievement.
"I'm a song writer and playing music is my way of communicating. There's no better feeling than getting that thing burning in the back of your head – putting it into song – playing it live and seeing the light in people's eye and how they react.
"For me, that's it. Right there. If they dig where you're coming from, that's the buzz."
Matlock is expecting to get a buzz from holding court at The Deaf Institute alright.
"I've never played there, so that should be interesting. I was meant to play at Gorilla on November 1, but that got cancelled unfortunately, so apologies to fans who went to that expecting me there."
His views on Oasis frontman Noel Gallagher's quote that Manchester is the spiritual home of British music were equally punchy.
"Well I know Noel, he lives around the corner from me in London, so I'll be having words. But I do think Manchester has a good claim for that.
"The thing is, different places around the country seem to come and go creating talent. In the 60s it was Liverpool with The Beatles and the 70s and 80s, Manchester gave the world The Smiths, Joy Division and The Buzzcocks.
"Just recently, I was doing a tour as a guest artist with Heaven 17 from Sheffield, who made their bread and butter in the pantheon with 80s electronic, industrial music.
"And of course, I'm from London, where you've got Ray Davies, Small Faces, The Rolling Stones, The Clash, and the Pistols, so, I think it's open to debate.
"But Manchester's a great place. One of our [The Sex Pistols] first appearances was on So It Goes, which Tony Wilson helped us out with.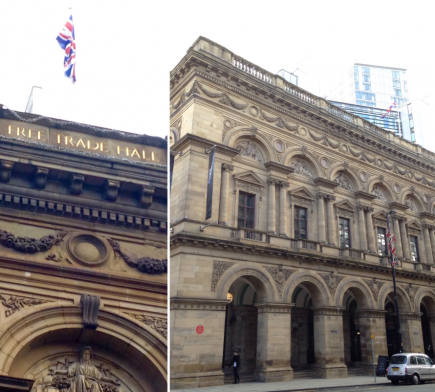 GOD SAVE THE QUEEN: The Union Jack flies outside the Free Trade Hall, scene of the Sex Pistols' iconic 1976 'I swear I was there' gig
"Manchester also presented the Lesser Free Trade Hall opportunity, which is quite a celebrated show, where practically everybody who turned up went go on to form a band – people like Morrissey included.
"And I know it's lauded as one of the most influential gigs of all time, but funnily enough, we nearly didn't get there that night because I got us lost near Chesterfield for bloody ages, which made us miss this radio thing we had planned.
"No satnavs back then."
With a career that has spanned over 40 years, Matlock spoke about a few artists he most favoured to work with.
"I really enjoyed working with Iggy [Pop] and I felt it was a real privilege to work with Mark [Ronson], he produced my band the Rich Kids after the Pistols.
"Most recently though, I got to play with my all-time favourite band, Faces: playing with the likes of Ronnie Wood, Ian McLagan and Kennie Jones all really great players, who always had good maxims of life.
"Other lads who I've got a lot of respect for are Slim Jim from Stray Cats and Earl Slick, Bowie's guitarist. All three of us have grouped together and we're set to release a new album with a great new sound, which comes out early 2017."
But what of Matlock's bandmates? He said he's teamed up with Paul Cook recently to make a record with The Who drummer Zak Starky for an album with proceeds going to Teenage Cancer Trust.
The interview couldn't end without a question about Matlock's passion for west London football club Queens Park Rangers – which might have saved him a right hook himself.
"Last time I was in Manchester in was derby day, and there were some clashes. Then suddenly a police meat wagon turns up.
"I was just having a coffee in St Peter's Square before a gig at the Ritz and two blokes – who'd had a few too many – came over and said, "United or City?!
"I was like 'well, Queens Park Rangers actually' and they were so bemused, they just walked on.
"I always get a good story there, so hats off to Manchester."
NEW SHOW: Prolific musician & ex-Sex Pistols member @GlenMatlock will play on 30th November! Get tickets now: https://t.co/aW5IQw7XDd pic.twitter.com/LgxuXpXj7u

— The Deaf Institute (@DeafInstitute) October 31, 2016
Main image courtesy of Roger Goodgroves, with thanks.