Charly Bliss provided a night of emotional lyrics overpowered with electrifying rock when they performed at the Deaf Institute in Manchester on Thursday.
The American four-piece band – which offer a variety of power pop, indie rock and punk – are known for lead vocalist Eva Hendricks taking the seriousness out of punk and offering an innocent, angelic voice to blend with the powerhouse rock stylings.
Band members also include Eva's brother Sam Hendricks on drums, Spencer Fox on guitar, and Dan Shure on bass guitar.
From releasing their debut album Guppy in 2017, the group have found their voice by favouring pop music as part of their overall sound. However, the Deaf Institute presented a night of what the 'alternative' genre is all about: combining the pop vocals with the rock instruments.
Throughout the set non-stop fun was brought to the crowd with dedicated fans of Charly Bliss and indie fans alike enjoying one big electrifying display of entertainment. From the opening song Capacity, Eva encouraged the crowd to let loose and go wild as she jumped for joy while playing the guitar to her own free will.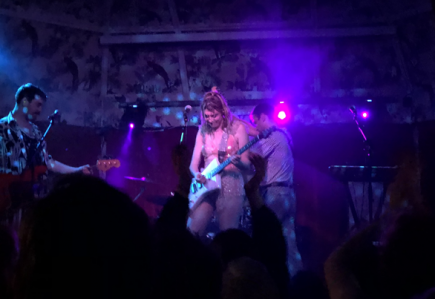 The band maintained a black and white dress code with Eva standing out in a pink sparkly dress, creating a splash of colourful pop on a hardcore styling of rock. The lighting situated on Eva mostly as she shined brightly across the venue.
Dan swapped halfway through to take centre as Eva was playing the keyboard, showing the versatility of Charly Bliss' skills.
A sentimental moment took place with the 2018 single Heaven, as Eva explained that it was once a song about a previous love, but it now resonates with the fans. Despite Charly Bliss' emotional lyrics, the group like to simplify their sound to single emotions.
Eva stated that The Truth is about "someone I like" while Threat is about "someone I hate". These emotions described by Eva resonated with the sound and created a listening experience which was enjoyable, but also emotionally-provoking.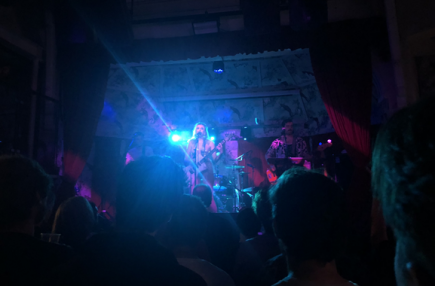 With a catalogue ranging from two albums and two EPs, the band decided to promote tracks from their recently released EP Supermoon. However, songs from their debut album Guppy formed a strong reaction from the crowd with Percolator being the favourite to close the set on.
The songs were matched with an energy which no one could rival as you saw Charly Bliss as a family. It is evident they are playing the tracks they love to play, having found their sound with the balance between punk and pop.
The interactions between all members made for an energetic set with Eva riffing with Spencer and Dan at every opportunity she could. Sam on drums provided a great set with each song being as impactful as the last.
Despite all the unique characters on stage, they blended together perfectly on harmonies to show how they become one big family.
The Deaf Institute is known for hosting indie bands, but Charly Bliss offered a night of fun, emotion and pure, sweaty pop rock which turned the performance into an intimate piece of joy.
With the alternative genre being a leading player in the music market, it would not be surprising to see Charly Bliss leaning from the indie chart to the main chart as their unique offering of quirky punk is waiting to take the masses by storm.