The classic tale Of Mice and Men has arrived at the Opera House – and it's brought the novel's emotion and beautifully-crafted characters with it.
This version of the controversial play managed to tackle 1930s societal issues of cheap labour migration, female objectification and the American dream in a way author John Steinbeck meant it to.
Infamously-tragic characters such as Lennie, Curley's wife and George are known from a large proportion of the audience's school days and the play reminded them just why they're remembered.
It's easy to fall in sympathetic love with Lennie – played by Matthew Wynn –  as him and George –played by Richard Keightley – spend the opening scene talking of their shared dream to 'live off the fat of land'.
Each time their famous dream was repeated, the stage walls – which were lined with wooden planks – would light up blue and dreamy music would play to cleverly demonstrate escaping reality.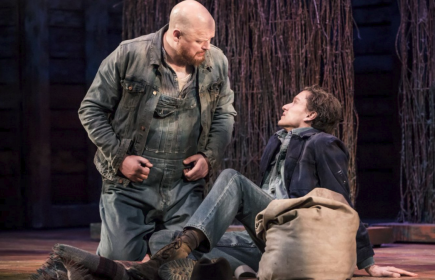 The impression that the dream would never be achievable, even when Candy – played by Andrew Boyer – could contribute, was present throughout, but the signs were subtle.
It's a feeling developed in the novel by Steinbeck's excellently-crafted description, but to portray this on stage through Lennie's personality is a great feat.
Lennie's slowness acted as well-time humour as the two acquainted themselves with their new boss and fellow workers.
With that, the continuously simple bunkhouse set-up of a light, table and beds doesn't intrude on the building of the play's most special aspect – the audience/character relationships.
Candy's old dog was impressively puppeteered before its shooting, but some audience members said poor articulation from Boyer and issues with theatre acoustics didn't allow the emotion of the scene to shine through.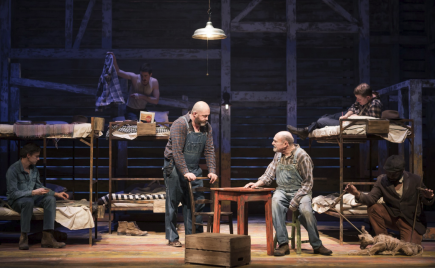 The neglectful treatment of Curley's wife – played by Rosemary Boyle – and Crooks – played by Kevin Mathurin – calling them 'the n*ger' and 'the tart', highlighted their commonalities with Lennie as outcasts to even those unfamiliar with the story.
Meanwhile, the fight between Lennie and Curley, the boss' son – played by Kamran Darabi Ford – ended the act and was well-choreographed, complete with successfully modest fake blood.
Crooks sat on stage through the interval and was joined by an inquisitive Lennie and later Crooks and Curley's wife – a well-signposted scene that, again, demonstrates the story's – as well as society's – various outcasts.
However, it did seem not enough emphasis was placed on Crook's interest in reading to give the audience a feeling he was more than a 'n*ger' stable buck, and his and Lennie's interaction during the scene appeared a little rushed.
The film adaptation portrayed this section of the novel much better than the play, which left Crooks' character a little hollow.
The scene where Curley's wife and Lennie's dreams come to an emotional, yet violent end was once again well-directed, complete with a neck snapping sound effect to make those in attendance wince.
That moment was successfully staged so sympathy for Lennie remained rather than allowing the audience to believe he was a cold-blooded killer.
Deadly silence greeted the moment George was forced to kill Lennie, but not before the set had turned blue and dream-inducing music gave the play's cyclical structure an emotional finish.
The final telling of the dream to 'live off the fat of the land' had the audience realise the American dream just wasn't possible for certain types of people in that era.
All in all, director Guy Unsworth's take on Of Mice and Men did justice to Steinbeck's character embodiment of issues in 1930s America. It's clear the plot still resonates with people even today.
*Of Mice and Men is playing at Opera House, Manchester until Saturday, April 14. You can buy tickets HERE.