The disused railway Mayfield Depot set to be transformed into one of Manchester's prime event centre and nightclubs will be a 'good neighbour' in Piccadilly, promise the developers.
Almost 54 years since passengers last stepped on its platforms, the Mayfield Depot's reinvention as a cultural events centre will contribute more than £11.3million per year to Manchester's economy according to the developers behind the project.
At a public consultation yesterday, the developers announced that building work could start as early as October, transforming the disused railway station into a nightclub, theatre and exhibition space.
Responding to criticism from an anonymous letter which was posted on the Facebook group Parents Say NO to Mayfield WHP earlier this year, David Norris, director of The Depot Management Company, said that the company's robust planning application will stand up to scrutiny.
Mr Norris said: "We want to be a very good neighbour."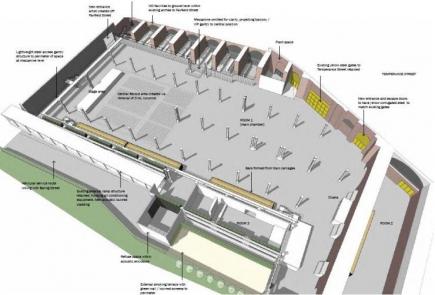 He told MM that the maximum capacity for club nights at the Mayfield Depot will be 7,500 – denying claims that it would be 15,000.
The venue will also be limited to 25 DJ-led events per year, this being one of 79 conditions imposed by Manchester City Council when they granted a premises license in November 2013.
Queuing for events will be contained in the venue or along Temperance Street, with new external lighting and a CCTV system to meet Greater Manchester Police requirements.
The Depot Management also aims to combat prostitution and help to regenerate the area by working alongside Greater Manchester Police and Manchester Action on Street Health (MASH).
As part of the seven-figure development, three of the building's internal pillars will also be taken out, leaving space for 11,500 removable seats, suitable for staged events.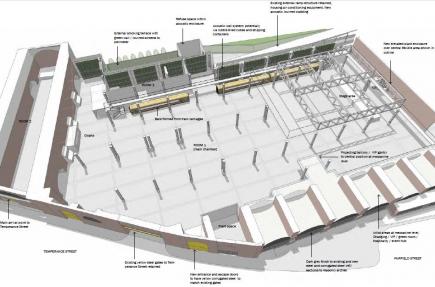 Three old railway carriages, which were discovered during planning, will also be transformed into bars for the venue, which hopes to attract 247,000 visitors to Manchester from outside the North West each year.
Mr Norris also reassured critics of the building's safety that the structure of all the depot's chambers is in good condition.
He said: "All asbestos is encapsulated and is therefore low risk. That's why Manchester International Festival was already there, as all reports have been carried out."
The developers are preparing seven technical assessments, looking into aspects including noise and crime impact, which will be available to the public two weeks from now.  
If the planning application is granted, building will begin in October, with a view to open the Mayfield Depot by Easter 2015.
The company hopes to provide a new venue for arts, food, film, fashion and retail, sport and music and over £26million in visitor spend to the local economy.
The long-term plan, however, is to knock down the current building after three years as the Mayfield Depot and turn it into three office blocks.
Despite the short-term plans for Mayfield Depot, Mr Norris said: "We want to preserve a piece of Manchester's heritage for a few more years."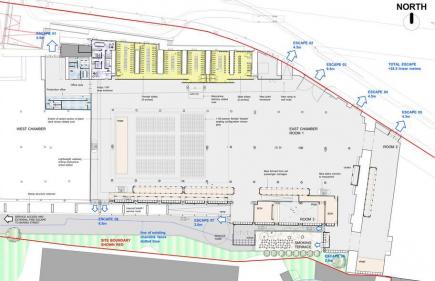 Until the planning application is accepted, the developers are unable to confirm any events at the venue, including the highly disputed Warehouse Project.
The club night came under fire last year after Nick Bonnie, 30, from Gloucestershire died after allegedly ingesting contaminated drugs and a 32-year-old female clubber fell into a coma just one week later.
Last autumn Sacha Lord-Marchionne, co-founder of Warehouse Project, told MM: "[Mayfield Depot] is an amazing venue, unbelievable venue so I think we'd be silly to turn it down." 
Hoping to boost Manchester's economy, the temporary redevelopment of the abandoned station is also set to create 77 construction jobs, with employment and training opportunities available to locals throughout the project.
A further 355 jobs will be generated during the operation – adding over £11.3million to the economy each year.
As well as evening events, Mayfield Depot hopes to attract a wide range of daytime clientele including exhibitions and food and drink festivals.
Mr Norris said: "If you want to hold badminton or five-a-side football we can do that. If World Chess Championships want to come here, we can do that.
If we get our planning application, why would they not use the space?"
The only exception on the entertainment list is boxing and wrestling.
The license of the premises would allow opening hours of 10am to 1am, Sunday to Thursday and 10am to 3am, Friday to Saturday.
However the company is already looking ahead with plans to become a 24-hour premises, which would enable the venue to host breakfast conferences and events that don't include alcohol as early as 7am.
Mr Norris added: "It's not a 24-hour rave den."
For critics of the development, however, it does remain a little ironic that the planned entertainment venue should be located on Temperance Street – a nod to the Victorian era which sought to banish the 'demon' drink of the working classes.
The developers are inviting comments from the public, which can be sent to [email protected] up to next Tuesday, 15 July.
Main image courtesy of Gerald England, with thanks.