Manchester icon Morrissey doesn't have a stitch on the so-good-it's-'crazy' Gallagher brothers, according to singer-songwriter Risa Hall. 
Self-proclaimed 'adopted Mancunian' Risa admits not all of the city's musical exports quite live up to her standards, and would choose to collaborate with the 'unique' Oasis brothers over former-Smith's frontman Morrissey.
Originally from New York, Risa, who moved to the city in the same year The Smiths formed, admits to being less than impressed by the vocal talents of one of Manchester's most iconic, if not miserable, musicians.
Risa said: "If I could collaborate with any Manchester artist it would be the Gallaghers, it has to be the Gallaghers right? They have such unique voices and their songs are just such good songs, like they manage to get so much into just three minutes of a song it's crazy.
"It definitely wouldn't be Morrissey, I'm gonna get killed now [laughs] but yes seriously, his lyrics are really good but his voice isn't up there and I'm all about the vocals."
Luckily for her, Morrissey wasn't free for a collaboration, and she is now back with a new collection of her own songs inspired by her hometown, New York, which she says remains 'in her heart'.
The EP, called New York Nights, contains four original songs including the title track and is an 'eclectic' mix of different genres.
Risa moved to Whitefield, Manchester, in 1983 where she became an actor for the next two decades. Eventually though, she picked up her guitar and by 2006 she began making her way onto the Mancunian music scene.
The American singer told MM: "[The EP] is definitely different from my older stuff as it's much more stripped back, acoustic and organic.
"It was kind of inspired by a film called Twenty-feet from Stardom which contains a lot of backing vocals and you can really get that from some of the songs."
When asked if any Mancunian artists had inspired her, Risa said: "I mean there are some very talented musicians who have really put Manchester on the map but I wouldn't say that they inspire me because their style is too different from mine.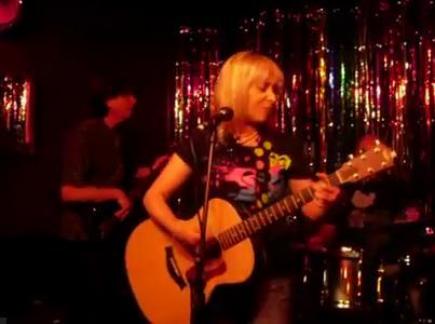 BIG APPLE: Risa's album is inspired by the bright lights of New York (Image courtesy of Risa Hall via YouTube, with thanks)
The latest EP allows fans to see the impact Manchester has had on Risa's life in her new song Kids on Victoria Avenue.
She said: "Kids on Victoria Avenue is about Manchester and the kids who go to Chetham's school who I see playing their instruments and having a good time."
New York Nights is made unique for a number of reasons, one being Risa Hall's authentic, mature and distinct sound which is lacking in a lot of younger musicians' work.
Risa said: "Once I played in this bar and there was a guy in the audience who really liked my voice and wanted to speak about some kind of deal, but I said no as that was when I was more focused on my acting, but honestly I don't think I would have been ready at that age. I wasn't mature enough."
This latest work really showcases the wide-ranging ability of Risa, as even in the relatively few songs on her EP she manages to present listeners with an upbeat, catchy number like New York Nights and broadens the aural landscape by slowing the pace down with Ethereal Waters.
Gemma Downes, 17, from Denton, has been branded the American star's number one fan by Risa herself and told MM: "With her music I think it's just so different. Mixing up her genre gives her music an edge.
"New York Nights is a fantastic new EP which has a great unique touch and great lyrics."
In terms of continuing with her music career, Risa said: "The Ritz would be a really cool place to perform, also the Academy, the Soup Kitchen and of course the Apollo, I pass it every day on the way to work."
If you want to contact Risa Hall or find out about any of her upcoming gigs visit http://www.risahall.com/.
Or find her on Twitter, Facebook and Bandcamp.  https://twitter.com/Risahall, https://www.facebook.com/RisaHall, and http://risahall.bandcamp.com/album/new-york-nights. 
Image courtesy of Jack Turner via YouTube, with thanks.