HOME welcomed esteemed writer-director – and dad of TV star Charley Boorman – John Boorman into their newly carpeted venue to answer a few questions about his follow up film to Hope and Glory. 
The semi-autobiographical Queen and Country follows Boorman's screen alter-ego, Bill Rohan, as he is called up from his idyllic river life to serve two years conscription.
He immediately bonds with insolent toe-rag, Percy Hapgood (Caleb Landry Jones) and shenanigans ensue.
The narrative follows the trials and tribulations of life in a closed army camp; with elite officers, post-traumatic stress disorder and, of course, girls.
Elements of class and the waning imperialism of Britannia rear their heads throughout the film, something Boorman was keen to impress upon the assembled audience when he spoke about his film writing methods: "Writing a film is much more like writing a poem than writing a novel. 
"I started out looking at all the underlying themes, like class and imperialism, and then kept all those issues in mind.
"Every scene should be doing more than one thing, it should resonate in more than one way."
It is refreshing in many ways to enjoy a film that is so simple and clean in its storytelling. The tale has little in the way of climax. It is just a tale. A funny one too.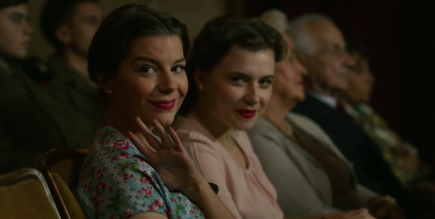 AS FUNNY AS THEY ARE RECOGNISABLE: Much of the humour comes from the soldiers' attempts at courting (© Merlin Films, with thanks)
Following the soldiers through their two years and their personal battles with their officers, they are never called up to fight so their world-view is limited in many ways.
One of the most vital scenes is Bill's trip to the psychiatric hospital where he sees and understands for the first time the toll of the war.
His time up until now had consisted entirely of teaching soldiers to type and warning them to wrap up warm.
A lot of the humour comes from the boys' attempts at courting the young nurses in the nearby village.
Their haphazard attempts at seduction are as funny as they are recognisable.
Tamsin Egerton's mysterious Ophelia is just that, mysterious. She remains aloof from life and from the film but she is still a whole character.
Her story has no beginning and no ending within this film but her troubles are apparent and understandable.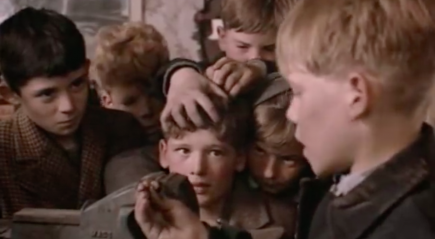 HOPE AND GLORY: Queen and Country is Boorman's follow up to his 1987 Academy Award nominated film (© Columbia Pictures, with thanks)
The two young actors he conscripted were Callum Turner and Caleb Landry Jones who you may remember from his time as Banshee in X-Men: First Class. 
Boorman liked Turner for sharing traits he saw in himself at the time: "Turner had some of the same characteristics: diffidence and a very acute awareness of what was going on around him."
For Percy none of the young English boys they auditioned had the persona he wanted, but Jones, who hails from Texas, had the right 'spikey, reckless, destructive' qualities needed.
Billed as Boorman's last film of his career he was evasive when asked if that was still the case: "Now, if I made another film and was in front of you again in three years time, I would probably be dead!"
Other problems came in the form of insurance. Due to the nature of this film it would not have been possible to have a second director to continue the film in the event of Boorman's death.
"I couldn't have a stand-in director for this film, so the insurance cost a lot because if I dropped dead they would just cancel the film!"
On his career as a filmmaker he said as you get older and more experienced you lose the element of experiment you have in your first attempts.
"When you're older you can focus all the problems, like 'I wouldn't do that because it will depend on the weather' or 'it will take another day of shooting'.
"But, you get a grip on the whole process of making a film, you can reach another level of knowledge and realise a sense of grace."
Boorman spoke pleasantly about converting his life into film and his time on set, saying 'we shot a lot of it in Romania because it was cheap'.
Quite movingly he reflected that his memories of his time during the blitz, as shown in Hope and Glory, had been replaced by his own film and he worried the same would happen with this.
"Memory is very treacherous," he added.
Top image courtesy of Merlin Films, via YouTube, with thanks