If you want to see a farce, there are no companies better than Mischief Theatre.
As with their first two productions (The Play That Goes Wrong and Peter Pan Goes Wrong), The Comedy About a Bank Robbery has become a West End hit, and is now embarking on its first national tour with a new cast in tow.
The show – which is now playing at The Lowry, Salford – is a parody of a 1950s Hollywood comedy, centring around the robbery of an ineptly-run Minneapolis bank.
It is complete with doo-wop songs (the musicality of the show is an unexpected bonus), gorgeous 50s costumes, seemingly endless puns, and some slightly questionable Minnesota accents — all adding to the utter joyous frivolity of the production.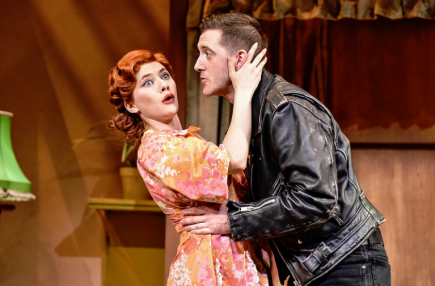 UNIVERSAL: The comedy appeals to a wide demographic 
It's easy to see why this production has been such a hit. The cast are fantastic across the board – each masters of physical comedy. The youngest of the principal cast are particularly impressive.
Seán Casey (as Sam Monaghan) is a delight to watch, pulling off some of the script's more groan-inducing puns with exactly the right amount of charm.
However, the absolute star for me is Julia Frith (Caprice Freeboys). Her physicality, in particular, is exceptional throughout, giving a performance reminiscent of Rachel Brosnahan (star of Marvellous Mrs Maisel on Amazon Prime).
It is hard to believe that this is Frith's professional debut; she is certainly an actor worth following.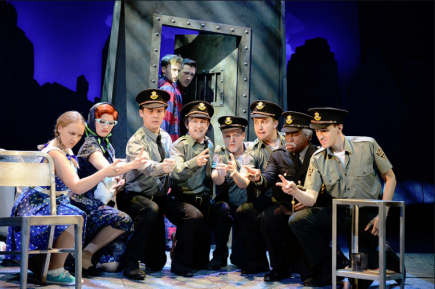 FARCE: Few companies do it as good as Mischief Theatre
As with any farce this is not high-brow theatre, but the intelligence of the production should not be underestimated. The choreography and direction is impeccable, undoubtedly aided by the seemingly indefatigable energy of the cast.
In one particularly brilliant scene at the start of the second act, George Hannigan ('Everyone Else') is alone on a completely empty stage playing three different characters who are all mid-brawl.
This could be an entirely underwhelming moment, with just a single actor on the rather vast and bare stage. However the meticulousness of the movement direction, and incredible precision in Hannigan's performance make for an utterly hysterical solo fight-scene.
But it is the set where the real brilliance of the production appears. It is ostensibly a fairly simply staged piece, until, suddenly, it isn't anymore.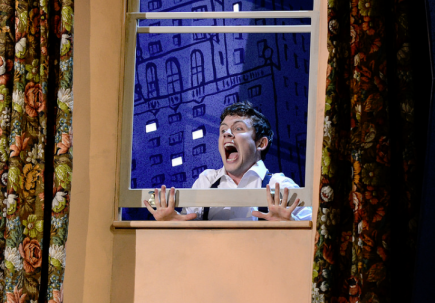 TOURING: The string of shows will take place at The Lowry, Salford
When an entire scene takes place with actors 'sitting' on the back wall of the stage, giving the audience a bird's eye view, you know you are watching something rather smart. I lost count of the number of audience members I heard unsubtly whisper "that's so clever!" when the scene was revealed.
Shows rarely genuinely have 'something for everyone', but The Comedy About a Bank Robbery really does.
It'll be an instant hit with fans of slapstick comedy and puns. It will also be popular with kids (the young siblings giggling behind me throughout were a testament to that). And, its incredible staging and stagecraft will undoubtedly hook everyone else, as you really can't help but be impressed.
If you want to see a farce done right, The Comedy About a Bank Robbery is an absolute must.
*The Comedy About a Bank Robbery is showing at The Lowry, Salford until Saturday, September 15. You can buy tickets HERE.