Giacomo Puccini's La Boheme is one of the most enduringly popular operas of our time – and with good reason.
This refreshingly relevant story can also be found in many other contemporary works such Jonathan Larson's Rent. Therefore, it is no surprise that this particular Opera North production – which is now showing at The Lowry, Salford – has been revived time and again.
A story about young people, their triumphs and their tragedies is brought to life together with Puccini's emotionally charged music.
This production is hugely enjoyable and there is no doubt of its success. A common misconception is that this opera being in Italian can be hard to understand. While the singers do perform in Italian, there are surtitles with the English translation conveniently placed at the sides of the stage. This enables the watcher to have eyes on the action while still being able to take in the translation from their peripheral.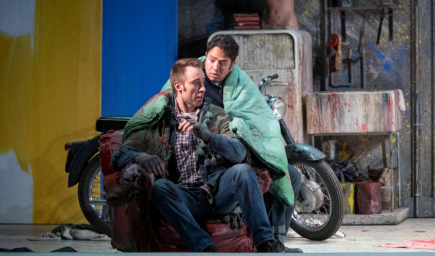 Mimi, played by Lauren Fagan – fresh from Jette Parker success at the Royal Opera House – was enjoyable. She combined well with Rodolfo (Eleazar Rodriguez) who I felt warmed into the role after some initial issues with balance.
It was a shame that during their Act 1 duet O Soave Fanciulla that I could hear the set being changed behind the gauze, interrupting an otherwise beautiful moment which for me is the musical highlight of the piece.
Musetta, played by Anush Hovhannisyan, was the highlight of the night. Her vocal quality is without parallel and was the only principal who did not occasionally struggle to be heard over the orchestra. Her pianissimo at the end of her Act 2 aria Quando M'en Vo was extremely thrilling and I loved the way she was able to go from the utterly ridiculous character in Acts 2 and 3 to the much more sympathetic pious one in Act 4.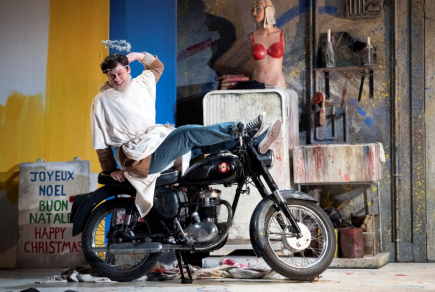 The chemistry between the four male principals was particularly good. The way they successfully bounced off each other onstage was superb and I am certain that choreographers Quinny Sacks and Lauren Poulton played no small part in this. I especially enjoyed the effervescent energy of Colline played by up-and-coming Welsh baritone Emyr Wyn Jones.
Benoit and Alcindoro, both played by Jeremy Peaker, were hilarious. Both roles, often played by the same singer, displayed excellent comic timing.
Parpignol, played by Australian Stuart Laing, was outstanding. Kimblesque in his vocal delivery, complete with pyrotechnics, an oversized top hat and roller skates shone brightly as the highlight of the comprimario roles.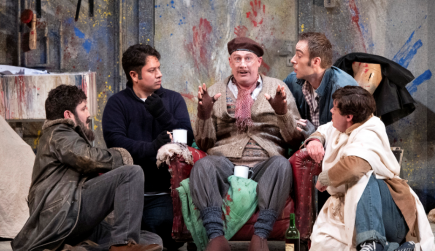 The Opera North chorus were at their usual best, their Act 2 cafe Momus scene was expertly choreographed and I was pleased to see a reappearance of the little Christmas trees which were recently seen in Opera North's successful production of Puts' Silent Night.
The revolving set was innovative, useful and used to great success. A special mention must also go to the children's chorus played by the Opera North Youth Company. Their energy was excellent and diction better than any children's chorus I have ever heard.
Conductor Renato Balsadonna was sensitive, skilful and got the best out of the Opera North orchestra.
*You can buy tickets for Opera North's shows at The Lowry HERE.