Small World, thought to be the world's first deaf sitcom series, is a comedy about a group of deaf flatmates and has been devised and performed entirely in British Sign Language (BSL).
Filming for the show ended last week following a fortnight in Salford's Media City studios.
The project is deaf led as BSL remains the first language for the writers, Brian Duffy and Ace Mahbaz (who also star in the show), the company of actors and director Louis Neethling.
Brian Duffy, co-writer and co-creator of the show with Ace Mahbaz, said: "Ace and I were very poor at one point, renting a one-room flat in Kilburn.
"We came up with an idea for Small World and we pitched it… the rest is history."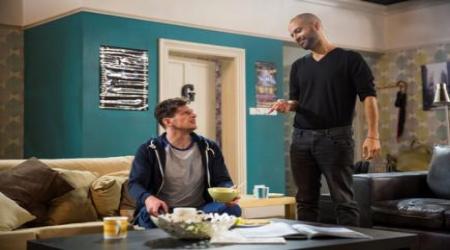 CO-WRITERS AND CREATORS: Ace Mahbaz (standing- ALFONSO) Brian Duffy (seated – RYAN)
The first episode of the four-part series is due to be aired on the BSL Zone at 7:30pm on Christmas Eve before being shown on Film4 the following Monday.
It was first piloted last Christmas and after being well received it was commissioned by the British Sign Language Broadcasting Trust (BSLBT) for its first series.
Director Louis Neethling said: "I've never seen a 28-minute sitcom programme in sign language.
"Small World is unique."
Martin Wright, a television producer at the BSLBT and producer of the show described the quality of the new first series as head and shoulders above the pilot.
He also expressed the importance of hearing people being able to watch and enjoy the show on the mainstream channel Film4.
"It's very important because humour is one way of talking about deaf culture.
"On the mainstream channels with subtitles it's actually really funny.
"I think hearing people would understand a lot of deaf people much more if they were to see programmes like that [Small World]," he added.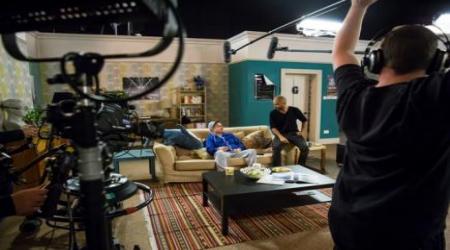 CO-WRITERS AND CREATORS: David Sands in blue (Christopher) and Ace Mahbaz (Alfonso)
Christine Pritchard, community engagement officer at Manchester Deaf Centre labelled the show as great for Manchester's deaf profile.
"We all enjoyed watching it – it was very funny and we hope this will open doors for more programmes," she said.
Small World was developed over a period of three months with a BSL improvised script, which was then developed into a production script.
It is produced by Mutt and Jeff Pictures, a sign language led production company and reflects deaf culture through visual humour, facial expressions and in-jokes.
Ms Pritchard of the Manchester Deaf Centre added: "Small World is very important and a brilliant way forward for the future."
Mr Duffy reiterates this describing it as 'significant' that Small World is Britain's first sign language sitcom and hopes the good feedback about the show continues.
He said: "It shows the times are changing and people are, and should be, embracing British Sign Language."
Images courtesy of Samuel Dore, with thanks.