It's been a long journey for the Manchester based punk label TNS Records, who are gearing up to celebrate 10 years on the city's independent music scene.
Admirable for their core beliefs, TNS Records (That's Not Skanking) are against 'money grabbing promoters' and 'pay to play' gigs, believing music can be a positive force politically, socially and morally.
They have had a huge impact on the underground music scene in Manchester, creating a community that aims for everyone to support one another, discriminating against none.
After 10 years of success, TNS remains loyal to its principles. To celebrate their 10th birthday, the label is holding an annual All-Dayer where bands on the label will play.
Andy 'Psychotronic' and Tim 'Bev' Bevington, founded TNS as a fanzine in 2003.
Put together by Andy and a couple of friends, TNS had humble beginnings. Andy told MM: "I didn't have a computer at home when I first started the fanzine.
I used to borrow my house mate's computer, and do the rest at work."
Andy first met Bev in 2004. His band, Revenge of the Psychotronic Man (ROTPM), were about to embark on their first tour.
Bev explained: "One of my friends from back home joined Andy's band, and they needed a driver."
Not being able to afford to pay, they were thrilled to have a driver who only wanted a couple of drinks in return for his skill at the wheel.
ROTPM have since played a Maida Vale session for the Radio 1 Punk Rock Show.
With legends like Nirvana and David Bowie previously gracing the studios, Maida Vale oozes musical history. The lads didn't disappoint with an unfathomably fast, furious, but outrageously fun session.
The band also had a track played on 6 Music primetime. Look At Me I'm A F***ing Tiger was picked as one of Steve Lamacq's 5 favourite independent tracks of 2013.
Andy said: "If you'd asked us back in 2004, do we think we'd ever get a play on Radio 1 or 6 Music? I would have said that's ridiculous.
"Things happened so gradually, it doesn't seem that much of a leap now – but we were burning CD-Rs, and taping them to the front of a fanzine that we'd photocopied in Oxfam all those years ago."
ROTPM also supported Bad Religion, which won them numerous new fans – people who wouldn't have heard of them before and now follow the band devotedly.
It's hard to explain if you've never been to a TNS gig, it the excitement is intense. It's a very special experience, which reflects the particular enthusiasm of the crowd.
Who knows how the human pyramids came about? Stand too close and you'll find yourself much a part of it. Then there is the slow-motion circle pit, and of course the wheelbarrow wall of death.
To the uninitiated it might sound a tad bizarre, and you would be right.
When TNS started to organise gigs, the team spent long hours handing out flyers.
"It's so hard to get people to come and see unknown bands," the pair agreed.
In the beginning, they were restricted to using only local bands. The line ups were very similar week in, week out.
Most of the gigs were free and the pair were unable to contribute towards petrol money and insurance.
Around a year and a half later the gigs were pulling in crowds of up to 80 people.
After a short period of asking for donations on the door, and no one donating, it became apparent that an entry fee had to be introduced.
TNS never charge a huge amount of money for anything they do. Entry for gigs is usually around £5.
Every penny generated goes straight back into what they produce. Every release, gig, t-shirt and fanzine is produced with only the fans in mind.
The occasional chancer will attempt to avoid the entry fee, sneaking in the back door and heading straight for the bar.
With this in mind, the fans willing to pay entry to their gigs and some funding from the two gentlemen's day jobs, bands from all over the country were soon brought over to play.
With so many great bands playing the gigs, TNS wanted to provide a platform where these undiscovered artists could release tracks – a platform where they didn't have to follow in 'boy band' footsteps.
Starting with local releases, it seemed unimaginable that TNS would have released so much over these 10 years.
The first release was a compilation CD, appropriately named, Music by People Who Drink Cider in the Gutter. The idea was to have every band that played the gigs on one compilation. 
The 20 track compilation featured various local punk rock and ska bands.
The Shadowcops contributed the first full length release. A riffy bunch of disreputable urchins had released work off their own back. This album gave a real sense of what the label was about.
Andy explained: "We started putting things out on CD-R. It was quite exciting for us, the idea of a band like Harijan, and The John Player Specials having a properly pressed CD.
"When we released the compilation album, it made us realise that it was all do-able."
Bev added: "There isn't an actual record of Harijan existing, apart from what TNS has released. As they're actually pretty good – we're proud that TNS had a role in that."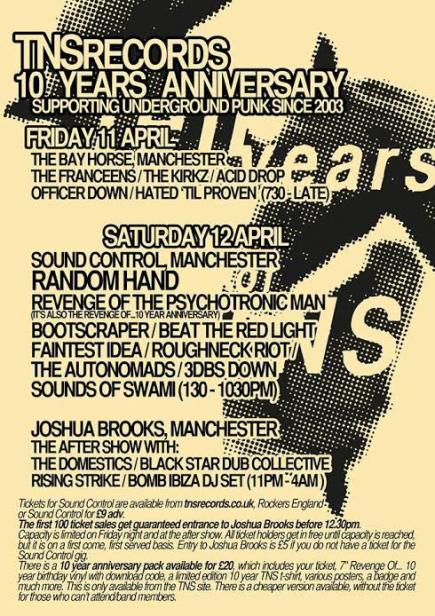 The label now has over 30 releases, and recently pressed up some vinyl only products.
"It's mad to think that we've started to release vinyl," said Andy. "When we first started out, that seemed like a long way off.
"Although we're still mostly using CD, it's great that we now a bit of both."
With both Bev and Andy maintaining full time jobs outside of TNS, they rely heavily on volunteers.
Originally starting with 4 people, TNS now have support from a huge team of friends and fans –helping with promotion and with the overall organisation.
Mikey Wong, a popular figure in the local underground music scene, plays a huge part in the promoting their work on his popular Facebook page.
As soon as the label formed, inevitably the organisers wanted to have a day where their bands could appear on one line up.
With a total of 17 groups and two DJs playing this year's All-Dayer, the music ranges from 'folky, punky', Bootscraper, to a 'thrash metal-ska hybrid' like Beat The Red Light.
The audience will undoubtedly witness some genuinely interesting and exciting music.
This year, for TNS to house all their bands on one bill, they've had to stretch the event over two days.
For the past few years, the All-Dayer has been at Kraak Gallery in the Northern Quarter. The two found it reminiscent of venues and squats they've played and visited around Europe.
In 2013, interest increased a couple of days before the event, leaving numerous punters waiting on the door for tickets being turned away. They needed a larger venue.
This year, the All-Dayer is kicking off with a warm up show at The Bay Horse on Thomas Street, in the Northern Quarter on Friday April 11.
The Franceens, The Kirkz, Acid Drop, Officer Down, and Hated Til Proven are all set to appear. Entry is free, but limited. Doors open at 7:30pm.
The team moves over to Sound Control for the main event on Saturday April 12.
On the bill is Random Hand, Revenge of the Psychotronic Man (also celebrating their 10 year anniversary), Bootscraper, Beat the Red Light, Faintest Idea (who played a Maida Vale session in 2012), The Autonomads, 3DBS Down, Sounds of Swami, and River Jumpers.
Tickets will be £9. The All-Dayer starts at 1:30pm, finishing at 10:30pm enabling Sound Control to run a regular club night.
The aftershow starts at 11:00pm at Joshua Brooks. This rounds off the night with The Domestics and Black Star Dub Collective – Their album From Rusholme With Dub has to be one of the best title releases ever. Rising Strike and Bomb Ibiza (DJ set) also feature.
Tickets will be limited.
Andy says: "It'd be nice to get some new people to there and to give these bands the opportunity to play to some bigger crowds."
"It sounds weird, but all I'm really hoping for is a fun, happy atmosphere." Bev commented, "We just want everyone to have a good time."
Tickets are still available from tnsrecords.co.uk, Ticketline, See Tickets, and over the counter at Rockers England.