If you want army combat gear, trance music, bloodshed and humour, Manchester's Macbeth is for you.
Christopher Haydon's version of the William Shakespeare classic tragedy – at the Royal Exchange Theatre for another month – packs a lot into nearly three hours of wham-bang action.
But come prepared – confusion reigns in the murderous mayhem. While some audience members Googled the plot at the interval, others never returned for the second half.
Madness is Macbeth personified however, and under Haydon's direction we are led down the well-storied path of destruction of the play's focal point.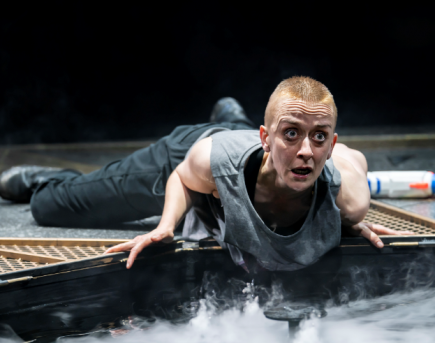 MADNESS: Lucy Ellinson's Macbeth turns from brave soldier to murderous maniac (image courtesy of Johan Persson, with thanks)
And this time it's a woman – Lucy Ellinson – one of few female Macbeths to have been cast in the role.
She's committed, frenzied and pretty creepy as the madness decends, a far cry from the brave warrior who spirals out of control upon a chance meeting with the witches early in the play.
Jovial and chatty alongside the excellent Banquo (Theo Ogundipe), a couple of scenes later she exits the stage dramatically uttering the haunting words: "Stars, hide your fires; let not light see my black and deep desires."
Let the games begin.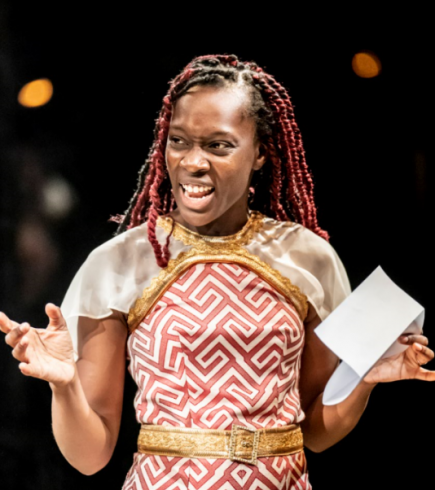 ICE QUEEN: Ony Uhiara shrieks and gasps as a chilling Lady Macbeth (image courtesy of Johan Persson, with thanks)
Ellinson's wife and collaborator Lady Macbeth (Ony Uhiara) – well, more mastermind behind the plot to see Macbeth crowned King of Scotland – imposes herself well on an iconic theatre role. Her chilling manner fused with Macbeth's greed make for a compelling duo.
They are helped by some excellent moments of humour – the witches' mesmerising entrance at the start, the sinister Lennox (Nima Taleghani) toying with the audience immediately post interval and the curious porter (Rachel Denning) posing as a back-stage techie who enters the circle, to much amusement, to fix a blown light.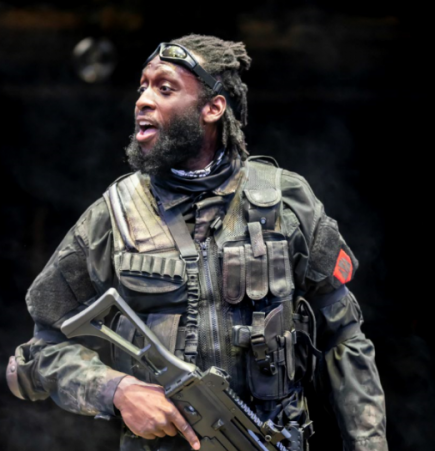 BRUTALLY SLAYED: Theo Ogundipe (Banquo) is fiendishly dispatched by the plotting of the paranoid Macbeth (image courtesy of Johan Persson, with thanks)
When you add a nightclub scene to Macbeth's state banquet – the new king having just arranged for Banquo to be murdered – things turn more grisly while the sight of a huge bear playing musical chairs adds to the surreal vibe.
Ultimately however for all the play's industry and talent on show, in trying that little bit too hard to leave its audience spellbound people looked more dazed and confused when the curtain came down.
Tickets for Macbeth at the Royal Exchange Theatre, running until October 19, can be bought here.