A fresh, authentic music tour has landed in Manchester and is set to boast electric performances from the most hotly-tipped artists in England.
'New Faces' will be hosted by independent label Communion and is kicking off today at the Ruby Lounge.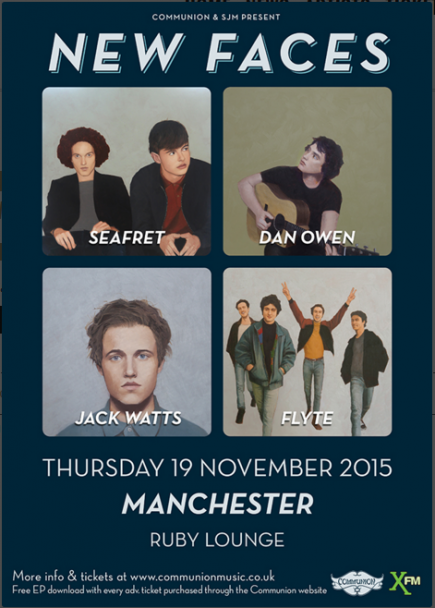 'A TALENTED BUNCH': There'll be a load of New Faces at Northern Quarter Ruby Lounge tonight
With a promising line-up of varied style, the Northern Quarter venue will host bands such as Seafret, Flyte, Dan Owen and Jack Watts.
Seafret are not to be missed as the brilliant Yorkshire-based duo will be bringing a full live band to the stage and performing their debut single Give Me Something, which topped The Hype Machine.
Seafret told MM: "Very excited to be hitting the road with Flyte, Dan Owen and Jack Watts for Communion's New Faces tour.
"Privileged to be playing along side such a talented bunch!"
Up and coming London based quartet, Flyte, are an exciting addition to the line-up, bringing a distinctive British indie-pop genre to the tour. 
With a guitar-led pop style, Flyte are bursting onto the music scene, adding another flavor to this already impressive line-up.
Next up, Shrewsbury born singer song-writer Dan Owen is set to bring a bluesy feel to the tour with his raw vocal talent.
Stunning audiences with his powerful voice and distinctive acoustic-soul fusion, 'Blues-boy' Dan has already gained the support of greats and has even been mentored by Fleetwood Mac drummer Mick Fleetwood.
Jack Watts is the fourth artist set to perform during the tour.
His imaginative style and fragile voice makes for an entirely unique performance, adding yet more colour to the mix in this tour.
In its fourth instalment of the biannual tour, this autumn tour will be passing through Liverpool, Birmingham, Oxford, London, ending in Brighton on November 26.