Lionman is a piece that explores the notion of anxieties and pressures in a strange and dystopian world.
Dapertutto Theatre has spent two years piecing together their debut Lionman.
Manchester Fringe are in their seventh year and have over 30 venues across Greater Manchester with hundreds of performances taking place. They are multi-venue providing access to support for all art forms to show their work.
Mental breakdowns and delusional episodes were cleverly acted out on stage, as the story of a young graduate writer trying to complete a script is told.
Dapertutto used beautiful imagery and physicality to tell their story, while the use of sound was amazing and really created the scenes.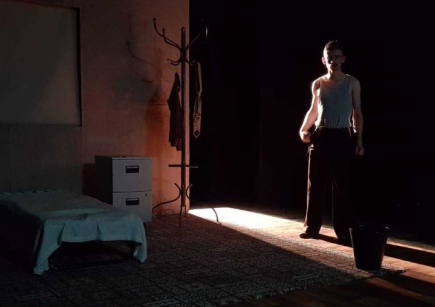 The use of objects was really creative – as there were only two male actors they used a trench coat to symbolise a woman , something that really stood out.
Overall it was extremely thought provoking and it was refreshing to see something so relevant showing the pressures of society, work and relationships.
Honestly recommend seeing @dapertutto's Lion Man at @FootlightsH this week! Proud to know someone involved, these guys are going far.

— Alison Ruck (@AlisonRuck_x) July 19, 2018
Lionman analyses the idea of masculinity and breaks the stereo type, it shows the pressure on young men to feel fulfilment, to have perfect careers, health and appearances.
It also challenged my perception on plays as I have never experienced something with only two actors.
The use of the television was very captivating: at one point it had the main actor going under the television and then appearing on the screen which was fascinating to watch.
Congratulations @dapertutto for a wonderfully captivating and clever show  if you've not seen it yet there is still time https://t.co/KPr9I5KLeQ

— Lauren Bugg  (@laurenbuggactor) July 19, 2018
Both the actors (Tom Hardman) and (Cameron Jones) cleverly performed this at times perplexing but overall extraordinary, brave and bold piece.
The Greater Manchester Fringe runs until July 31. For more information visit the website here: http://www.greatermanchesterfringe.co.uk/details.php?show_id=87