As a little girl I had two main obsessions – reading and ponies – which put Michael Morpurgo's War Horse in a league of its own when it came to deciding on my favourite things.
I would stay up way past my bedtime, ignoring my parents' warnings that reading in the dark would ruin my eyesight (I question my young self's judgement every time I squint at the front of an approaching tram) captivated time and time again by this tale of an incredibly special relationship between a boy and his horse.
Being from a family of animal lovers, I found the idea of the companionship we feel with animals being a unifying and conquer-all love magical and uplifting – I would even find myself staring intently at our Jack Russell thinking 'I would go to war to bring you home'.
As an adult with a growing awareness of how many lives have been lost in the wars of our past and, indeed, our present this story now has a more saddening effect as well as highlighting something often easily forgotten – the humanity of the enemy – both then and today.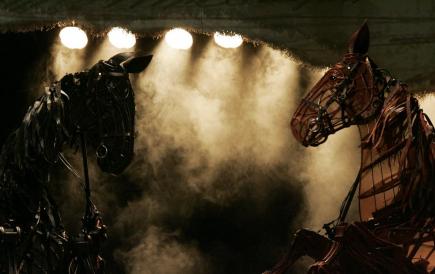 OVERCOMING ALL ODDS: Topthorn and Joey start out as rivals
Seeing this evocative narrative, which starts just days before the beginning of World War One, acted out onstage at The Lowry, might I add with a special appearance from the author himself in the opening scene, was absolutely phenomenal.
Morpurgo, who seemed a tad nervous, had just two words to say, 'Nine guineas', but two words is more than you usually get to hear from your childhood heroes.
All aspects of this production have clearly been so carefully thought through and perfected to deliver the absolute maximum impact on the audience, who with a full standing ovation were clearly impacted.
From the ear-twitches, soulful eyes and majestic movements of the three-manned puppets that make trusted steeds, Joey and Topthorn, feel overwhelmingly real to the shocking gunfire, momentarily blinding flash of an old-fashion camera and haunting folk song that echoes throughout, War Horse is most definitely not one to miss.
Every single prop fits into the quite minimalist, industrial theme, which makes it feel like you are watching a piece of modern art come to life.
And every single character is developed enough for you to feel an empathy and understanding towards them, especially of course the lead Albert Narracott, the brave young farmer who follows his horse to war – a character superbly played by Lee Armstrong.
The art come to life feel is both fitting and quite literal. Inspiration for Morpurgo's book came from a 'tarnished old painting of some unknown horse' dated 1914. And a sketch of Joey carried into battle by Albert becomes a 25metre wide projection screen above the stage.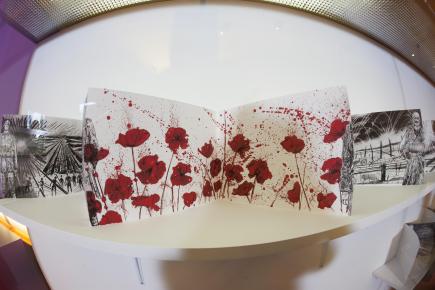 ART COME TO LIFE: Captain Nicholls' sketches on display at The Lowry Circle Bar
Designer Rae Smith, who actually became a method actor and pretended to be Captain Nicholls to create his sketchbook, wanted her representation of War Horse to be 'poetic' in order to keep up with the fast pace of the novel and the audience's imagination. She certainly achieves it.
Also true to the book, Nick Stafford's adaptation of Morpurgo's heart-warming bestseller clearly conveys the disparity between all men at war and the homes they are meant to be fighting for and the disillusionment this can create.
German captain Friedrich Müller, played by Martin Wenner, portrays this best in his powerful and chilling line: "They said war is meant to make men, but I am half the man I was."
Very cleverly incorporated into the flow of the storyline is another very central theme to the war and the millions of men who fought it – the changing times and technologies they were so segregated from and yet endlessly effected by.
We see the progression of fighting methods so rapidly change between 1914 and 1918 from rifles and daggers to barbed wire and machine guns, culminating in the epic and daunting appearance of a tank onset in the Second Act.
The unknowing horses that proudly carried soldiers into WW1 really stood no chance but are rarely mentioned or given notice when we discuss the casualties of war.
War Horse offers a devastating glimpse at both the experiences that befell these forgotten heroes and man's exploitation of animals.
Nowadays conscripting horses to suffer in conflicts they have no means of comprehending seems unthinkable, which strengthens every tug on your heart strings this play will undoubtedly make.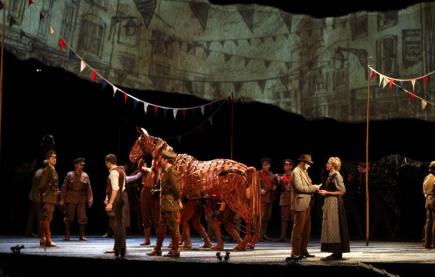 FORGOTTEN HEROES: A million British horses were sold to the armed forces during WW1
The audience waited with baited breath on the edge of their seats every time they charged into gunfire and enemy blockades. The tension and suspense reaching a climax in the productions most harrowing scene as Joey gets entangled in barbed wire in No Man's Land.
I won't tell you how things turn out because I truly think everyone should take the time to watch this stunning show but, ladies and gents, please do not forget to take some tissues. You will cry.
And you will laugh. Anyone who has seen War Horse will tell you there needs to be a special, last but not least, mention for The Goose (Joseph Richardson) that provides the much needed comedic relief at all the right moments.
So there you have it. Tears, tanks, laughter, drama, war and love. What more could you possibly ask for from an evening at the theatre?
For more information on War Horse's UK tour click here.
Main image and second inset courtesy of The Lowry, via Flickr, with thanks
First and third inset images courtesy of Eva Rinaldi, viw Flickr, with thanks