In a career spanning fifty years, Philip Glass has produced countless scores for film and theatre and is considered one of the most influential music makers of the late 20th century. 
Now, the composer has teamed up with Academy Award winning writer Christopher Hampton to transfer Franz Kafka's works from book to stage and his latest 'pocket opera' will arrive in Manchester this week.
Produced by Music Theatre Wales (MTW), The Trial, based on Franz Kafka's surreal novel, will be performed at the Northern College of Music on Wednesday October 22 and will coincide with MTW's 25th year anniversary.
"It was the most extraordinary, thrilling, inspiring and warm experiences that we've had working with an artist like Philip [Glass]," says co-founder and joint artistic director of MTW, Michael McCarthy.
"His status is remarkable. We love his work. What he's done to transform music and thinking about music over the last 50 years is quite remarkable and he is amazingly humble.
"He's an extraordinarily good collaborator and has worked incredibly closely with us; right from the beginning he's been involved with the orchestra, he came to all of the auditions in London.
"Throughout the last week of rehearsals he was with us. Working on fine tuning the piece, making small cuts and changes even on the day of the first performance"
And McCarthy revealed that Glass' hands-on approach has benefited the entire production:
"It's really quite remarkable. He knows his craft and that you need to get down there and get dirty and get involved", he says, "It's wonderful and he's been an inspiring and surprisingly calming presence. Within minutes the singers got a sense that he's here with us, he's not here to criticise but to oversee the final stages of development."
He added: "Philip Glass has an instinctive trust of Music Theatre Wales – he really likes that we're an independent company that just does what we think is right to do."
Bohemian novelist Kafka started work on 'The Trial' in 1914, but it was never completed.
The novel was published in 1925, a year after his death, but remains one of his most notable and disturbing works – focusing on the physiological effects of mundane existence.
But McCarthy affirmed that Hampton and Glass' work has remained loyal to the original.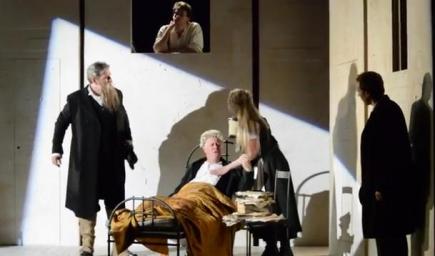 FROM PAGE TO STAGE: Glass' work promises to stay loyal to the original 
"Their mission was to turn the book into an opera – not a 21stcentury take on Kafka," he says.
"Philip [Glass] wanted Christopher to write it, he has an extraordinary instinct to know the right person for the right project, and he knew Christopher would be able to distil the book into a libretto.
"Because the book is quite a wordy thing – Kafka's language is quite wordy and difficult – it almost reads like a complex legal document itself.
"What Christopher did was boil it down and get to the essence so Philip could then put the flesh back on the bones.
"The way that the text is set it just flows naturally, it's amazing. You can see the symbiosis; you can see how these two artists work together to create a single entity – it's really finely crafted work."
'The Trial' premiered at Linbury Studio Theatre in London on the 10th October, showing a further five times before ending its stint in the capital. 
Loved #rohtrial Kafka still powerful and Glass/Hampton collaboration brings out the subtle mind games that are so relevant today

— Kevan Forde (@KevanForde) October 18, 2014
The story tells of Josef K, who awakes on the morning of his 30th birthday to find himself under arrest – except nobody will tell him why.
Throughout the proceeding months, K. attempts fruitlessly to find out what he is being charged with, in what Kafka expert Milan Kundera described as 'the cruelty of humour'.
"A terrible joke is being played on one guy and the only one who doesn't know what's going on is the poor bastard in the middle," McCarthy summarized.
And although Kafka's themes are undeniably dark, McCarthy says that there is no denying the quirky comedy within his vexing fantasies.
"As a director I had to achieve a balance between the succinct humour and the harrowing serious content that is there as well," he says.
"If you read Kafka, and you sit back and realise that it's just crazy – it's bizarre and very funny – but very frightening.
"I had to create a theatrical world around Josef K. So you do get these slightly heightened, slightly stylised characters who are the stuff of nightmares in a way but also carry this sort of humour with them.
"It's not belly laughs – custard pies are not there – but there is a taste of that.
He added: "I was quite influenced by the fact that Kafka loved going to those early black and white movies and especially comedies – so there's just a touch of that 1920's dark noir humour, and Philip employ's that in the music as well."
To help strike this balance, the set of 'The Trial', designed by Manchester artist Simon Banham, can be adapted effortlessly to represent any time, place or even region of Josef K's mind – reinforcing the theme of a cruel joke being played on the central character by dislocating him at every opportunity.
"The central character of Josef K is on the stage pretty much all the time but the other seven singers play 18 roles between them so they're constantly coming and going," McCarthy revealed.
He continued: "But we are not pretending they are different people, it's the same people playing different characters in order to play the joke on K. I think that's a really important distinction and one that the audience completely understands.
"The set is fabulous as it allows me to manipulate the space around Josef K, so the furniture just flies around him.
"He's constantly thinking he's somewhere – but then he's somewhere else."
However, despite his adoration of his profession, McCarthy admitted that the opera's stereotypical connotation's can be off-putting for potential viewers.
But he urged Mancunians to give it a try for themselves – whether a theatre lover or a curious first-timer.
"The opera audience is something that is changing all of the time," he says.
"And while we love opera – it's what we do – the baggage that comes with the word is still causing us problems.
"People always think oh God I've never been to an opera before. But just come and see us – it's theatre with Philip Glass' extraordinary contemporary music.
"Come and see the drama. Come and see The Trial – by Philip Glass."
'The Trial' is showing for one night only at the Royal Northern College of Music and will begin at 7.30pm.
For ticket information, click here. 
Image coutesy of Royal Opera House via Youtube, with thanks.