Lurching violently – much like many of the tragic characters – from prophecy to farce, Anton Chekhov's Uncle Vanya was ahead of its time.
And Walter Meierjohann's HOME version (Andrew Upton's adaptation which was first produced by the Sydney Theatre Company in 2010 with Cate Blanchett) is a fitting tribute, as we are led from talk of protecting the earth one minute to drunken dancing, trousers around ankles the next.
Timed to commemorate 100 years since the Russian revolution – Chekhov's masterpiece was written in the late 1890s – as a part of A Revolution Betrayed?  Meierjohann uses all his experience to recreate the fears of Russians at the time.
Fears which resonate with today's society, whether you're in post-Brexit Britain or a divided Spain.
Set on a rural estate managed by the brother (Uncle Vanya, Nick Holder) of a visiting elderly professor's (Serebrayakov, David Fleeshman) late wife, lust for the professor's young second wife Yelena (Hara Yannas) is central to the plot.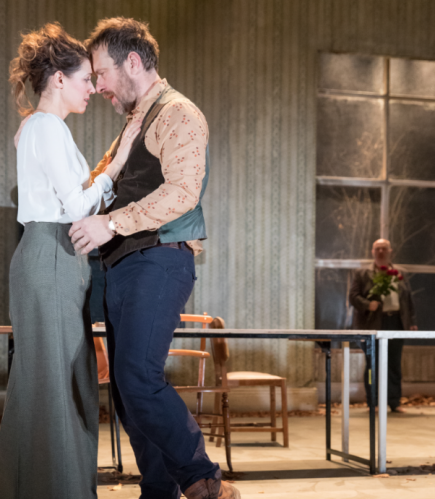 LUST: Astrov (Jason Merrells from Queer as Folk, Cutting It and Casualty) makes his approach to the temptress Yelena (Hara Yannas) as Vanya creepily looks on  
Vanya, embittered and increasingly unhinged, aims a kiss at the young temptress not long into the play while the local doctor Astrov (Jason Merrells) is equally lecherous in his seduction attempts.
"Life on the whole is dull, dumb, dirty," says Astrov in Act 1, and boredom is another pivotal theme as Yelena swans around the stage, arousing both male figures but curiously failing with her own husband while he complains of old age and the loss of his dignity.
Loyal to the end – and perhaps Chekhov's sole source of light in an increasingly stifling atmosphere – is the professor's daughter (by his first wife) Sonya (Katie West).
Plagued by her love for Astrov, she is a bundle of nerves for all her kindness.
Like the storm that passes through the night in Act 2, Yelena sweeps her aside as well with scant regard – she makes a mess of subtly approaching Astrov about any feelings he may have for Sonya and then, alone with the doctor in the latter half, she is torn between her boredom with the professor and a life with Astrov.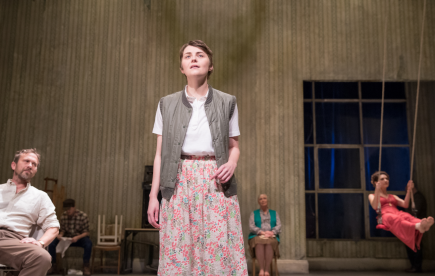 'WE MUST LIVE': Sonya (Katie West) represents hope and shattered dreams in HOME's Uncle Vanya
"You could help run this place, teach the children, care for the sick," says Sonya to Yelena.
"I don't know anything about such things, and besides, they don't interest me," Yelena replies.
"It's only in idealistic novels that women go out and teach and heal the peasants."
So she opts to keep her privileged existence and the mismatched couple leave the estate, but only after Serebrayakov escapes with his life when a raging Vanya misses from close range with a revolver – the professor's proposition to sell the estate is greeted with derision by Vanya as things spiral out of control.
Boiling point reached, we are left at the end with Sonya and a calmer but no less depressed Vanya (main picture) seeing to the estate's bills.
"We must live our lives. Yes, we shall live, Uncle Vanya," Sonya says hopefully, gazing skywards.
"Our life will be as peaceful and tender and sweet as a caress. I have faith […] You have never known what happiness was, but wait, Uncle Vanya, wait!
"We shall rest."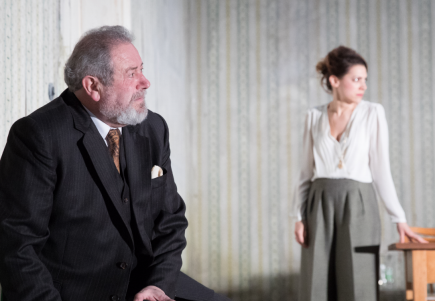 WOUNDED PRIDE: David Fleeshman as Professor Serebrayakov with his young wife Yelena in the background
It's a sad and uncertain end to a gripping 150 minutes of theatre where no stone is left unturned to make this the best production it could be – the cast even mingled with the audience in the bar afterwards.
A must see.
Uncle Vanya is showing at HOME until November 25 as part of the autumn season of theatre, visual art and film inspired by the 100th anniversary of the Russian Revolution. Tickets available here: https://homemcr.org/production/uncle-vanya-2/
Photos courtesy of Jonathan Keenan, with thanks.