Rose by name, Rose by nature. An unassuming star in the making took to the stage of Gorilla last night to deliver a pitch perfect set to reams of loyal fans.
The 25-year-old English beauty graced the stage with a smile from ear to ear, blasting out tracks from her upcoming album Work it Out on top of the well-received classics from debut album, Like I Used To.
For those who have seen the starlet perform before, you know what to expect. Chilling vocals accompanied predominantly by light guitar and piano.
But the latest gig revealed that Lucy Rose has more up her sleeve in 2015 than just haunting ballads.
Opening with Watch Over Me, Rose immediately got the crowd pumped up, playing exactly what she knew they wanted to hear.
It was then that she dropped her latest musical bomb, going straight into upcoming single, Our Eyes. Slightly more upbeat than her popular first album, this song gave the taste of the evening to come.
The audience were straight up on their feet dancing along with the leading lady, transfixed on Rose as she mesmerised the crowd with crystal clear vocals and the occasional playful smile in between lyrics.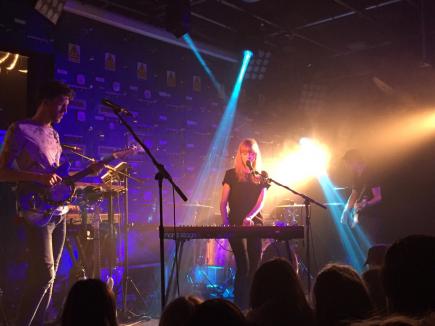 'GRACED THE STAGE WITH A SMILE FROM EAR TO EAR': Warwickshire beauty Lucy Rose demanded the crowd's admiration
After a powerful opening, the set continued with Sheffield, a buoyant number complete with intriguing rhythms and funky bass lines.
This is where Lucy Rose really let her hair down, rocking her head back and forth to the beat, encouraging the audience to join in and clap.
She had an easy job – the crowd clapped along wildly to the beat as Rose and her band delivered an infallible performance.
But, like any gracious musician, Rose knows what her fans want to hear. She thanked her audience for welcoming her new music and rewarded them with two of her most powerful ballads, Shiver and the rarely heard Nightbus, from her first album.
The atmosphere was incredible. The air was silent as the audience held their breath so as not to make a sound. Every member of the captivated audience remained drawn in as Lucy Rose gave a chilling performance of some of her most emotionally charged songs.
"I just want you all to know I'm not crying," joked Rose, as she wiped her eyes.
"I'm not very good at wearing makeup so I end up with big black panda eyes. I just didn't want you all to think I was stood here weeping."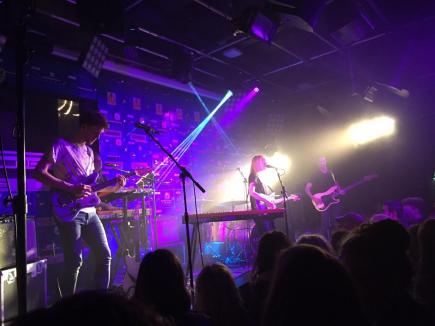 'AN INFALLIBLE PERFORMANCE': Lucy performed a mix of songs old and new at Gorilla last night
Although it would have been understandable given her stirring performance, Rose showed the audience her sheer level of normality – occasionally pausing between songs to address fans that she recognised from previous shows.
The set list was long: the singer treated her audience to 15 songs before she left the stage. But the fans were not fooled. They stomped, cheered, clapped and chanted, teased by the thought she may not return for an encore.
And just as it looked as though the night was up, she reappeared, introducing one of her new songs Will You Love Me? with an admission that she was wildly embarrassed by the title and its inexcusable level of 'cheesiness'.
Of all of the musical talent demonstrated by this upcoming star, what is truly remarkable is the ability of Lucy Rose, a modest young musician from Warwickshire, to captivate a rowdy Mancunian crowd.
She said clap, they clapped. She jumped, they jumped. And the most telling of all is her ability to quieten a room with just her delicate voice and a guitar.
It is really no surprise that Lucy Rose is a name to watch out for on the upcoming British indie scene.
Top image courtesy of Bjørn Giesenbauer, with thanks