Real Life is a whirlwind masterclass in the art of surrealism, absurdity and piss-taking.
It pokes holes in the stupidity of inspirational quotes, tears apart the nonsense of life coaching and makes you re-evaluate your friendships with those who take theirselves and their beliefs a little too seriously.
Set in the form of six short plays on the real life, everyday issues we all struggle and agonise over, this new production from Ben Kewin (Horse of Death, Roberts Webb) and Benedict Power (Spring Reign, War Stories) is nothing short of genius.
Kewin, playing, err, himself, presents a man who believes that we, the audience, can truly only come to terms with these issues in the one way we learn how to understand emotions – by watching a play about them.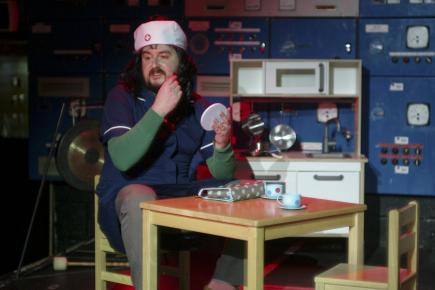 MASTERCLASS IN SURREALISM: Ben Kewin stars as a transvestite nurse trying (and failing) at taking patient care to a new level
He's a man who overestimates his omniscience and underestimates his clothing size.
Sporting a too-tight green turtleneck and slacks, Kewin leads us through his six pillars of enlightenment: strength, crying, being a nobody, dreams, fear and caring. You will leave each of these ten-minute skits with the knowledge to live a fulfilled life.
Whether it's dealing with the everyday job stresses of being an undercover cop taking down bad guys stealing DNA from scientists to a frantic, emotionally fraught Samaritans volunteer or even a transvestite hospital nurse, Kewin has it covered.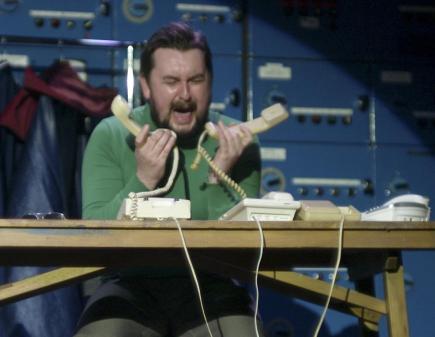 KEWIN'S GOT IT COVERED: He also features as a depressed Samaritans call centre worker in a mini play on 'crying'
Combining the sheer narcissism and lack of awareness of Ricky Gervais' David Brent with the pretension of creatives like 'author, dream weaver, visionary, plus actor' Garth Marenghi, there's a little bit of Kewin in all of us.
Debuted at Gorilla last year, Power and Kewin have now re-written Real Life into a full hour-long show which saw its return to Manchester' Royal Exchange last night.
It will play for the last time in Manchester tonight (8pm, Royal Exchange, £12) before heading to London's Camden People's Theatre on Monday.
Images courtesy of Tim Power, with thanks