Class is a hard-hitting performance of raw storytelling that interrogates the disparity between Britain's haves and have nots through the experiences of Scottee, the show's writer and sole performer.
Scottee grew up in poverty on a council estate in pre-gentrification Kentish Town, North London. He is quick to remind his audience that the area wasn't always the haven for young professionals that it is today.
He points out that where there is now a 'boujee café' used to stand a Kwik Save. He then asks if anyone remembers the budget supermarket but swiftly corrects himself – this is a theatre, most of the audience must go to Waitrose.
This sets the tone for the following hour. Scottee recalls growing up in a mould-ridden flat, drinking heavily from an early age, seeing his peers caught up in crime and watching his mother work multiple jobs just to stay afloat, as he highlights how different his life has been from most of the audience's.
The show is delivered in a personal and combative style. Laid bare, Scottee ranges from attacking the lack of inclusivity in the arts to describing how his upbringing generated feelings of self-hatred and inadequacy.
He speaks frankly about how he felt envy and then outright resentment for those who were more affluent and how this impacted on his mental health.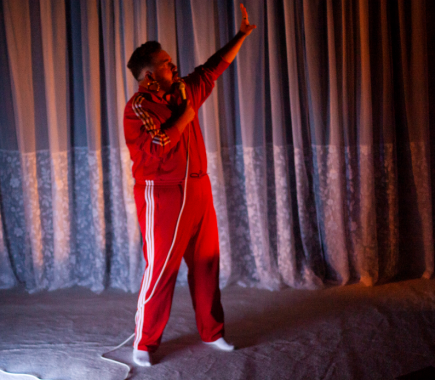 As a result, the audience are made to feel incredibly uncomfortable. Those in attendance become the villain of the piece. They are not merely asked to check their privilege or appreciate their place in the world but are held to account for their role in society being the way it is.
However, the show does have a blinkered view of the middle class. It suggests that the entire demographic shops in Waitrose, bakes sourdough bread in an AGA and owns several Range Rovers.
Though this may not be particularly helpful and is a slip from an otherwise well-observed performance, which risks losing the audience, the rest of the show makes holding such views understandable.
While there are nuances to middle-class life and a level of extreme wealth is by no means universal, to those without any of life's luxuries, who are constantly having to look upwards, all of the 'haves' would look the same.
Nonetheless, it is not only the theatre-going classes that are held in disdain. The show takes a swipe at an entire structure and culture that has led to such stark social inequality. Trickle-down economics, poverty porn television shows and even notable columnists are lambasted for misrepresenting and failing working class interests.
The show takes a few missteps and occasionally struggles to maintain its momentum. Certain sections are a touch ham-fisted and don't land, but overall, this is an engaging and powerful account of what it means to have grown up on the breadline.
The heavy themes are alleviated by moments of excellent comedy. Beautifully observed differences between the social classes are performed in an enthusiastic and unrestrained manner. The comedy not only breaks up intense periods but allows truths to hit home disguised with a coating of humour.
Class is an unrelenting, uncomfortable and unmissable commentary on how society treats its forgotten members. By providing a concentrated angry voice for the working class while forcing the more privileged into deep introspection and reflection, Scottee urges society to be better.
He warns us of what happens when people are left behind and leaves the stage after asking: "What are you going to do?"