Sexy, strong and Flawless to boot, Queen Bey stormed Manchester and captivated a 20,000-strong audience with every mesmerising hair flick and repertoire of booty-shaking moves during The Mrs Carter world tour last night.
The Manchester Phones4U Arena was packed with loyal fans who, despite waiting 20 minutes for the show to kick off, were ecstatic to see her take to the stage with woman power anthem Run the World (Girls).
Last year's tour saw fans take a musical trip down memory lane with hits from 4 dotted with Destiny's Child classics such as Survivor. 
But given this Diva surprised everyone by dropping an unannounced self-titled visual album in December, Mrs Carter had plenty of raunchier new material to work with including Flawless, Partition and Blow which proved to be a welcome addition to an already epic hit list.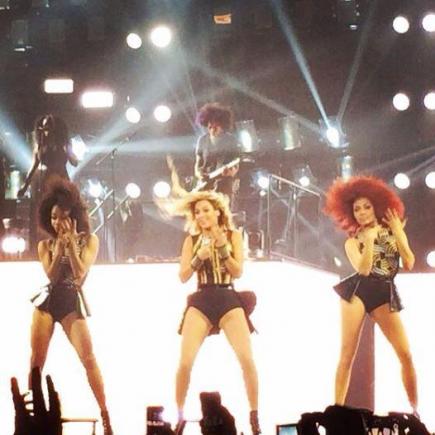 BOOTYLICIOUS: Beyoncé performing Single Ladies
However she didn't ditch crowd-pleasing older hits such as Baby Boy, Naughty Girl and Crazy in Love and had everyone dancing and singing along to the likes of Irreplaceable and Love On Top.
Towards the end of the show Beyoncé took it down a gear and performed a rendition of the Dolly Parton/Whitney Houston classic I Will Always Love You, ballad Halo and love song XO which she dedicated to her 'incredibly loyal' fans.
Despite the raunchy dancing throughout the show, including some twerking and writhing atop a grand piano during 1+1, she pulled it off with class – something some of her pop star peers would do well to learn from.
With a dizzying array of costumes ranging from blinged-up tartan shirts and trucker caps to full-length and fabulous sequin-encrusted numbers she looked stunning throughout the two-hour performance and showcased those headline-grabbing curves to perfection.
The whole show felt like a lesson in female empowerment with motivational videos peppered throughout the show and these, when coupled with her fierce lyrics and even fiercer moves, sets a Blueprint for what future generations of her fans can aspire to.
If you've managed to snaffle tickets for tonight's gig you're in for a huge treat.
Setlist
Run the World
Flawless
Yonce
Get me Bodied
Baby Boy
Diva
Naughty Girl
Blow
Partition
Haunted
Drunk in Love
1 + 1
Why don't you love me?
Irreplaceable
Love on Top
Crazy in Love
Single Ladies
I Will Always Love You
Heaven
XO
Halo
Image courtesy of MTV via YouTube, with thanks
Embedded picture courtesy of Clare northall, with thanks