It might be Glastonbury weekend, but a 50-day fundraising festival called Lungfest – set up with the intention of saving the lives of those with cystic fibrosis – launches here in Manchester on Sunday night.
Lungfest has been organised by Dane Pollard, guitarist with Salford band Modern Sound Library, to raise money for the Cystic Fibrosis Trust.
Dane, who was born with the condition, received what he described as a 'life-saving' double lung transplant in August 2008 at Manchester's Wythenshawe Hospital.
"Life since the transplant has been fantastic. I've started doing all the things I never thought I would, like joining a band and starting my own recording business," Dane told MM.
Cystic fibrosis is a life-shortening genetic condition that causes the internal organs, especially the lungs and digestive system, to become clogged with thick sticky mucus, resulting in chronic infections and inflammation of the lungs.     
Only half of those with the disease live to celebrate their fortieth birthday, most eventually requiring a lung transplant though one in three on the transplant waiting list will die before they can receive one.
Three people die every day in the UK in need of a transplant.
The festival, which runs until August 17, will feature a series of gigs to raise funds and awareness of both cystic fibrosis and organ donation.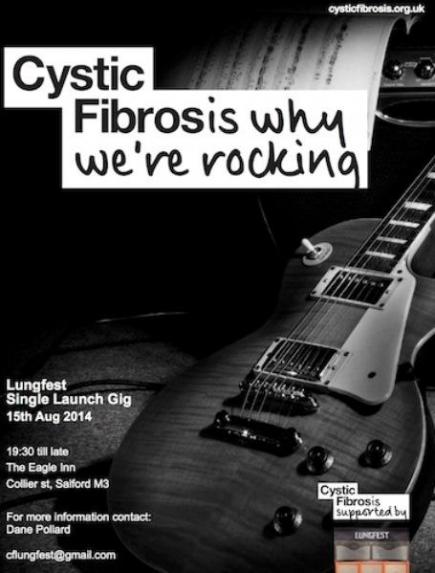 Manchester indie-rock band The Social Leftover will open the event at The Eagle Inn, Salford on Sunday night.
Like Dane, their singer Leaf Petrides has cystic fibrosis and received a life-saving double lung transplant when she was just 15.
"Lungfest is truly fantastic I really can't wait to experience it!" she said.
"I'm completely honoured to be able to kick it off with The Social Leftover. As a band we raise awareness for CF and organ donation anyhow. So this is perfect for us!"
Other events taking place across Manchester during the '50 Days of Lungfest' include Devil in My Bones playing The Eagle Inn, a DJ night at Kosmonaut in the Northern Quarter and 'Lungfest Unplugged' at The Whisky Jar.
Although the festival was 'born' in Manchester, there will also be other events up and down the country including a music and fashion night in Liverpool.
The festival finale will be a special launch party for the Modern Sound Library single Thank You at The Eagle Inn on August 15.
The song was penned by Dane as a tribute to the donor who saved his life, and also features backing vocals and music from other CF sufferers and their parents. All proceeds from the single will go to the CF Trust.
This will be a joint single launch together with a song called 65 Roses by Martin Cooper, which also features Dane on guitar. Music fans will be able to buy both tracks in one download.
The title of Martin's song is a reference to how some young children with CF pronounce the name of the disease.
Explaining what motivated him to organise Lungfest, Dane said: "It should be made easier for people to have the transplants that they need. I believe that people should have to opt out of being a donor instead of opting in.
"Lungfest is about raising awareness and encouraging people to sign up to the donor list."
Dane has had the full backing of the CF Trust in putting together Lungfest and regional fundraiser Gemma Walder praised Dane for his efforts.
"Without people like him we would be unable to invest in cutting-edge research to develop better treatments and, ultimately, find a cure for this life-shortening disease," she said.
"We are absolutely delighted to have Dane's support and are really excited about the launch of 50 days of Lungfest and the campaign's upcoming single."
For further information visit: http://www.lungfest.co.uk/ and https://www.cysticfibrosis.org.uk/
Main image courtesy of BBC via YouTube, with thanks.