"It's like being bummed in public, you've just got to stand there and take it."
It's fair to say that Penella Mellor has a way with words.
And that is something of a relief given the former psychiatric nurse – Emma Kearney to her friends and the authorities – left the NHS last April to become a fulltime comedian.
For those wanting some context to that bold opening statement, Emma is describing her experience of a bad gig, something every comedian in the land will have had by the bucketload.
But the journey from struggling single mum to winning the prestigious Beat the Frog World Series and picking up plaudits from the likes of Jason Manford hasn't been a straight forward one.
Penella – a bad mum persona described as Mary Poppins meets Kill Bill – started life as a stage name to stay anonymous while performing around Tameside, where Emma is originally from and worked as a nurse.
Since then it – or she's – grown a life of her own, Penella's brand of mean observations of children, especially her own daughter, and the intrigue around whether she has any skeletons – real or otherwise – lurking in the closet has left comedy audiences wondering where art and life become separated.
Emma is the first to admit that it hasn't been an orthodox route into comedy.
Enrolling at the University of Manchester to complete her nurse training at the relatively late age of 24, Emma found herself homeless and bringing up her three year old daughter alone when her relationship broke down.
Her welcome to the profession wasn't much better with few jobs for newly qualified nurses. Even fewer for one who couldn't work night shifts due to childcare. 16 months out of work, bankrupt and disillusioned with the industry.
It was during this time that the 34-year-old took to writing stuff down that she thought was funny.
The chance to test the material on others didn't arrive until 2010.
She said: "A gig opportunity came up via a friend and I thought maybe I should stop wasting my time writing this stuff down if I was never going to do anything with it. The first gig went really well so I carried on. Albeit half-hearted because being a full time nurse and a single mum keeps you pretty busy."
In only her third ever gig she took on the daunting task of Beat the Frog, the Frog and Bucket's notoriously difficult open mic event in which comedians try and stay on stage for a full five minutes, facing an audience with the power to boot them off at any time.
That first experience wasn't exactly a success though.
Emma explains: "You could say I got tw*tted by the card holders – one minute 40 seconds I lasted before I was played off the stag with 'you're a loser baby' (Loser by Beck) which was nice!"
Undeterred, Emma went back a few months later and after several heats and a grand final was eventually crowned the World Series winner and the only woman to won the competition to date.
"You could say I kicked the frog in the dick," she laughs.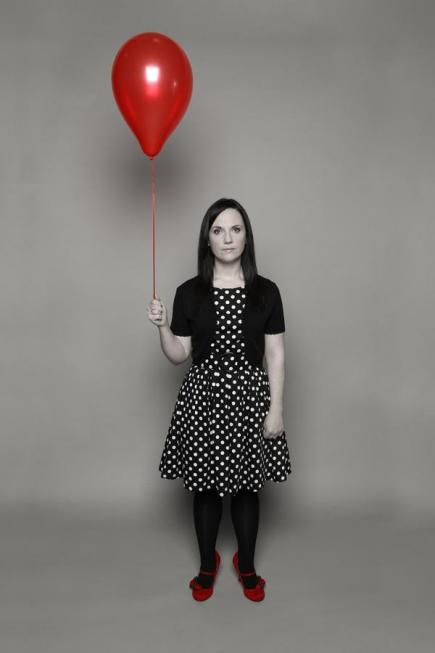 MEAN: Emma's Penella Mellor character has been described as Mary Poppins meets Kill Bill
Her performance received a glowing report in Chortle from acclaimed comedy critic Steve Bennett and things took off from there.
When an opportunity presented itself for Emma to leave the NHS in March 2014 she took it.
"Even though comedy wasn't paying all of my bills, I could see it had the potential to if I worked hard and besides I can live on next to nothing. I've been homeless and bankrupt!"
Now a regular on the comedy circuit – and a presenter on Tameside FM's Wake Up Tameside breakfast show – does Emma have any regrets about leaving the relative security of the nursing profession behind?
She says the worst thing was leaving behind colleagues but says the improvement in her health and family life quickly started to outweigh the guilt.
"I have friends in the profession and they don't sleep, their personal health is shocking because they spend all day with no time to eat properly or go to the toilet; their home lives suffer because they've not got the time with their children," she said.
"I think the government places unrealistic expectations on nurses and fails to recognise the impact caring for others has on a nurses own health and well being.
"In that first week after I left I slept better, I wasn't pre-occupied or mithered or short-tempered at home because I wasn't worrying about what I'd forgot to do or write down because I busy looking after a surmounting number of patients."
"Every person I know went into the job with the right ideals because they wanted to help but what quickly happens is that you can't do the job that is expected, you're always going to have not done something or made a mistake because it's impossible with the paperwork and all the bureaucracy. Patients come second all too often.
"I wasn't able to instigate the changes I wanted to see as a mental health nurse. I felt I wasn't making a difference to the bigger picture and spent all my time fighting fires.
"I hope that by raising my profile as a performer I will be able to talk about mental health issues on a wider stage and challenge the inequalities and stigma in a way I was not able to do as a nurse."
Raising her profile is something Emma is keen to do but do in the right manner, you'll find very little of her work online in the form of YouTube videos or Soundcloud clips.
Penella, in a way, has been allowed to develop in the purest form possible – live, on a stage and in front of varying sized audiences.
But does Emma ever worry that the character might restrict her going forward? I mention Simon Brodkin's Lee Nelson as a possible example of where a comic becomes purely known for a single character.
"There is a risk (that people always see the character) and I guess it's a double-edged sword, but even the loose comparison with Lee Nelson, he's got a fantastic life now," Emma says, clearly keen to stress the main reason she took the plunge in the first place.
"I think if I always remember why I started this – to leave the NHS and give my daughter a better life – if it's always as Penella and I'm pigeon-holed as that then that's still a win to me.
I have to remember that this is a blessing and if Penella gets to that stage where she is always there then I hope I've always got my writing in the background because I think I enjoy writing more than performing and that can be as Emma."
For more Penella's latest tour dates check www.penellamellor.com
Pictures courtesy of Andy Hollingworth, with thanks.