We've barely clipped our wristbands and found our way to the VIP stands before we are greeted into Lancashire County Cricket Club by Dave Grohl titillating a sea of 50,000 adoring faces. 
"Are you ready, Manchester?" he teases, prompting us to question whether we are, in fact, prepared for the 25-strong set of Foo classics we are about to witness.
Not willing to waste a second of the two-hour allotted set, the seasoned rockers launch straight in to no-frills renditions of Everlong, Monkey Wrench and Learn to Fly.
Yes Dave, we are ready. Give us your worst.
What follows is an immaculately curated collection of the perfect mix of crowd pleasers and soon-to-be classics from the Seattle rockers.
Gliding smoothly into what can only be described as an onslaught of hits encompassing the band's entire back catalogue, potty-mouthed Grohl wanted every single attendee to leave happy.
"I'd like to do a song from every fucking record," he growled, followed by: "I don't even know what they're fucking called anymore!"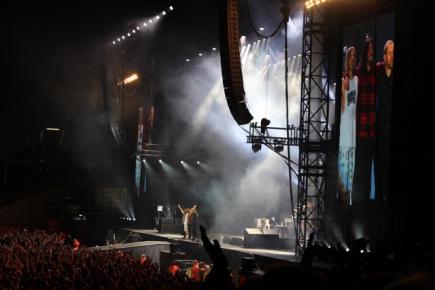 IMMACULATELY CURATED COLLECTION: Grohl said he wanted to do a song from 'every fucking record'
A chorus ensued as the band dived guitar-first into a sea of hits, reeling off Something From Nothing, The Pretender and Long Road to Ruin, without giving the us chance to catch our breath.
The band were clearly thrilled to play their first return to Manchester since 2009, with Dave noting they first played the city "twenty fucking years ago". His words, not ours. 
"I'm going to do something that wasn't in the set list. You cool with that?" Grohl teased, before leading the way into White Limo. As if he need ask.
As expected, he didn't forget to pay homage to Taylor Swift during their set, after admitting being 'officially obsessed' with Swift following their performance at Radio 1's Big Weekend on Sunday.
"Fucking going on after Taylor Swift ain't easy!" he cajoled. 
Not one to lose face, Grohl continued: "I hope you all realise that it is a joke, but I'm going to dedicate this song to who?"
Following the raptures of the crowd shouting "TAYLOR!" the Foos seamlessly slid into a roaring rendition of Congregation, which they attributed to the starlet.
Shaking off the moment, Grohl then declared: "I'm a man of the people. We had a plan other than this, but fuck that, lets just have a fucking party!"
Manchester fans promptly proved that you don't need to ask us twice, lapping up Walk, followed by covers of Van Halen's I'm the One and Another One Bites the Dust by Queen.
Then followed a wonderfully raw rendition of Skin and Bones, shadowed by My Hero, performed by Grohl on a platform in the crowd with his accordion player for accompaniment.
As the heavens threatened to open, Grohl showed he knew what we were all about, asking: "You like the rain don't you?" (as if we have a choice).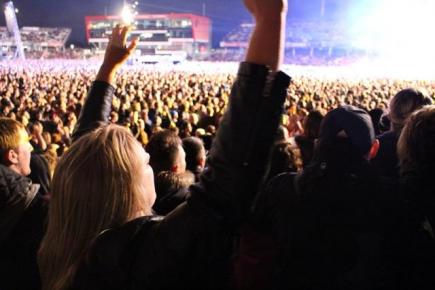 PROPER ROCK AND ROLL: The 50,000-strong crowd were eating of the palm of Grohl's hand
Eager, despite their arguably mainstream following, to maintain the rock and roll ethos: Grohl declared: "I'm going to keep playing until they tell us to stop!"
And play they did, launching full throttle into Times Like These, to their insatiably excitable crowd.
As if that wasn't enough to have us eating out of his charming hands, Grohl invited eight-year-old Frankie and his mother from the crowd onto the stage for the song.
Then came a somewhat unorthodox interlude, seeing the band reel off covers of the Faces' Stay With Me, the AC/DC classic Let There Be Rock and Queen's timeless Under Pressure.
As the inevitable curfew loomed, 'man of the people' Grohl assured the crowd the band were 'not going to do a fucking encore', instead filling every available minute with music.
Living up to his 'nicest guy in rock' reputation, Grohl thanked us Mancunians for our "continued patronage" before culminating the show with an extended rendition of Best of You.
By this stage, we were as lost in the moment as Violet Beauregarde chomping on our very own piece of 'Foo-ing gum'.
You are welcome Dave, and we thank you.
There goes our hero.
Not willing to end the night, MM promptly headed to the bar – where 'VIP' translates roughly into slightly aged, old-school emo-pop lovers, clinging on to alt-rock smash-hits of years gone by.
In other words, our perfect evening. 
Inset image from Anthony Abbott, with thanks