Manchester's wrestling fans understand and respect the show better than most across the globe, according wrestling and MMA superstar Bobby Lashley.
The seventh TNA Maximum Impact tour of the UK will visit the Manchester Phones 4U Arena on Friday January 30.
The 38-year-old reigning TNA heavyweight champion is delighted to be back in Britain and stepping into the ring in Manchester tomorrow night.
Lashley said: "I'm always excited to come back here. It's always a good time!
"We've been talking about this [tour] for some time now and it's something that all the guys have been gearing themselves up for."
Lashley joins a large roster of stars including wrestling legend Kurt Angle, former TNA champ Bobby Roode, James Storm, Abyss and Low Ki, as well as British wrestlers Rockstar Spud, Magnus and Bram.
The UK market is a significant one for TNA, as seen most recently on the second series of British Boot Camp, a show which produced stars like Mark Andrews, Grado, Dave Mastiff, Rampage Brown, Noam Dor and Kay Lee Ray.
Lashley points out that the company has a number of great connections on these shores, but the biggest thing which keeps bringing TNA back to the UK is the overwhelming support of the British fans.
Lashley added: "They are [passionate] and that's the biggest thing about them. They're a group that understands wrestling and they have a lot of respect for what we do.
"It's easy to deal with a crowd like that, who are excited and ready for some action. We don't come out here very often so I know the crowd is looking forward to coming out and seeing a great show and we're going to give them what they came to see."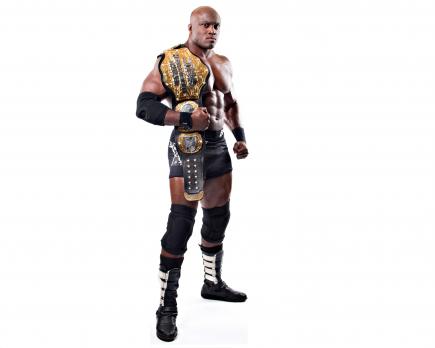 'LIKE RIDING A BIKE': Lashley has been wrestling for so long it now comes naturally
Former three-time national amateur wrestling champion Lashley is currently pulling double duty, with a mixed martial arts career in Bellator MMA alongside his pro-wrestling commitments.
Lashley said: "It's been challenging and it's been a lot of hard work but it's something I enjoy doing. Wrestling; I've been doing it for so long that it's like riding a bike.
"The training is basically similar to me because I have to stay in shape for wrestling and I have to stay in shape for fighting, and it's almost the same training."
Lashley followed the likes of current and former WWE stars Brock Lesnar, Ken Shamrock and Dave Batista in moving from the world of pro-wrestling to combat sports. The latest former wrestler to try his hand in the cage will be Phil 'CM Punk' Brooks.
Lashley, who holds a professional MMA record of 9-2 plans to be back in the cage later this year, having withdrew from a February fight against James Thompson due to injury.
It is in pro-wrestling, however, where Lashley believes he has made the biggest improvements, and the former WWE star gushes about his run in TNA and his series of matches against Bobby Roode, in particular.
He said: "I love it. It's been one of the best runs that I've had in wrestling, in terms of pure wrestling ability.
"When I was in WWE I was fresh out of not wrestling at all. I was pretty new and I was basically just learning a script. I hadn't had the time to really understand the sport of wrestling. It was a learning curve.
"This time working with TNA, I think everything's come together. My wrestling ability has really picked up and there's great guys here to work with so I think, this time, in terms of pure wrestling, I've never been better."
Lashley will bring those skills to Manchester tomorrow night and urges fans to buy a ticket to see a great show.
"It's going to be the best wrestling show you'll see this year," added Lashley. "We have a really special group here, and I'm not just saying that because I want to sell the show.
"This is not all hype. Come and check it out because you're going to be a fan for life afterwards!"
Limited tickets are still available for Friday's show, priced from £20. 
Image courtesy of TNA via YouTube, with thanks.