It is well known that The Smith's legendary frontman Morrissey believes that Meat is Murder, and now Manchester's most famous veggie has been recreated using nothing but greens, to celebrate World Vegetarian Day on October 1.
More Swedehead than Suedehead, the Mancunian messiah of mutton has been recreated with onion in place of his famous quiff by food artist Prudence Staite, in partnership with PETA (People for the ethical treatment of animals).
Meat-eating has often been a Thorn in Morrissey's Side, and although World Peace is None of His Business, the meat industry certainly is, with fans treated to a ten minute video portraying animal cruelty on his latest tour earlier this year.
It is understandable why Moz is adverse to Death at One's Dinnerplate when you consider the fact that vegans and vegetarians are less likely to develop cancer, diabetes and obesity than meat-eaters.
Often such Barbarism Begins at Home, and PETA believe that we need to act now – yet How Soon is Now? – to ensure that we don't end up with more Girlfriend's in Comas and to prevent a situation where we find that our carnivorous Queen is Dead.
Unfortunately, a lot of The World Won't Listen, although encouragingly for Morrissey, 20% of 16-24s in Britain are thought to have seen through the Miserable Lie that meat is tasty.
Is It Really So Strange?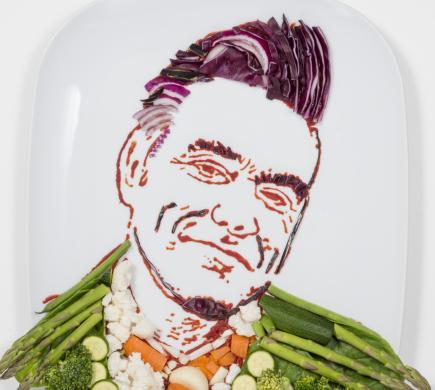 THIS CHARD MAN: Morrissey looking crisp and fresh
For more information, or to receive a free PETA vegan starter kit, click here.
Image courtesy of SAW photography, with thanks.