Manchester-based singer-songwriter Badly Drawn Boy is known for his unconventional methods of performing – and his latest showcase was no different as he treated Metrolink users to a mini-gig.
The 45-year-old musician, aka Damon Gough, wowed commuters in preparation of his appearance at the Whisky Sessions festival in the city next month.
And he was in joyous spirits as he treated a lucky handful of passengers to a short set of his own material on the acoustic guitar.
"I've never used a tram before. The only trams I've ever been on are in Blackpool," he told MM.
"I've not been on a bus for years either, but then again, I am a rockstar.
"I've done weird things like this before, so I think this is why Whisky Sessions asked me to do this.
.@badly_drawn_boy at exchange quay #BadlyDramTram @MCRMetrolink pic.twitter.com/BFGWN2hrrv

— The Whisky Sessions (@WhiskySessions) October 30, 2014
"I did a tour of Fish and Chips shops a few years ago for my Born in the UK album, and this is definitely up there with that."
Badly Drawn Boy, who has resided locally in Chorlton for more than 20 years, will be performing along with 23 other bands across two stages at the festival which takes place between November 22-23 at the historic Victoria Warehouse.
"I wanted a trip to see the venue, so I thought getting on a tram and playing a few tunes on the way was the perfect way to do that in style," Gough joked.
"I like playing in Manchester because it's not too far to go home. I like to think I'm well received here. I haven't done a sizable gig in town for a while so it's quite interesting for me.
"I walk around Manchester and I do get a lot of people coming up to me and shaking my hand being nice, so there's a lot of warmth here still which is dead rewarding."
The musician, who famously sound tracked 2002 film About a Boy, admitted that it is tougher for rock music to break through into the mainstream these days and was highly supportive of the forthcoming event showcasing the genre.
More than 180 unsigned bands entered a competition to open the festival, with approximately 75% based from the North West.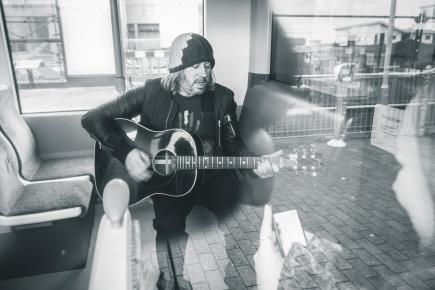 TESTING THE TRACKS: Gough wowed commuters ahead of his appearance at Whiskey Sessions festival
"Putting on rock-type gigs like the Whisky Sessions is fairly rare," he acknowledged.
"It's been one of the first ones I've been aware of for a while, which is why it's interesting to be involved with.
"I hope it goes well for the organisers because they have put a lot of interest into making people aware of it and putting a decent line-up of bands that have been around for a while.
"Hopefully it will be a good atmosphere and coming together of people who care about decent music."
The multi-instrumentalist also admitted he enjoys the tipple himself.
"Jack Daniels is the old clichéd rock and roll drink. I've drank enough of that over the years to sink a few ships," he admitted.
"I do like a nice whisky but you've got to be careful with it. I'm so immune to Jack Daniels from drinking it too much over the years. I'm trying to cut down boozing anyway, but an ice whisky to sip on is nice."
@badly_drawn_boy currently being interviewed after a short accoustic set on @MCRMetrolink pic.twitter.com/F19xOM50Wu

— The Whisky Sessions (@WhiskySessions) October 30, 2014
He also revealed his plans to release his eighth studio album, which will be his first since 2010 with It's What I'm Thinking Pt.1 – Photographing Snowflakes.
"I'm hoping to get an album out next year," he said.
"It's also the 15th anniversary of my first album so that's going to be re-released in June. I've got a lot of stuff written but not finished, so I'm aware that I need to get my arse into gear.
"At the minute I've got five or six songs that I'm really happy with, I just haven't finished the words. It could all change though. I might not use any of the material I've got now. I might get bored and write something better.
"I'd love to play unusual venues and towns I've never played before on my next tour. It's always nice to do smaller places."