Ian Hislop and Nick Newman bring comedy to the court in their play Trial by Laughter, now showing at The Lowry.
Set in 1817, the trial for freedom of the press is fought by none other than bookseller and satirist William Hone – who?
Along with caricaturist George Cruikshank, Hone published political parodies of the Lord's Prayer and cartoons of the Prince Regent, later George IV, for which he was arrested and put on trial for seditious libel.
Read more: Nick Newman and Ian Hislop's play Trial by Laughter shines light on the changing scope of free speech
With a serious threat of deportation to the colonies, Hone decides to do what he does best and turn the judge and politics of the situation into a laughing stock.
This comedic tone over a serious note is creatively mirrored throughout the play. Sarah keeps a steady head and a compassionate performance worrying about the toll the trial is taking on her husband's health while the 'Stephen Fry-esque' character of social commentator William Hazlitt encourages Hone to succeed.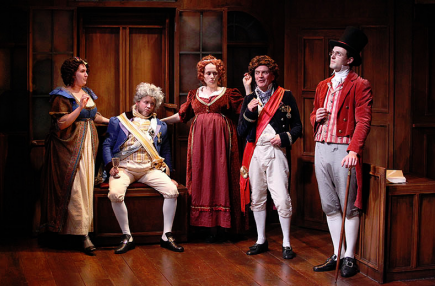 Whenever his majesty Georgie Porgie makes an appearance he is soon the bomb (I believe the French pronounce it 'bum') of the joke, and at the trial the audience are invited to join in the jesting via speakers shouting quips from the stalls.
The laugh track of the jury however does at times appear to be a safety net to drown out the less confident 19th century jokes.
The simple and effective stage design allows the hands of time to track the action of the three-day trial flowing smoothly through flashbacks to reveal the truth to the audience and the three honest juries – huzzah, huzzah, huzzah!
Caroline Leslie's direction encourages the use of space to give an open courtroom feel which plays nicely with the interactions from the sheriffs trying to control the audience of the courtroom.
Sticking to the traditional comedy repertoire, a fart joke makes its way onto stage from the pages of the cartoons published at the time of the trial- after all, you cannot fail with flatulence.
But an otherwise nuanced humour motivates the audience to laugh, cheer, and question if Hone's fight was completely won or still continues to this day.
*Trial by Laughter is showing at The Lowry, Salford until Saturday, February 2. You can buy tickets HERE.