A Manchester choir for people dealing with mental health problems will sing at the Royal Variety Performance alongside Emeli Sande next month.
The Bee Vocal Choir is run voluntarily and will share the London Palladium stage with the Read All About It singer on Monday, November 18.
It holds weekly rehearsals for people of all singing abilities and aims to improve people's confidence in a "supportive" environment.
Bee Vocal's musical director and co-founder Dan McDwyer said: "I am over the moon.
"It will be a real honour to stand proud with the choir, helping to fight the stigma around mental health and proving that no mental health challenge can get in the way of performing to millions of people across the world."
McDwyer also worked with the Parrs Wood High School choir who performed at the One Love Manchester concert in the aftermath of the Manchester Arena bombing.
He then teamed up with psychologist Laney Craig and the Triple C theatre group to co-found Bee Vocal in March 2018.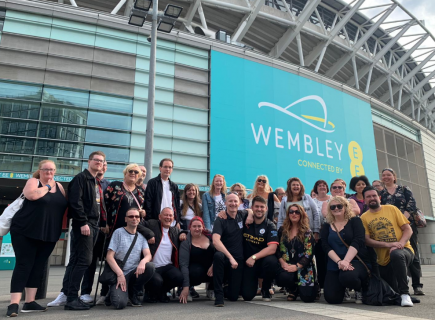 Triple C – The Creative Confidence Collective – runs drama workshops for disabled people in Greater Manchester and its founding members include Coronation Street actress Cherylee Houston. 
Adam Blease works as a support actor on the soap and became a support worker for the choir after Cherylee, who plays disabled factory worker Izzy, introduced him to the idea.
Explaining what Bee Vocal is all about, he said: "Any choir is important for health and wellbeing but this one is designed specifically for people with mental health challenges.
"This is for every level of capability, and in fact there's no pressure to actually sing at first, you can familiarise yourself with the room and people until you're comfortable."
The group's first performance was during the bombing's one-year anniversary event, where they performed Wonder by Sande in front of a packed Albert Square.
They also performed at the FA Community Shield between Man City and Liverpool in August where City invited them to help launch the season-long mental health initiative Heads Up.
Within two months of hearing about the opportunity, they sang the club's anthem Blue Moon then joined Liverpudlian choir iChoir to sing the national anthem in front of a staggering 77,000-strong crowd.
"It was quite a daunting prospect, but that moment we set off on the bus at 4am everyone was mega giddy, but also there were a lot of nerves.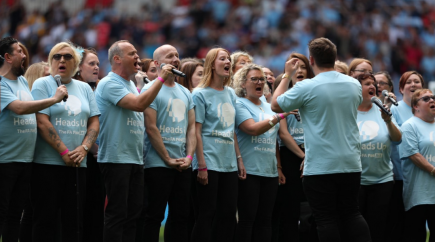 "There was a lot of anxiety that was building, but there were staff there on hand to help with that at every point throughout the day.
"It just shows that when people can come together to support each other, people can put something together that's brilliant."
Rehearsals are held every Wednesday at The Bridgewater Hall and arts space 53Two Studios, located on South King Street, just off Deansgate.
To register interest visit Eventbrite and for more information visit the Triple C website or follow the Bee Vocal Choir on Twitter @BeeVocalChoir