In these difficult times we want something comforting, nutritious and delicious that is made with store cupboard items and readily available ingredients – which means one thing… soup.
There is an old Italian proverb that poetically describes the beauty of soup.
'Sette cose fa la zuppa, cava fame e sete attuta, empie il ventre,
Snetta il dente, fa dormire, fa smaltire, e la guancia fa arrossire.'
'Soup does seven things, it takes away hunger and thirst, fills the stomach, cleans the teeth, makes you sleep, makes you slim, and puts colour in your cheeks.'
First I will talk you through a basic soup recipe so you can make a beautiful soup with whatever you have at home or can find in the supermarket.
Then I will give you three recipes to show you how you can take this base recipe to go in a million different directions.
To start with you need to sweat a couple of onions – red or white – finely sliced in a couple of tablespoons of whatever oil you have.
You need to sweat the onions for at least five minutes and up to 15-20 minutes to bring out the sweetness.
During this stage add any other complimentary flavourings like garlic, ginger, hardy herbs such as rosemary and thyme, and any spices.
Next, add your main ingredient – around 750g – which can either be added straight to the pot or roasted first in the oven if they would benefit from it. 
For example, you could roast a tray of halved tomatoes with a little oil, some garlic and thyme, and a sprinkling of salt and pepper.
Once you have added your main ingredient to the pan, cover with water or vegetable stock and simmer for around 20-30 mins.
For the stock you can use a stock cube or make a quick stock from any vegetable trimmings and herbs you happen to have. 
If you do use just water, make sure you flavour the soup really well or give it a good seasoning with salt and pepper.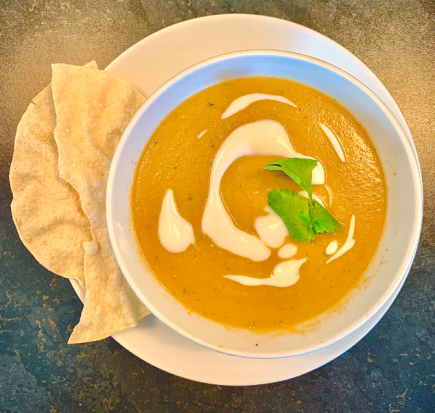 When your vegetables are soft, take off the heat and allow to cool a little before adding any soft herbs such as basil and blend with a hand blender or liquidiser.
Serve with some fresh herbs, nice oil, seeds or nuts, croutons, or serve with some crusty bread and you have a delicious and wholesome meal.
Here are three recipes to give you some ideas on the different directions you can take this basic soup recipe.
Spiced Carrot and Lentil Soup (above)
A great soup with a spicy flavour that would work with parsnips, sweet potato, or any kind of squash instead of the carrots. Yellow split peas would also be nice instead of the red lentils.
2 onions
2 garlic cloves 
2 chillies
5cm piece of ginger
1 teaspoon cumin
1 teaspoon coriander
1 teaspoon of garam masala
15g of coriander
750g of carrots 
250g red lentils
Vegetable stock
1 x 400g tin of coconut milk
Heat two tablespoons of oil in a large pan over a medium-high heat, peel and finely slice the onions and sweat in the pan for around five minutes.
Peel and finely slice the ginger, garlic, deseed (if you like) and slice the chilli, pick off the coriander leaves and finely slice the stalks and add to the onions with the spices and cook for another five to 10 minutes, stirring regularly.
In this time roughly slice the carrots and when the onions are soft and the smell of the spices fills the air, add the carrots and cook for a few minutes.
Add the lentils, the coconut milk and enough vegetable stock to just cover the veg.
Simmer until the carrots and lentils are soft, around 20 minutes.
Allow to cool slightly before adding the coriander leaves, blitz to the consistency you like with a hand blender or liquidiser adding more stock if you need to loosen it a bit and season to taste.
It's nice served with a drizzle of coconut yoghurt, a few coriander leaves and some poppadoms or naan bread. 
Leek and potato soup (below)
A classic soup that is super comforting. Substituting the leeks with fennel or celery would also be delicious.
2 onions
2 garlic cloves
2 large leeks
Whatever herbs you have, thyme, rosemary, bay leaf, parsley – fresh or dried
2 large potatoes
Vegetable stock
150ml dairy-free milk
Two big handfuls of fresh spinach or a few cubes of frozen spinach (or peas)
Chives to garnish
Heat two tablespoons of oil in a large pan over a medium-high heat, peel and finely slice the onions and add to the pan with a good pinch of salt.
Peel and slice the garlic, add to the onions and cook for five minutes stirring regularly.
Trim and half the leeks lengthways, wash the insides, finely slice, add to the onions with any herbs you have and continue to cook for another 10 minutes or until they have sweated down.
Peel the potatoes, cut in half lengthways, roughly slice and add to the pan with a good pinch of black pepper. 
Add vegetable stock to just cover the vegetables and simmer until the potatoes are soft.  
When it is ready take off the heat, add the milk and spinach and blitz with a hand blender or liquidiser until super silky and smooth.
Season to taste, loosen with more stock or milk if you need to and garnish with chopped chives.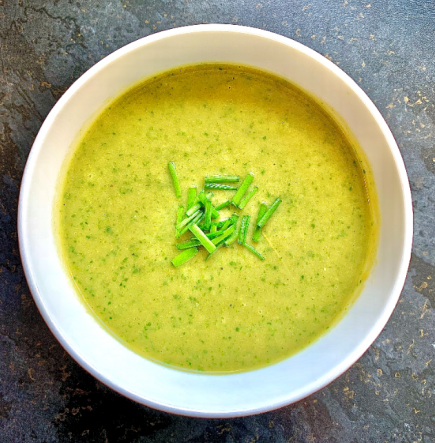 Minestrone (bottom pic)
Minestrone is one of the best soups in the world and it is super versatile so you can make it with whatever vegetables you have.
Although it is quite often seen with pasta added towards the end it is just as traditional, and delicious, to add risotto rice.
But you could add whatever rice you have instead or even some diced potato or some bread to thicken the soup.
When making this soup it is best to add each vegetable one at a time and allow it to cook for a few minutes before adding the next one.
2 onions
1 leek
2 garlic cloves
2 carrots 
2 celery sticks
2 small bunches of leafy greens, such as spinach, Swiss chard, savoy or spring cabbage – roughly chopped
2 handfuls of green vegetables (fresh or frozen) such as peas, broad beans, broccoli florets, green beans roughly chopped 
2 tomatoes
1 x 400g tin of tomatoes
1 tin beans (mixed, cannellini, borlotti, chickpeas)
Vegetable stock
Risotto rice, broken bits of pasta, a diced potato 
Heat two tablespoons of oil in a large pan over a medium heat.
Peel and dice your onions and add to the pan with a good pinch of salt and cook making sure the onion doesn't colour. 
Dice the leeks, slice the garlic, add to the onions and cook for a few minutes.
Do the same with the carrot and then the celery, dicing and cooking each one briefly. 
Add the leafy greens vegetables, followed by any other green vegetables that you have.   
Dice and add your two tomatoes, followed by the tinned tomatoes, the drained beans and enough vegetable stock to cover and bring to a simmer.
Add your rice, pasta or potato and simmer until the vegetables are quite soft and your chosen starch is cooked. 
When the soup is ready loosen with some stock or water depending on how thick you like it and season with salt and pepper. 
Spoon into bowls and finish with a grinding of black pepper, some nice extra virgin olive oil or vegan pesto and some basil leaves.