You may be used to a waiter asking whether you want peppercorn or bearnaise sauce with your steak – but now be prepared for them to ask if you want it shaken or stirred.
Steak cocktails are the latest treat to tempt Manchester's meat lovers, being served up at the Macdonald Hotel.
The drinks on offer include the 'Whiskey Steak' and the 'Rosemary Gin Steakini', which blend the taste of mouthwatering steak and top quality spirits.
The surreal bovine beverages have been launched by the hotel to celebrate the re-launch of its Scottish Steak Club restaurant.
Paul Bayliss MBE, General Manager at Macdonald Manchester Hotel & Spa, and Chair of The Manchester Hotelier's Association, said: "Savoury cocktails have grown in popularity in recent years as mixologists across the world have experimented to add a savoury flavour to spirits.
"Our restaurant team and chef brigade wanted to create a Manchester first that would play to Macdonald Hotels' Scottish heritage, so they started to work with our two most iconic ingredients – Scottish beef and Whisky."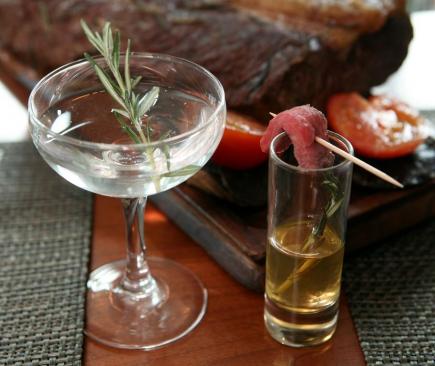 The Whisky Steak is a short cocktail that uses Monkey Shoulder blended malt Scotch whisky alongside in-house aged 21 day Scots Beef farmed Sirloin Steak for soaking or dipping in the drink. This is complimented by fresh ground black pepper and homemade rosemary syrup.
Rosemary Gin Steakini is a palate cleanser to make the first mouthfuls of a steak even more sublime. The drink combines dry vermouth and rosemary syrup which leave behind subtle notes in between meaty morsels.
Mr Bayliss said: "We believe our cocktails offer guests something completely unique to other drinks in the city and combine amazing flavours."
He added: "We've mixed the richness of salty steak with the sweet, subtleness of malt whisky or dryness of gin. The warm, well-balanced nip of the whisky or delicate flavours of vermouth always shines through."
Anyone raptured by the red meat aperitif should strike whilst the grill is hot. The Steaktini is available at any time within both the Scottish Steak Club and the Exchange Bar, and the Whisky Steak is available as an aperitif with the Scottish Steak Club from July onwards.