Our way of life has changed beyond recognition since the Covid-19 outbreak hit the UK, and for the first time in living memory the great British public house is officially off-limits.
So, what does this mean for the pubs and breweries who have been forced to call last-orders and shut their doors? Who will prop-up the businesses when there's no-one propping up the bars?
Thankfully, we are seeing some savvy responses from pubs, breweries and bottle shops determined to survive the crisis, with many trying their hand at delivery services; if you can't go to the pub, let the pub come to you!  
Campaign for Real Ale (CAMRA) have set up Pulling Together to promote the companies providing this delivery service.
The campaign, which runs in partnerships with The Society of Independent Brewers (SIBA) and Crowdfunder, comprises a website listing details of business initiatives across the country, including pubs and breweries providing food and drink delivery services.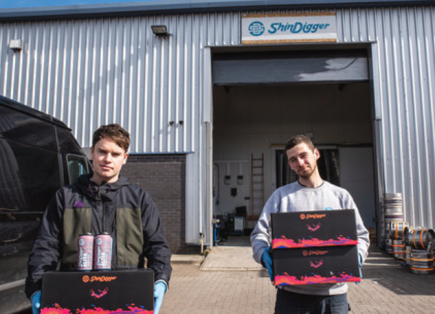 FAST BOOZE: Shindigger's pledge is to deliver beer inside the M60 within three hours
CAMRA chairman, Nik Antona, told MM: "It means people can still have a pint of real ale, or a bottle of wine but in the safety of their own home."
The main purpose of the campaign is to provide publicity for the businesses.
"Ultimately we want as many of these pubs to still be around when this crisis is over and if this gives them a lifeline then that's great," said Antona.
It's not just pubs running delivery services, many breweries are doing it too, and very successfully.
Shindigger Brewery, based in Salford, acted quickly after the government's statement on Friday March 20 that pubs needed to close, as co-founder, George Grant told MM.
"We essentially adapted our whole business in three days by turning it into a delivery business. We're now like a mini beer Deliveroo."
Shindigger's customer promise is that they will deliver beer inside the M60 within three hours, a guarantee which (along with their reputation for excellent beer) has had the orders flying in… and straight out.
"We've been slammed! We've got four drivers on the road at any one time, delivering over 100 orders per day," Grant said.
FATEFUL FRIDAY
Another brewery enjoying similar success with their new delivery service is Donkeystone Brewery in the Saddleworth village of Greenfield.
Within days of Boris Johnson's statement Donkeystone had set-up an online shop allowing them to sell their product straight to the consumer.
Head brewer Rick Thomas told us: "On that fateful Friday around 95% of our trade came to an end so we had to think of a way to keep us going."
Soon after they began delivering beer, customers were asking if they could also supply essential goods. They've quickly established links with independent local businesses and they now also deliver fresh bread from an artisan bakery and milk and eggs from a farm in Saddleworth.
The demand for deliveries was so great – with orders increasing by 50% a day at one point – that that they have hired three new drivers.
"Some of these people had lost their jobs through the Covid-19 crisis so we've been able to actually help people by employing them which has been amazing," said Thomas.
In an unexpected turn, Shindiggers Brewery, Donkeystone Brewery and many other establishments across the country have become local heroes, delivering to many vulnerable people and keeping the links within communities intact.
"Some of our older customers who are waiting two-three weeks for a Tesco delivery have been absolutely relieved when we turn up, so we've become much more of an essential service than we thought we would be.
"We feel so proud to still be working and supporting the community," said Thomas.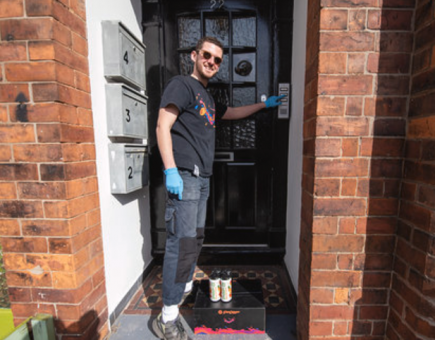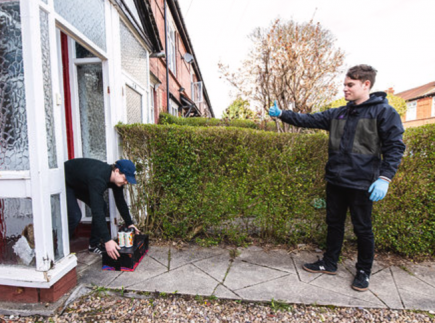 ESSENTIAL SERVICE: Some Tesco customers say they've waited weeks for food deliveries so the beer delivery is proving a valuable asset 
Grant also explained the overwhelming response they are having at Shindigger Brewery.
"The best bit is people are treating us like we're the fourth emergency service, writing little notes in the delivery instructions like 'You guys are heroes!' and 'We love you!'"
However, it cannot be denied than the closure of pubs, bars and other licensed premises poses an unprecedented threat to the industry, and one issue is stock waste, as Grant explains.
"Normally 85% of beer we produce is packaged into keg for pubs and bars – a market that no longer exists. We are sitting on loads of keg stock with a limited shelf life which is like a ticking time bomb!"
This is a worrying time for anyone in the beer industry. However, there are reasons to be positive.
"It's possible that places will get closer to their communities, so you might find that pubs come out the other side and then draw more people in who previously would have not gone to the pub," said Antona.  
We also can't forget that the British enjoy a drink and it is unlikely that this period of prohibition will dampen that.
"Whilst the industry is going to take a bit of a hammering, we can take some comfort from that fact that going out for a drink is so ingrained in British culture, the best brewers and venues will be able to thrive once again," said Grant.
During these isolated days we need to remember that this will end.
"When we get through this there will be one hell of a party across the country," said Antona.
But in the meantime, get yourself online and let these local superheroes deliver you some hoppy happiness.
To place orders with either Shindigger Brewery or Donkeystone Brewery and for delivery times and details, visit their websites. 
https://www.donkeystonebrewing.co.uk – @DonkeystoneBrew
https://www.shindiggerbrewing.co – @ShinDiggerBeer
https://camra.org.uk/pullingtogether/  – @CAMRA_Official
Both Shindigger Brewery and Donkeystone Brewery are taking care to ensure the safety of their staff and customers and are implementing NHS cleanliness guidelines regarding Coronavirus. Employees are social distancing at all times, while working and out on deliveries. For more information please see their websites.